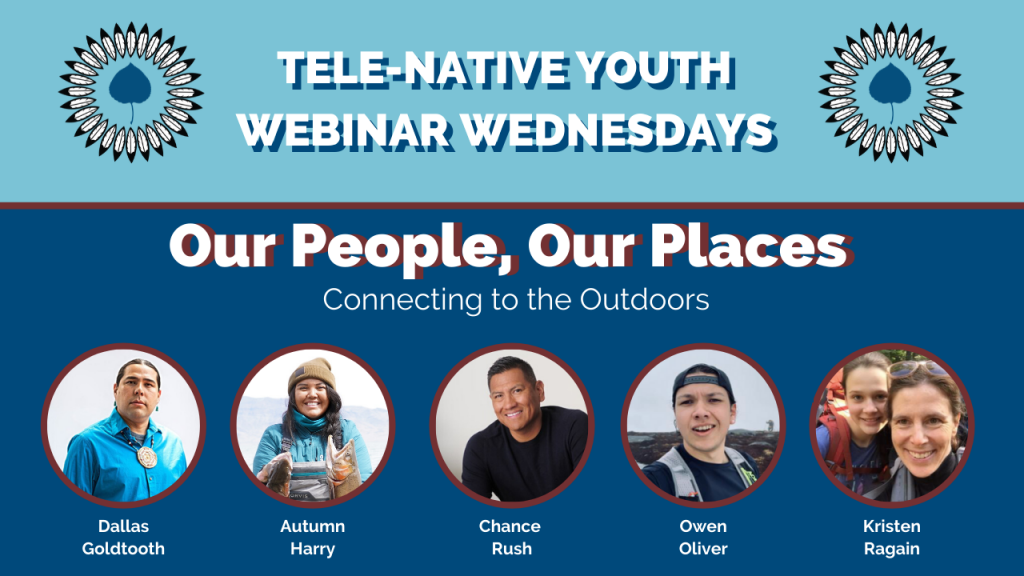 Our People, Our Places
By: Chance Rush, Hidatsa, Arapaho, Dakota, Oneida, & Otoe, Cloudboy Consulting, LLC
On behalf of the Center for Native American Youth at The Aspen Institute, I had the privilege to moderate the 5th episode of The Tele-Native Youth Webinar Series. The topic of this webinar was "Connecting To The Outdoors" with panelist Dallas Goldtooth, Kristen Ragain, Owen Oliver, & Autumn Harry. The panel was very informative and delivered some powerful points and messages. We were able to talk about a lot in the 1 hour that we all had together.
With the COVID19 pandemic, this topic needed to be addressed so that we can promote the importance of safety and expectations in our respective outreach with tribal initiatives and communities during the pandemic. I was able to ask a couple of general questions to all of the panelists as we as direct questions. It was unanimous that we spoke about the importance of social distancing and utilizing the outdoors to get through this tough time. They were also able to discuss what they have learned about themselves and what they were able to do for others. We also discussed their point of view on our waterways, sacred sites, and acknowledging the land that we all walk on. All the panelists gave great feedback and some great ideas for us to try. 
I asked Kristen Ragain about having access to the outdoors and philanthropy in Indian Country. She encouraged our audience to appreciate what is given to us daily and learn something each day about the outdoors. She talked about having a privilege to do so. When it came to philanthropy, she talked about how our outreach should be mapped, blueprinted, and inspired by the individual and not the funders. She reiterated about not living up to contributors' expectations but your own. Being a philanthropist is exciting and more are being needed in Indian Country. Kristen was very knowledgeable in her profession and had a great delivery.
I then asked Owen Oliver about the waterways and his work as a writer. Own was very compelling in what he shared. He talked about the importance of why Native Youth should continue to learn about their lands and write about them. He also talked about the importance of education and preparing yourself in life. He had a great delivery and was well prepared for the questions. He was eager to encourage listeners and had much more he could have shared. You can find his writing on his website.
My third guest was Autumn Harry of Pyramid Lake and she talked about how they as a community were able to provide for the elders with fish, meals, and services. She went on to share that they didn't realize how close they would become as a tribe during COVID19. She also shared about having limited access to the lake but they were grateful to utilize what they could. She became very emotional during her portion which brought out the passion in her message. She was very informative and grateful to take a setback and turn it into something productive.
My final guest was Dallas Goldtooth who was able to share with us about the current issues of the protest at the Badlands on July 3, 2020. He shared how the state of South Dakota did not get permission to build on the Badlands what today some call Mount Rushmore. We also discussed the Dakota Access Pipeline and the ruling of a federal judge ordering a stop of production and oil to be cleared out after the Army Corps. of Engineers determined that it was unsafe and was in violation. He emphasized that Standing Rock and Cheyenne River are not out of the woods but saw it was a small and recognized victory. He wrapped up his portion by encouraging youth to be creative. Very informative, provided humor, and a lot to share. Dallas brought a lot of energy to the show and wrapped up the session for us.
Again, it was great fun to serve as a moderator and kept the webinar on point and on schedule. I appreciated what each panel had a different prospected and was able to come from different perspectives and tie it all into one past at the end of the show. I am encouraged that the listeners were able to benefit from the session as well as received non-bias information from the panel. It was an honor and I can't wait for the next webinar
Chance serves as a consultant to tribes and organizations about business, community outreach, staff training, and curriculum development. His passion for strengthening Native communities combined with his experiences led him to the development of Cloudboy Consulting, LLC. Chance travels throughout the United States and Canada to work with Native communities in efforts to inspire, heal, motivate, and energize. He has a talent for using his energy and humor to spread a simple message, "Use your talents to lead you to greatness." He promotes healthy living and lives his life alcohol and drug-free.