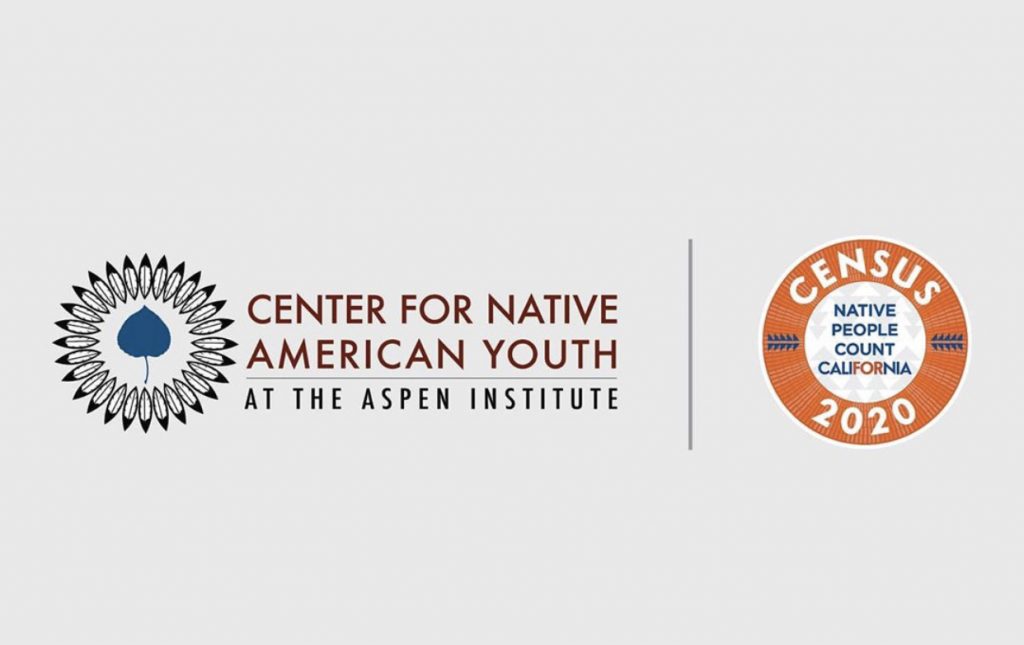 Native People Count California announces partnership with the Center for Native American Youth on upcoming statewide virtual youth 2020 Census gathering
by Native People Count California | Jul 15, 2020 | COVID19, News
Contact: Ricki McCarroll
Founder & Principal Consultant
NUNA Consulting Group
ricki@nunaconsultgroup.com
P: 202 503 9169 | C: 310 365 5272
For Immediate Release
Native People Count California announces partnership with the Center for Native American Youth on upcoming statewide virtual youth 2020 Census gathering
SACRAMENTO, CA (July 15, 2020) —Native People Count California (NPCCA) is pleased to announce a partnership with the Center for Native American Youth (CNAY) on the upcoming Virtual Native Youth Gathering July 24-26, 2020 to reach California Native Youth participation in the 2020 Census.
Participants will virtually convene to hear from Native leaders about the importance of the 2020 Census. The youth will also work with an artist of their choice over the three-day conference to create an art piece that expresses the importance of California Native Americans participating and being counted in the 2020 Census.
Driven by Los Angeles-based NPCCA Native Youth Initiative Coordinator, Jeri Brunoe, participants will engage for three hours each day over the three days to create a conversation with one another throughout the state to bring home to their families and their communities to ensure a complete count of California Native Americans this 2020 Census.
"Working with Native youth across the state was an important piece of our original outreach engagement strategy with the Native People Count California campaign. Although we originally planned for the event to be in-person, our team feels that this Virtual Youth Gathering is the perfect opportunity to create community during physical distancing and spur creativity from our Native Youth during this pandemic who we know will make something beautiful and innovative. We are extremely excited for this new partnership with the Center for Native American Youth to engage with our California Native American youth from rural to urban communities as they help us facilitate, learn, and create a positive impact to make sure that all ages of Native People Count in this 2020 Census," Ricki McCarroll, Native People Count California Team Lead said.
The Center for Native American Youth Executive Director Nikki Pitre said "we partner with like-minded organizations across the country to ensure that Native Youth have opportunities to live full and healthy lives. We hope by this partnership and virtual platform for the participants to inspire their peers to be vocal advocates for themselves and their communities across the country."
To stay up to date with the Native People Count California Youth Initiative, to download education materials or to register for the virtual youth gathering visit nativepeoplecountca.org, follow NPCCA on Facebook, Instagram and Twitter or email youth@nativepeoplecountca.org.
###
About CNAY
The Center for Native American Youth is a national advocacy organization working to improve the health, safety, and overall well-being of Native American youth. Founded by former US Senator Byron Dorgan, CNAY is a policy program within the Aspen Institute, headquartered in Washington, DC. While a part of the Aspen Institute, CNAY is also overseen by a Board of Advisors. We strive to bring more considerable national attention to Native American youth issues while fostering community-driven solutions, with particular emphasis on youth suicide prevention.
About NPCCA
Native People Count California is the official California complete count – Census 2020 tribal media outreach campaign. Launched in January 2020 – the Native People Count CA campaign is a collaboration between the Governor's Office of the Tribal Advisor, the California Complete Count – Census 2020 office, and Tribal Media Outreach Partners NUNA Consulting Group, LLC, California Indian Manpower Consortium, Inc. (CIMC), and the California Native Vote Project (CANVP). Native People Count CA was created with the belief that the 2020 Census is an integral piece to upholding the fiduciary responsibility by the United States federal government to Tribes and its delegated authority to state and local governments.