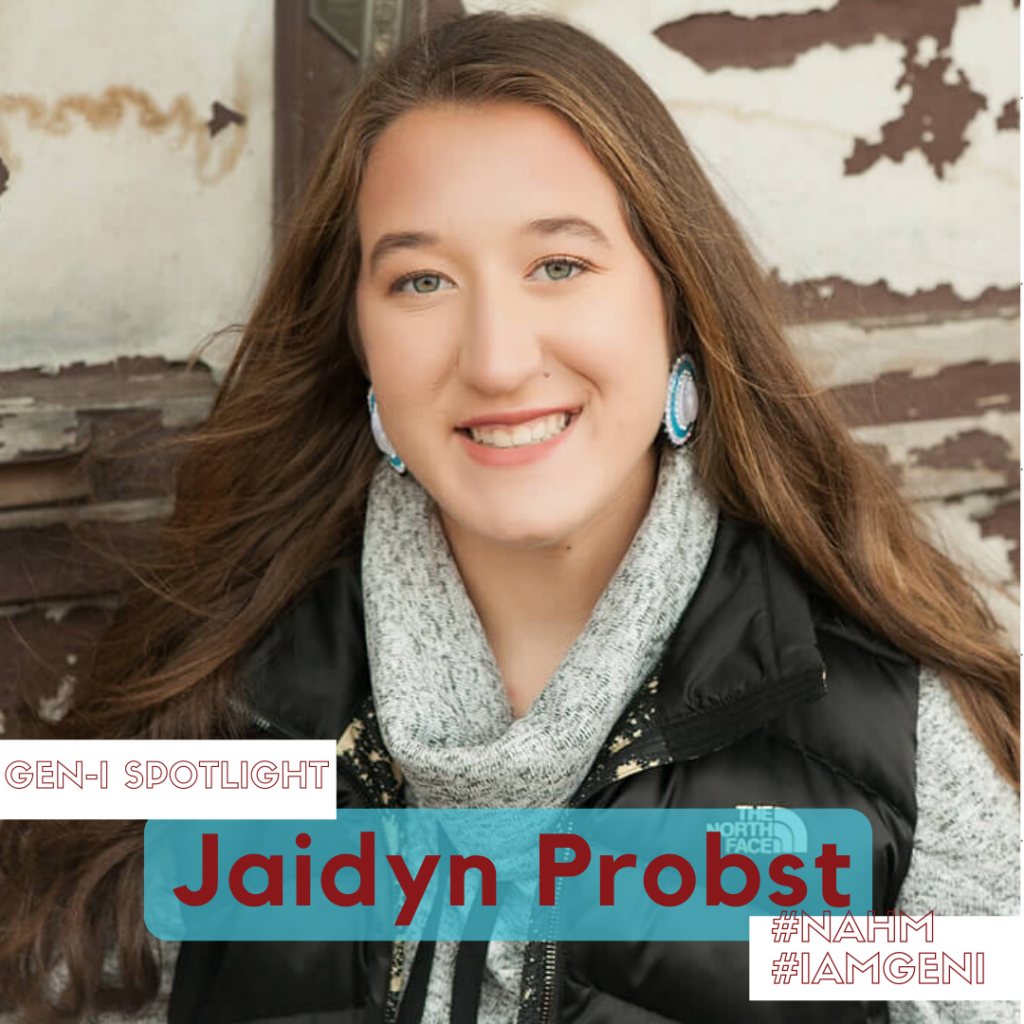 Generation Indigenous Spotlight: Jaidyn Probst
As part of the Generation Indigenous Initiative, the Center for Native American Youth works to provide a platform to uplift and empower Native youth voices. To celebrate Native American Heritage Month, Gen-I, is spotlighting amazing youth from the Gen-I Network every week throughout the month. Youth were asked to answer a few questions about why the think Native American Heritage Month is important and how they celebrate, as well as how they first got involved with CNAY.
Name/Tribe: Jaidyn Probst, Lower Sioux Indian Community
About: Jaidyn is Dakota from the Lower Sioux Indian Community. She graduated from high school in May of last year, and is now a first year at Harvard College. Jaidyn is studying on the pre-med track and plan to concentrate in Neuroscience with a secondary in Global Health/ Health Policy. She hopes to be able to intertwine Native policy work into health policy. Back home, she was a Youth Ambassador for the community and helped with many youth centered events and served on the Health and Human Services Advisory Committee. Some of Jaidyn's hobbies include painting, listening to music, hanging out with friends, or just relaxing and watching Christmas movies.
Q: How did you get involved with CNAY?
A: In 2017, I was appointed by the Minnesota Governor, Mark Dayton, to serve on the Minnesota Tribal Youth Gathering Steering Team. With help from other youth, the MN government, and CNAY, we were able to put on the first MN Tribal Youth Gathering in the summer of 2018. Part of this gathering was encouraging indigenous youth in the state to take the Gen-I challenge, and all of the steering team members fulfilled their challenge by being on the team.
Q: What does being involved with Gen-I mean to you?
A: Being involved with Gen-I to me means that I have another support system and another space where I can connect with like-minded individuals who are passionate about the same things I am. I also think about how Gen-I is encouraging indigenous youth to change their communities for the better, which is a powerful thing.
Q: How do you celebrate Native American Heritage Month?
A: Native American Heritage Month is important to be able to recognize all Native peoples' existence. We defied all the odds and are still here taking up space. We deserve to be in the spaces we are, and it is important to celebrate our resilience and our perseverance in modern day society, as well as acknowledge all the mind-blowing things Native people are accomplishing.
Jaidyn's advice to Native youth:
I would just want to let Native youth know that anything is possible. I remember receiving this same advice when I was younger and rolling my eyes. I never thought that I would be attending college at Harvard, but here I am. All it takes is hard work and determination to get where you want to be. It takes effort to create positive change, but it also is so rewarding to see all your efforts come to fruition, and it all starts from getting involved in the little ways. If you are passionate about the work you want to do, you will be able to recognize the domino effect that occurs once you first get involved, and sometimes getting involved means stepping out of your comfort zone.