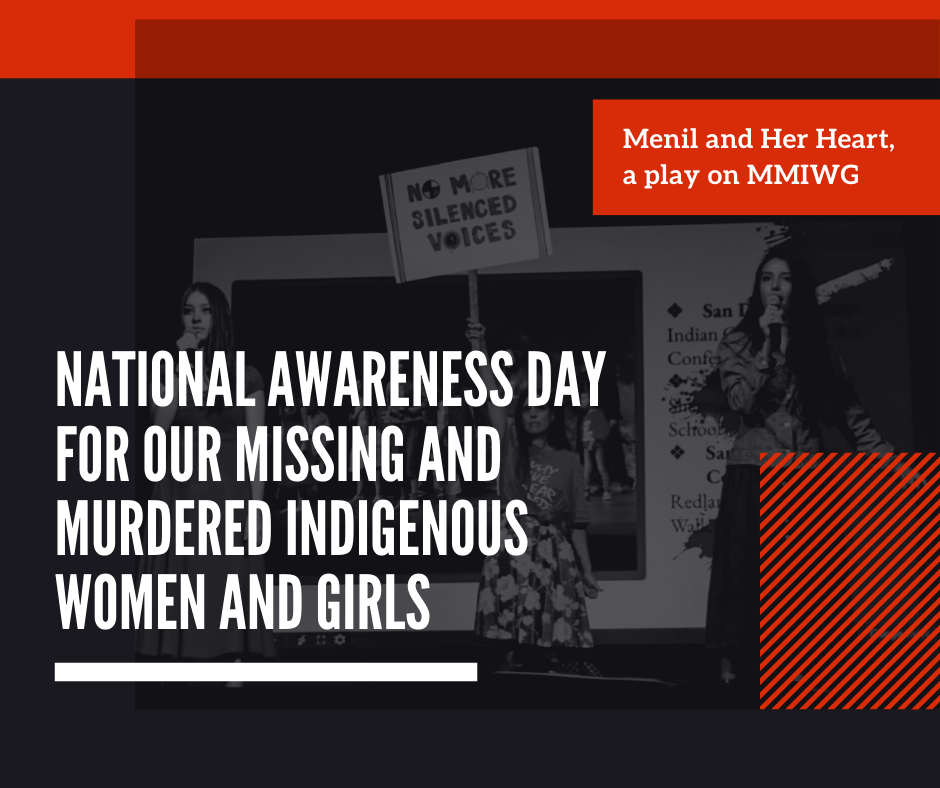 National Awareness Day for our Missing and Murdered Indigenous Women and Girls
The crisis of missing and murdered Native women and girls is alarming and a tragic reflection of the spectrum of violence committed against Native women and girls. Federal statistics report the murder rate of American Indian women on some reservations is more than ten times the national average. Domestic violence, sexual assault, and sex trafficking are the causes of many of these disappearances and murders.
"We all know the stories–those impacted in our communities. Mothers who don't get to raise their daughters– grandmothers who don't get to have the opportunity to teach granddaughters what it means to be Indigenous– those stories are us, we carry them with us. I know I do as a smi'yem– a woman," said CNAY Acting Executive Director, Nikki Pitre, Coeur d'Alene Tribe.
At CNAY, we thought it would be powerful to share the work of one of our youth leaders, 2020 Champion for Change Isabella Madrigal , Cahuilla Band of Indians & Turtle Mountain Band of Chippewa Indians, and share more about her story and the advocacy she does to bring awareness to this issue.
These are Isabella's words:
"Menil and Her Heart- a Cahuilla story focused on the global epidemic of missing and murdered Indigenous women and girls. In the creation story of the Cahuilla Indians there is a girl, Menil, the moon maiden. Menil was once a mortal who lived among the people and taught them how to live. One night Mukat, the Creator, forced her into a sleep so deep that she could not cry out or struggle against him. For this Mukat was banished, and Menil was silent. The people begged Menil to speak until finally she sang them a song and they at once understood her.
I wonder what it was that Menil sang to the people that made them come to know her so clearly?
It was Menil who gave the people the arts. The invaluable gift of storytelling. Stories shape identity. They can call up a great strength in a people, but they can also be the unwitting tools of oppression. I am a victim of the single story. The mainstream narrative is missing a vital piece for the identity of a Cahuilla girl. It is missing her story.
This play is for all the women and girls who fight beside me to share the forgotten story of their stolen sisters. To end the silence. Menil and Her Heart tells the story of a young Indigenous girl who was not taken but instead must make the choice of whether or not she will stay and continue the fight. A fight that right now, she largely has to brave alone."
In the United States 84% of Native women and girls will experience violence in their lifetimes. They go missing and are murdered at rates ten times higher than the national average. Despite this 95% of these cases go undocumented by national news media.
Indigenous women consist of 1% of the population yet they represent 40% of sex trafficking victims in Canada and the United States. Legislation has failed because it does not exist. It is time to tell the stories that aren't being told. Menil and Her Heart was my way to bring this truth forward.
Though fiery hatred rises up inside me when I think about the missing and murdered, my play was not born out of anger. Healing cannot come from hate, only from love and resiliency.
Now I know what Menil sang to the people that made them come to know her so clearly. She sang them her story. A story that we need to listen to. It is all too easy to continue to ignore the violence Indigenous girls face. To say her suffering doesn't exist. That we don't exist. But we do, and it's worth the fight to be seen."
"In closing, I want to remind us to be in good relation with one another—to take care of one another and to be sure to take care of ourselves," said Pitre. "Lastly, I am proud to share that Isabella has accepted and will be attending Harvard University this fall."
To listen to Isabella's powerful speech at the United Nations Day of the Girl, Girls Speak Out event click the link below: