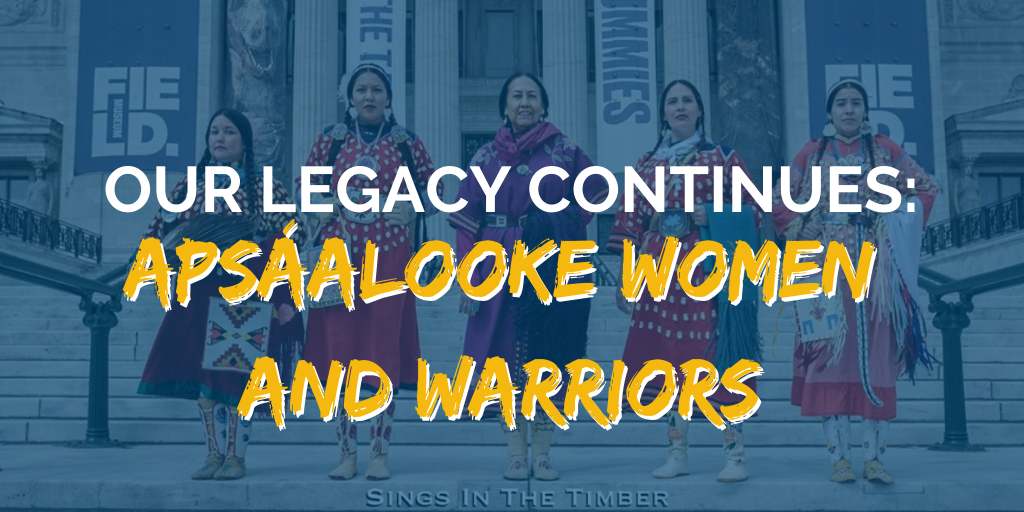 Our Legacy Continues: The Opening and Debut of the Apsáalooke Women and Warriors Exhibit
By: JoRee LaFrance, Apsáalooke, 2020 Aspen Institute SOAR Fellow & 2018 Generation Indigenous Movement Builders Fellow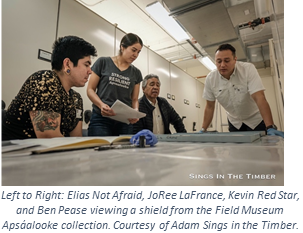 The Field Museum in Chicago is filled with items such as deceased creatures like 67 million-year-old Sue the T-Rex, mummies telling the secrets of Ancient Egypt, every manner of stuffed bird you can think of, and practically every specimen of bug on earth. As hundreds of visitors wandered through the halls viewing these collections, a group of Apsáalooke (Crow) people roamed the depths of the museum, cloistered in the object collection, they reunited with the material culture of their people, their ancestors. On the very top shelf rested a teal cardboard box. Inside that box was Chiishxaxxish's (Spotted Tail's) shield which had not felt the presence, voice, song or prayer of an Apsáalooke person in more than a century. One by one, the shields were carefully brought down off the shelves, and for each, someone in the group of Apsáalooke recounted a story, thought, or prayer. The makers and sometimes supernatural powers contained in these shields visited many of us in our dreams. We have been shown that the power of these shields transcends the marble columns and vast ceilings of the Field Museum, and that our things will always find their way back to us. It is the medicine and supernatural agency of these sacred shields that brought us to the Field Museum and provided a way for more than 20 Apsáalooke to come together for the very first time, and for a special purpose.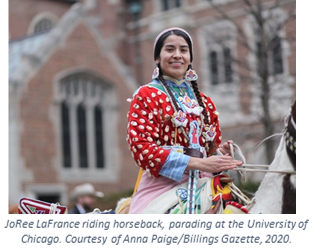 My Apsáalooke (Crow) name is Iichiinmáatchilash, which means Fortunate with Horses in my language. I come from the Greasy Mouth clan and I am a child of the Ties in the Bundle clan. I am the sixth generation from Apsáalooke warrior, Whiteclay On The Forehead, and the seventh generation from the last principal chief of the Apsáalooke, Chief Pretty Eagle. This past year, I had the opportunity to be on a team of Apsáalooke knowledge-holders, scholars, and artists who designed an unprecedented museum exhibit under the guidance of Apsáalooke curator, Nina Sanders. Her Apsáalooke name is Akbileoosh, meaning Brings the Water.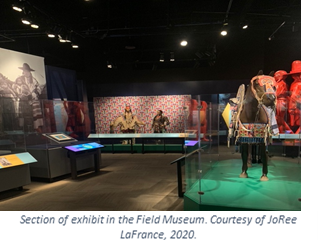 Apsáalooke Women and Warriors is a never-before-seen exhibit at the Field Museum in the traditional homelands of the Council of Three Fires: the Odawa, Ojibwe and Potawatomi nations; or what is commonly known today as Chicago, Illinois, and at the University of Chicago The Neubauer Collegium for Culture and Society. Displaying both historical and contemporary works by Apsáalooke people from southcentral Montana, this is the first time in history that an exhibit of this magnitude in size and content was curated by an Indigenous woman. This is a rare occasion where an entire hall has been dedicated to an individual Tribe at one of the largest museums in the United States.
Nina used her leadership to curate and hand-craft this exhibit, bringing fellow Apsáalooke people along with her. I was humbled to be a part of a select group of Apsáalooke elders, scholars, and artists who were able to participate in this monumental experience. Ceremoniously, my people came together and reunited in the Field Museum's Apsáalooke collections and archives. Every aspect of the process stood on the basis and voices of Apsáalooke perspectives and people. As a collective, we designed an entire exhibit and published a catalog in under a year.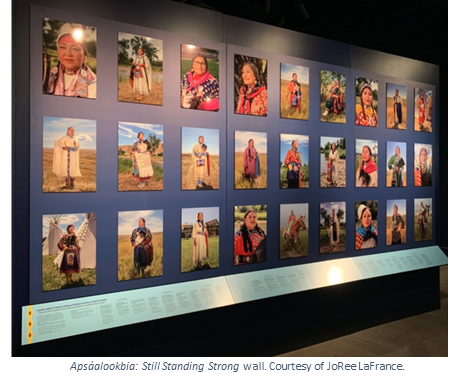 I invite you now to imagine yourself walking through the exhibit: You enter the Apsáalooke Women and Warriors to the left, as we are traditionally taught to do when entering the home or a sweat lodge. Upon entering, you are greeted with Nina's (the curator) voice narrating our creation story in our Apsáalooke language along with an animation illustrating that sacred time. As you walk through the first section of the exhibition you are provided with the knowledge to learn about our traditional migration pattern and our sacred tobacco plant, the foundations of our existence. On display in this area are items such as two tobacco society bags, a lodge, and a few of the decorative adornments we use on our horses. Continuing on, you enter into the Biluke (Our Side) section displaying historical and contemporary works depicting the vibrant colors and designs used by Apsáalooke.
Throughout the entire exhibit, you will see contemporary artworks on display by Ben Pease, Kevin Red Star, Allen Knows His Gun, Del Curfman, as well as bead work by Elias Not Afraid and fashion wear by Della Big Hair – Stump. There is a dedication to Apsáalooke women, who are the backbone of our society and life givers, in photo collaboration project by Adam Sings In The Timber and myself. We called this project Apsáalookbia: Still Standing Strong and we wanted to sing the songs of our women by capturing the beauty, fierceness, strength, and successes that Apsáalooke women possess. We honor our veterans who have fearlessly served on behalf of the United States through in the Counting Coup section of the exhibit. Finally, the exhibit closes out celebrating Apsáalooke people through the works of B.Yellowtail, by Apsáalooke and Northern Cheyenne fashion designer Bethany Yellowtail, coupled with music by Apsáalooke hip-hop artist, Supaman. It is my hope that as the visitor has their own journey through this exhibition, it will help them understand how the Apsáalooke people came to be; our cosmology, and how the tobacco society sustains our way of being. We invite you to celebrate contemporary art with us. Most importantly, we invite you to celebrate the resiliency of the Apsáalooke.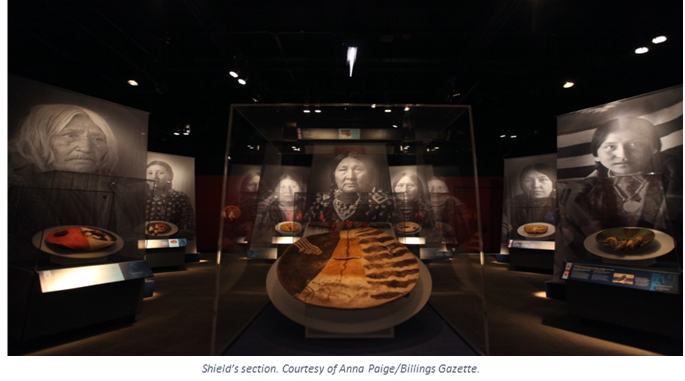 Personally, my favorite part of the exhibit are the shields. There are seven on display, along with a war shirt. War shirts represent the life and deeds of an Apsáalooke warrior. For the first time in more than 100 years, these culturally sacred items have seen sunlight and are made visible to people other than Apsáalooke. These shields whose very power and strength derived from the sun have not seen a sliver of light since they were placed into the collection vaults of the Field Museum. Each one has an honorable yet bittersweet story that deserves to be told. Behind each shield and war shirt is the image of a powerful Apsáalookbia (Crow women), showcasing the women who are caretakers of these shields. This stunning visual pairing is a reminder of the agency, equity, and forcefulness that women had, and continue to hold, in our society.
The Field Museum has one of the largest collections of Apsáalooke shields in the world. In 1906, the Field Museum sent Stephen C. Simms, who later became the director of the museum, to collect materials and information as a part of the inaccurate and misleading "vanishing Indian" rhetoric. On his expedition, Mr. Simms collected more than 60 Apsáalooke shields along with many other cultural items. These were stolen from my people during a time of starvation, vulnerability, despair, and intense trauma from the transition onto reservations.
Mr. Simms acquisition notes confirms what we have always known: that our shields possess great power. Today, Chiishxaxxish's (Spotted Tail's) shield and war shirt are shown in the Apsáalooke Women and Warrior exhibit. In his notes, Simms mentions that Chiishxaxxish had an extremely difficult time parting ways from his shield and war shirt. This was a painful sacrifice that was made to feed his family. Being reunited with this holy object in this exhibit meant everything to me. These shields held so much power in them that they have the ability to change the weather, this was also noted in Mr. Simms' 1906 acquisition notes. This past year on every occasion when an Apsáalooke person visited those shields and left Chicago, it would either rain or snow, sometimes even both.
My little sister, KamiJo Whiteclay, joined me in my trip to Chicago. Our family is eternally grateful that we were able to showcase our káalixaalia's (great-grandmother's) traditional elk tooth dresses and horse parade sets. These dresses were given to my káalixaalia when she got married. Today, you will see those dresses on billboards across Chicago. Dúusshile (elk tooth dresses), worn by Apsáalooke women, are made with precise and meaningful designs and adorned with hundreds of elk teeth (known as elk ivories). We are known for our elk tooth dresses, beadwork, and the Teepee Capitol of the World.
It meant the world to me that I was able to celebrate the opening of this project with my loved ones and many other Apsáalooke who journeyed to Chicago from our homelands in Montana. It is my hope that people leave our exhibit with the understanding that we are a thriving people. We are not only dismantling systems, forming collaborative-partnerships between institutions and Tribes, and reclaiming our narrative, but we are generously sharing our rich culture, unique perspective, and encouraging you to be a witness as we create the future we imagine for our children. There is still so much more work to be done. We will continue to do that work until all Indigenous voices are amplified. Just as those shields brought Apsáalooke people together and protected lifeways in the buffalo days, they are bringing us back together again to remind of us of our own authority and responsibility to protect our land and Apsáalooke way of life.
You can read more in depth about specific details about the exhibit in our catalog, Apsáalooke Women and Warriors, which is available through the University of Chicago Press. All proceeds go towards student scholarships at our tribal college, Little Big Horn College. The Apsáalooke Women and Warriors exhibit at the Field Museum is open until April 2021.