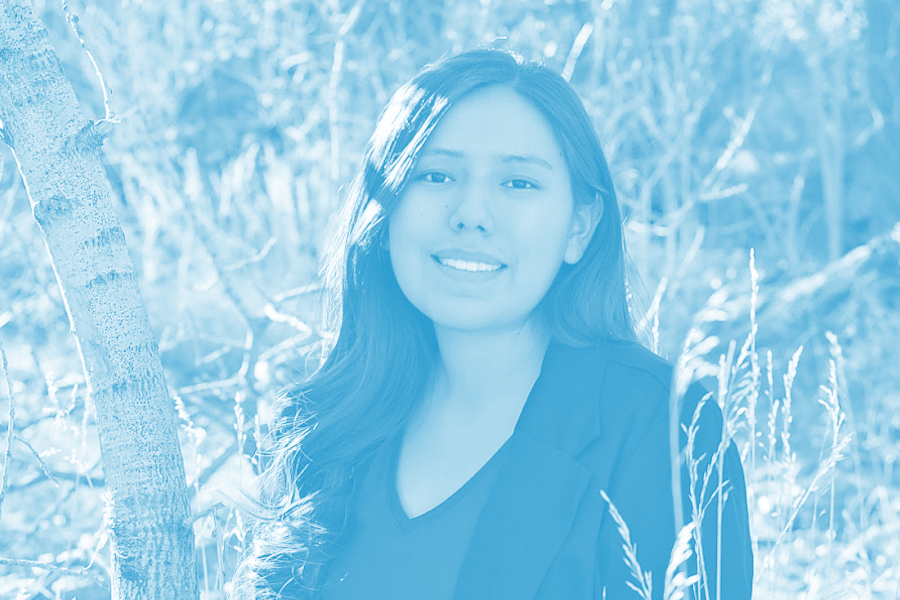 Spotlight on Young Native Poet, Danielle Emerson
Danielle Emerson (Diné) is the recent winner of the Aliki Perroti and Seth Frank Most Promising Young Poet Award, a prize awarded to a college writer by the Academy of American Poets. In this interview, Danielle discusses the importance of including Diné Bizaad in her work, her favorite writers, and future fiction projects.
Danielle Emerson
Tell us about yourself and how you first started writing!
I'm Diné from Shiprock, NM attending school at Brown University. I'm studying Literary Arts, which is just a fancy name for creative writing, and Education Studies. I have three younger siblings who mean the world to me. And I hope to return home someday to become a Language Arts teacher.
If I remember correctly, my earliest writing started as letters to myself. I would write 'Hey Danielle, hope you're doing well," and follow with whatever was on my mind that day. I have a bunch of those, spread out between elementary school and senior year of high school. It wasn't explicitly creative, but it got me reflecting on things I noticed, what I was feeling, and what felt important to me that day, which are all things I still do with my writing.
Can you speak about the importance of language in your poetics, especially in your winning piece?
Diné Bizaad has been around me my whole life. It's comforting and warm. It's a part of who I am, who so many of us are, even if I'm not fluent. Most of what I know, I learned by asking family and friends, or through our school Navajo Language classes, which strangely focused more on the reading/writing portion of language learning, and not the speaking. It's important for me to have Diné Bizaad in my pieces because I'm writing about my lived experiences, my family, my thoughts, my emotions, my memories, my family's memories and stories, and Diné Bizaad is inherently a part of that; it's an inherent part of me. And I love that about our language.
Where do you go for inspiration?
I have multiple notebooks and a long word doc with random thoughts, observations, conversations, memories, images, song lyrics, journal entries, fanfiction oneshots (lol), photos, etc., etc. Sometimes the notes make no sense, or they're so messily written that I can make it out, but lingering on things that excite or comfort or even confuse me eventually lead to a piece, whether that's immediate or later down the line.
I'll also always be inspired by my family, my home. Writing is therapeutic, it's healing. A lot of my writing is me trying to untangle overwhelming emotions from traumatic lived experiences, to put it lightly lol. And it's helped me a lot. The movement towards healing, in some way, inspires me to write.
Who is your favorite artist or writer?
I really really love Jhumpa Lahiri's short stories. Her voice reminds me of wet clay. I'd love to do what she does someday. I'm not sure if he counts, but I also really love Mamoru Hosoda. He's a Japanese film-director and animator. He directed a movie called Wolf Children, and as a person who loves family-based, sibling stories, it's beautiful. And a writer that's been sticking with me lately is Danielle Geller. I read her memoir Dog Flowers, directly after losing my father, and so much of her words resonated with me. I read that book exactly when I needed to.
What do you want to work on next?
It's funny because I don't really consider myself a poet. If someone asks, I usually say "Oh, I write fiction." Or sometimes I add, "Every now and then I write narrative/creative nonfiction." This all goes to say, I'm currently working on a series of short stories. One's about two childhood friends inspired by Arizona Sweet Tea, one has a strange bruise in the corner of the room, one is about a young Diné boy who can summon fire from his palms.
What is your message to younger Diné writers?
If you write—in any capacity—you are a writer. Don't let ideas like prestige through awards or education tell you otherwise. Claim it and make it yours. There's no one way to be 'a writer.' Embrace the ambiguity of writing. I write to ultimately heal. Others write for similar and/or different reasons. Write what you feel compelled to write, and know that that makes you "a writer."
By Kinsale Drake
Kinsale (Diné) is a 23-year-old poet/editor/playwright whose work has appeared or is forthcoming in Poetry, Best New Poets, Poets.org, Poetry Northwest, Black Warrior Review, Teen Vogue, MTV, NYLON, TIME, NPR, and elsewhere. She teaches mental health and storytelling programming for Native youth and is the founder of Changing Wxman Collective & NDN Girls Book Club. She recently graduated from Yale University in Fall 2022.