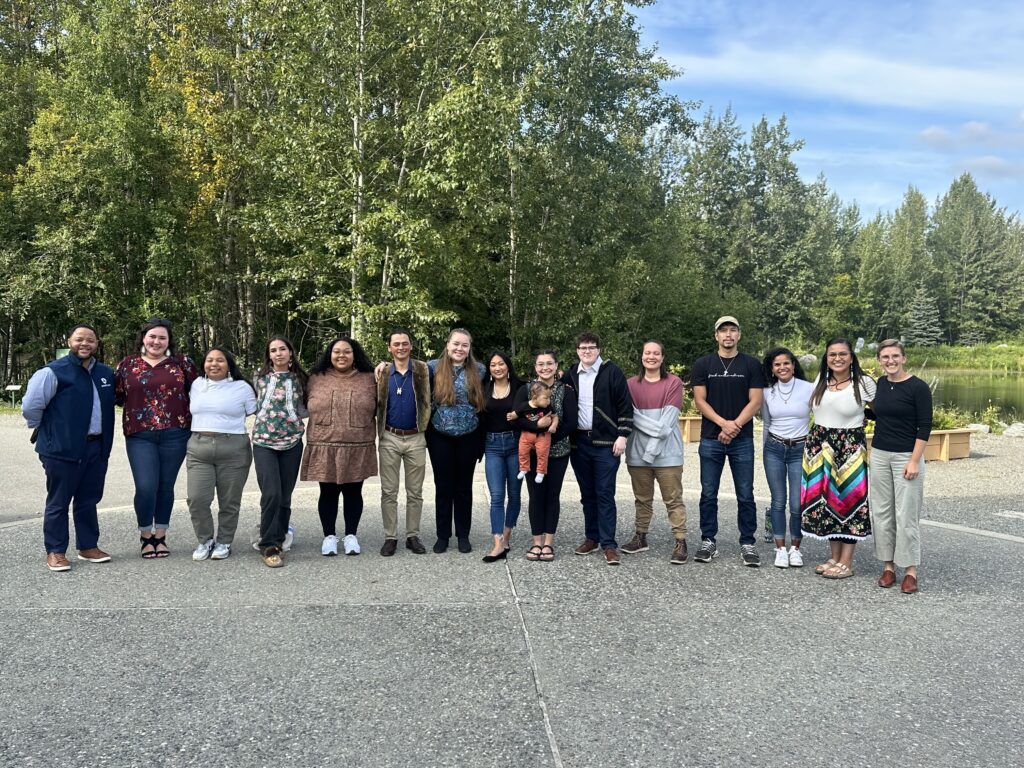 AmeriCorps Alaska Partnership Tour: Centering Youth Perspectives in Data Discussions
On August 21, 2023, Center for Native American Youth's Executive Director Nikki Santos, Associate Director of Youth Programs Cheyenne Brady and Programs Manager Katy Stewart joined AmeriCorps for the Alaska Partnership Tour alongside Natives in Philanthropy and Native Forward.
The tour focused on listening, sharing and building relationships to support Alaska Native communities, with a particular focus on national service through AmeriCorps programs.
CNAY partnered with the Alaska Native Heritage Center, the National Education Association, Natives in Philanthropy and Native Forward to host an afternoon roundtable discussion and evening reception, centering Alaska Native youth in conversations around priorities for Alaska Native communities.
The roundtable discussion focused on the crucial topic of youth-driven data sovereignty. As part of CNAY's decolonizing data initiative, Alaska Native youth were invited to share their analysis and perspective on the initial results of CNAY's Center Us: A Native Survey.
With support from the Urban Indian Health Institute, CNAY launched the Center Us survey to better understand the strength, resiliency, and priorities of Native American youth across the nation. To date, 720 Native youth have taken the Center Us survey.
We believe that the future of Indigenous data includes authentic Native youth participation during data collection and analysis. Centering Native youth perspectives at all stages of data collection and analysis is a critical component of this work.
During the roundtable, Alaska Native youth had the opportunity to define their needs regarding leadership, cultural resources, mental health, civic engagement, and more. We reviewed key survey results, focusing on resource access in nine areas: education, workforce development, sexual and reproductive health, health care, juvenile justice, child welfare, environment, food security, and public safety.
The roundtable participants brought up important considerations for researchers and policymakers – noting the disparity in resource access for Native youth in rural versus urban Alaskan communities. Much of the conversation focused on the American education system, particularly the inadequate and inaccurate portrayal and history of Alaska Native communities. Participants noted that feeling included and recognized was the first step toward fostering meaningful educational opportunities.
Roundtable participants shared their hopes and dreams for the future, one participant commenting that she, like so many other Alaska Native youth, was interested in "putting ourselves in positions of power for our people, not for ourselves".
The youth ended the afternoon hearing from Americorps CEO Michael Smith during a candid listening session, where the youth shared their feedback for Americorps initiatives taking place in Alaska. Following the listening session, participants and partners went on a tour of the Alaska Native Heritage Center before concluding the evening with a celebratory potluck. The potluck showcased the rich diversity of Alaska Native foods, cultural dancing and sport demonstrations, with nearly 350 community members in attendance.