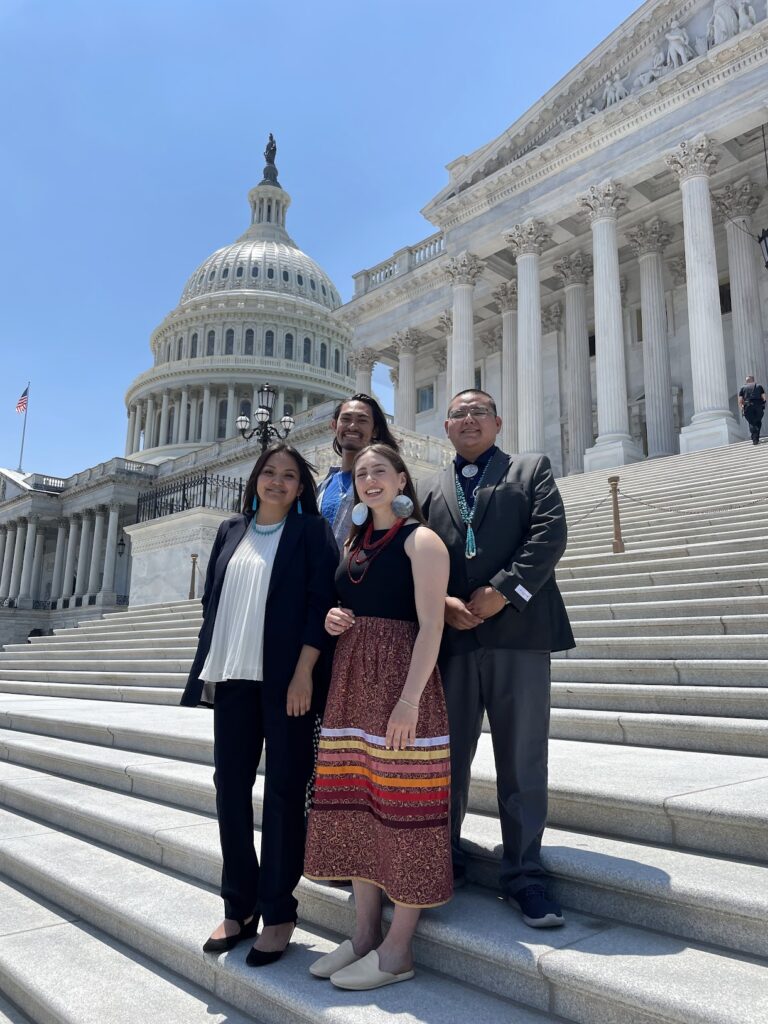 Champs Week in Review
June 22, 2022 – The Champions for Change program is a Native youth leadership initiative designed to highlight positive stories of impact from Indian Country. The program is inspired by a 2011 White House initiative that develops young Native leaders through experience-based learning and tailored advocacy training.
Each year, the Center for Native American Youth (CNAY) at the Aspen Institute selects five inspirational Native youth, ages 14-24, from across the United States to be Champions for Change. Champions are young leaders who have a desire to better their communities. This is done in schools or programs, on reservation or urban spaces, anywhere there is an opportunity to create a positive impact. 
For the 2022 cohort, their first in person convening is called Champs Week. This is where Champions are flown out to Washington, D.C. for a week to participate in leadership building workshops and are presented the opportunity to meet with their home state representatives on The Hill.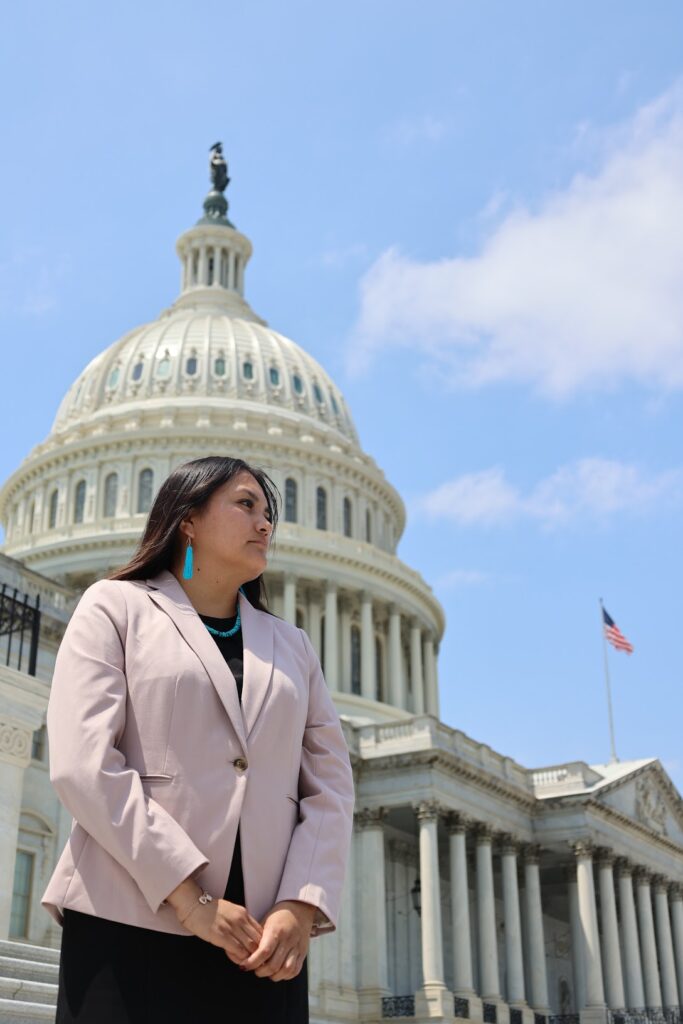 Day One: Leadership Building and Inaugural Land Acknowledgement Ceremony
The week began in community with our relatives of Casey Family Programs. CNAY was thankful to be joined by Managing Director of the Indian Child Welfare Program, Anita Fineday (White Earth Nation), and Senior Director, Melissa Clyde (Navajo Nation). The Champions had an opportunity to learn the impactful work of Casey Family Programs and the importance of the Indian Child Welfare Act (ICWA). CNAY is grateful to have had the privilege to be in community with Casey Family Programs after ten years of collaboration.
Champions continued their day with a workshop titled Leadership Traits: Resilience Within led by Nikki Pitre (Coeur d'Alene), Executive Director of CNAY and Anthony Tamez (First Nations Cree and Sicangu Lakota), CNAY Youth Advisory Board Chair. Youth highlighted the unique traits and attributes of leaders that align with Indigenous value systems. Champions discussed the importance to lead with creativity, empathy, and accountability.
CNAY is fortunate to have had a lunch and workshop hosted by CNAY Board of Advisors Chair, Allison Binney (Sherwood Valley Band of Pomo Indians). Ms. Binney generously hosted the Champions for Change at the Akin Gump Strauss Hauer and Feld, LLP. After sharing a meal, Binney discussed her expertise on advocacy and policy work to support the Champs preparation prior to visiting their representatives. "Know what type of meeting you want to have with them. Do you want to provide solutions? Do you want to work alongside them and build a relationship?" Allison discussed numerous experiences changing policies and working to advance tribal sovereignty across Indian Country.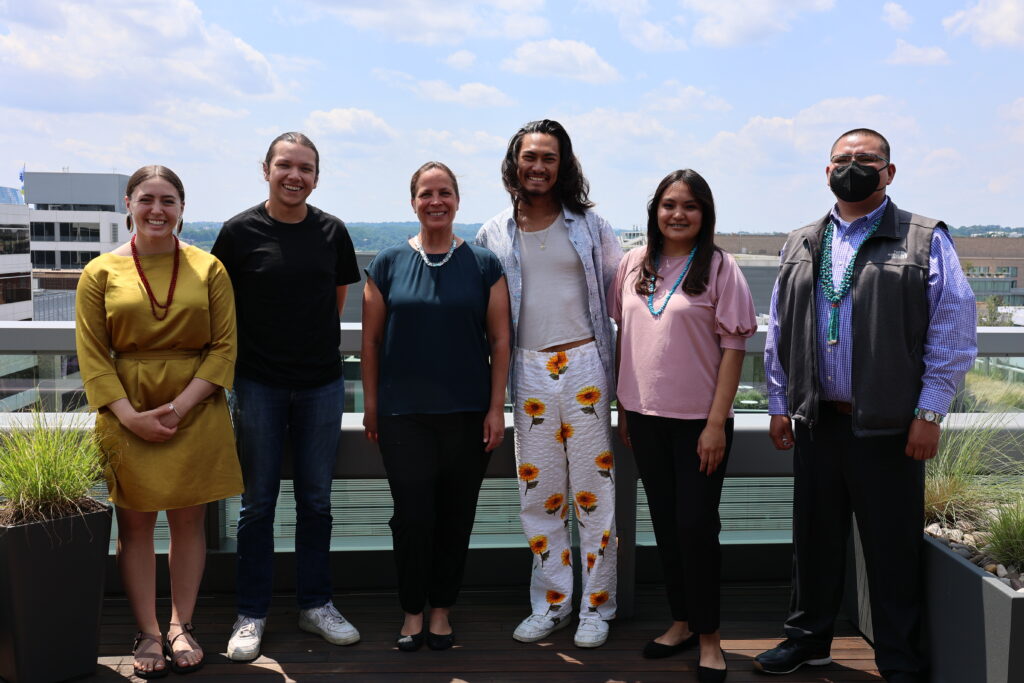 The first day was brought to a close at the Aspen Institute for the unveiling of the Washington, D.C. office land acknowledgement plaque. The event was hosted by CNAY's Associate Director of Research and Evaluation, Dr. Billie Jo Kipp (Blackfeet), who was joined by many guest speakers including Kyle Swann and Chief Jesse Swann Jr. of the Piscataway Conoy Tribe, as well as Mrs. Julie Tayac Yates, the Matriarch of the Piscataway Indian Nation. Through their keynote speeches, Chief Swann and Matriarch Tayac Yates provided calls to action with tangible movements their communities are advancing, including renaming a local highway to represent the Piscataway people. Both Nikki Pitre and Anthony Tamez provided remarks. Following the event, Champions had the opportunity to connect with tribal leaders and colleagues at the Institute. CNAY is honored to have been part of this ceremony.  
Day Two: Fostering Change
The Champions began their second day taking part in a workshop titled My Growth, My Medicine: Shield conducted by CNAY Senior Program Associate, Jen Peacock. This activity allowed youth to share their good medicine, strength, and areas for growth through creative drawings. Many discussed their greatest motivations for creating positive change, with 2022 Champion Maria Walker sharing, "My brothers are my reason why, what I'm doing, why I'm still going."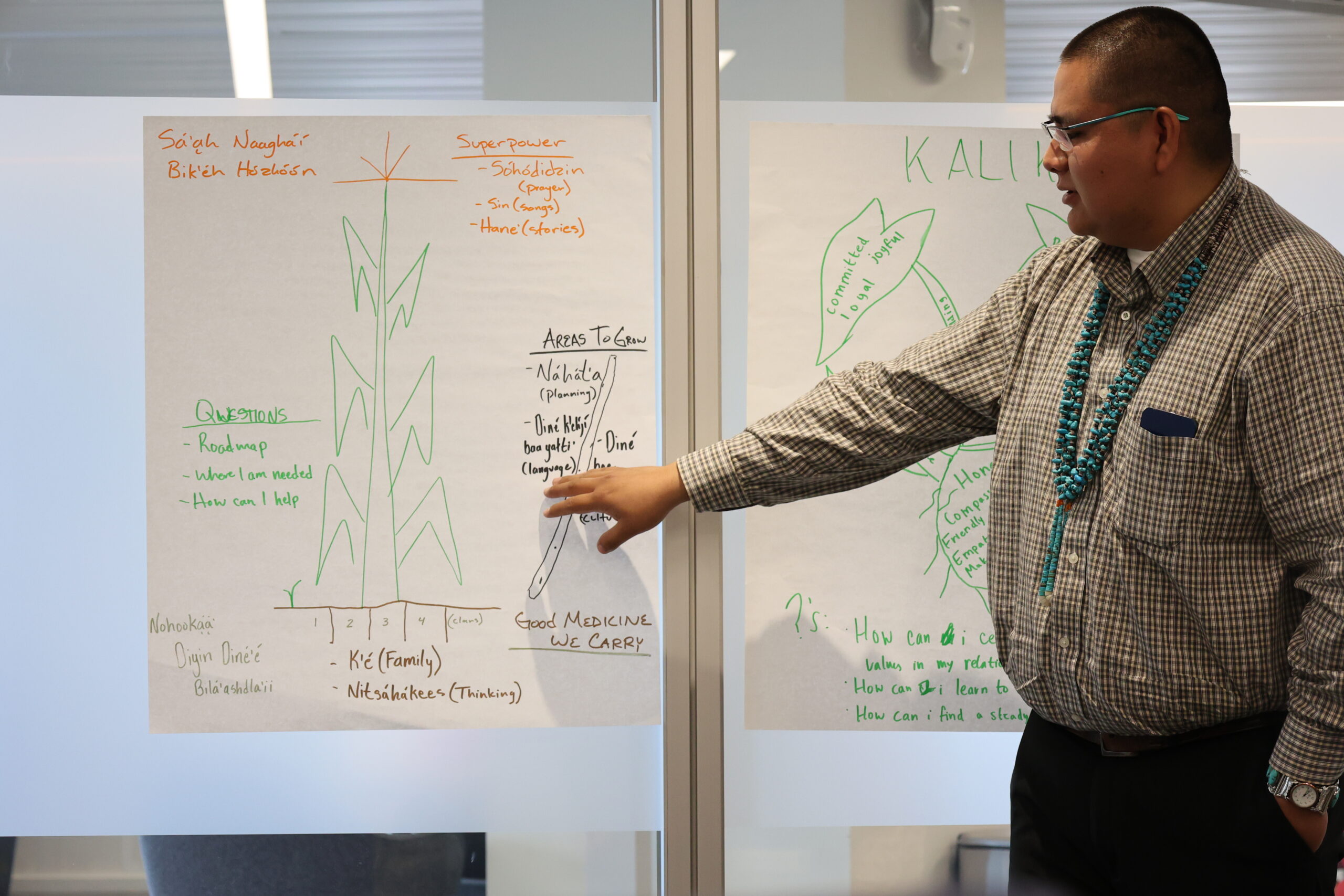 Following the workshop, CNAY Communications Coordinator, Cheyenne Kippenberger (Seminole Tribe of Florida), discussed the fundamentals of communication. Topics included the use of social media for change, interviewing techniques, and the power of personal narrative in writing. Later, Champs were joined by CNAY Founder and former Senator, Byron Dorgan of North Dakota for lunch. In this lunch and learn session, Senator Dorgan shared his journey to work alongside tribal communities while holding office and provided insights to prepare the Champions for their advocacy day on Capitol Hill.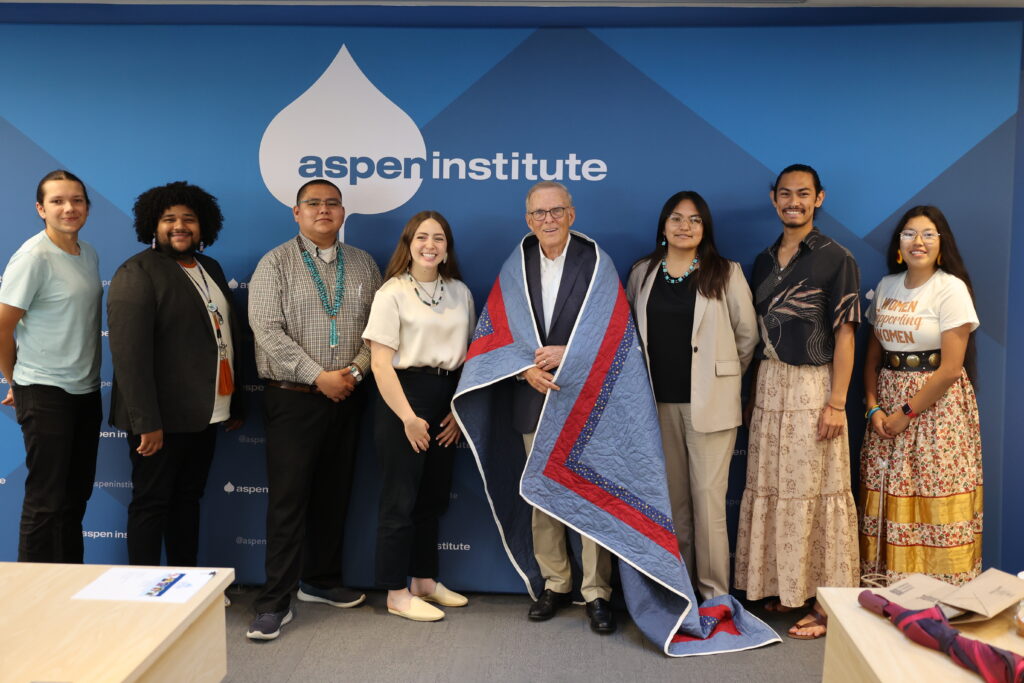 The Champions spent the afternoon focusing on tools and approaches to making positive change. The session, Community Capacity Building and Community Action Advocacy Tools, was co-facilitated by Dr. Billie Jo Kipp, CJ Goulding, and Jen Peacock. Youth received guidance and support on how to implement culturally driven community initiatives. Dr. Kipp shared core values of Indigenous leadership, including intrinsic values, responsibility for others, collective decision making, and decentralized leadership approaches. "To build an effective community project, staying grounded in your culture is vital," Jen shared with the Champions. The cohort will have an opportunity to receive financial resources to implement their own community projects during their term as a Champion.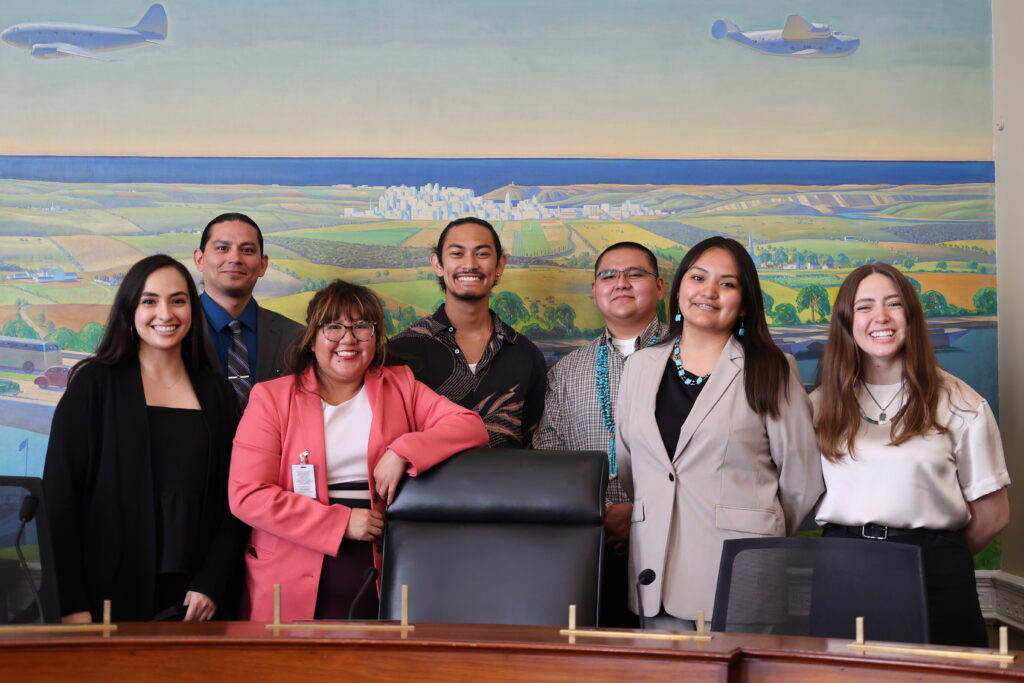 To close the day, the group was fortunate to travel to Capitol Hill to meet with Naomi Miguel (Tohono O'odham Nation), Staff Director of the Subcommittee for Indigenous Peoples of the United States, and Ariana Romeo (Tohono O'odham Nation), Professional Staff on the committee. Youth had the opportunity to gather and learn directly from Naomi and Ariana, who continue to advance the needs and representation of Indigenous people across the United States. Naomi shared her professional career, including policy work focusing on climate change, combating the epidemic of Missing and Murdered Indigenous Women (MMIW), and responses to the current pandemic.
Day Three and Four: Advocacy
Alongside CNAY staff, the Champions for Change cohort traveled to Capitol Hill. Champions had the opportunity to meet with respective members of congress from their home states to share their stories, their work, and invite members to visit their communities. Youth discussed land and water rights, access to health care, and the importance of cultural preservation. Triston Black had the opportunity to engage with representatives and staff members from New Mexico and Arizona. He shared, "Some of our relatives still don't have running water or electricity. I wanted to voice that to the Senator, and hope you will be able to come to Navajo Nation or to Apache to visit our communities and learn what some of our families are experiencing out there."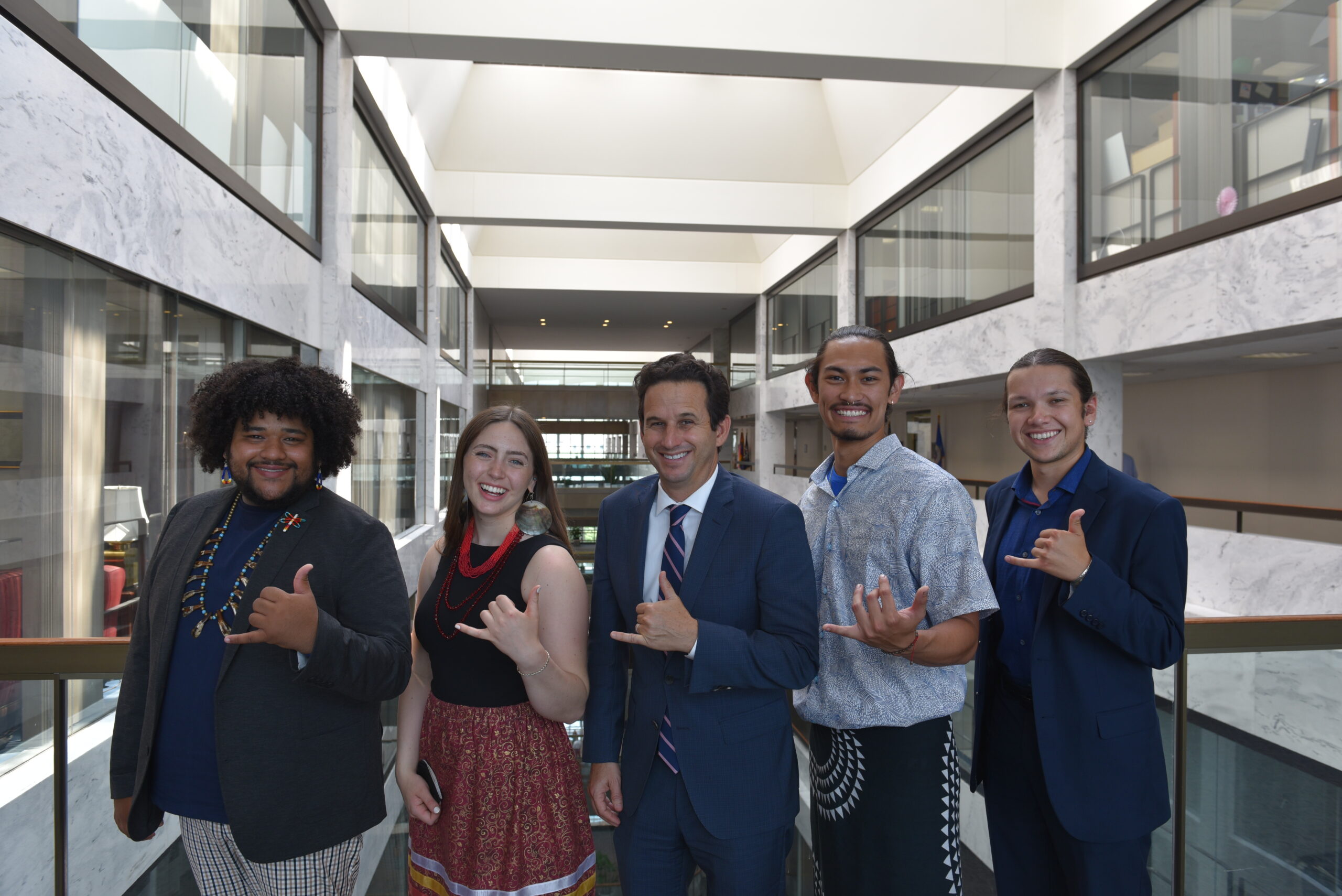 The following day, the Champions received a tour of the U.S. Department of the Interior. Champions had an opportunity to connect with Justin Giles (Muscogee Nation), who is the Assistant Director of the Interior Museum Property Committee. As curator, Justin guided the Champions around the Interior to view works of art and the hall of nations.
The Champions were incredibly grateful to meet with National Parks Director, Chuck Sams (Cayuse and Walla Walla), and share their passion areas. Sams highlighted the importance of Indigenous knowledge systems within the National Parks and called on increased representation in their work. "We need young leaders like you in the National Parks," and Sams went on to congratulate the Champions on their advocacy work. The Champions then had an opportunity to discuss their work with Assistant Secretary for Indian Affairs, Bryan Newland (Bay Mills Indian Community (Ojibwe)). Newland highlighted his role within the Interior to advance tribal sovereignty and self-governance. "Congratulations on your great work," he shared, "and thank you for what you do for our people." Champions were grateful to have received an in-depth overview of the role and responsibility of the Interior Department from Deputy Bureau Director for Trust Services of the Bureau of Indian Affair's, Johnna Blackhair (Chippewa Cree Tribe in Montana).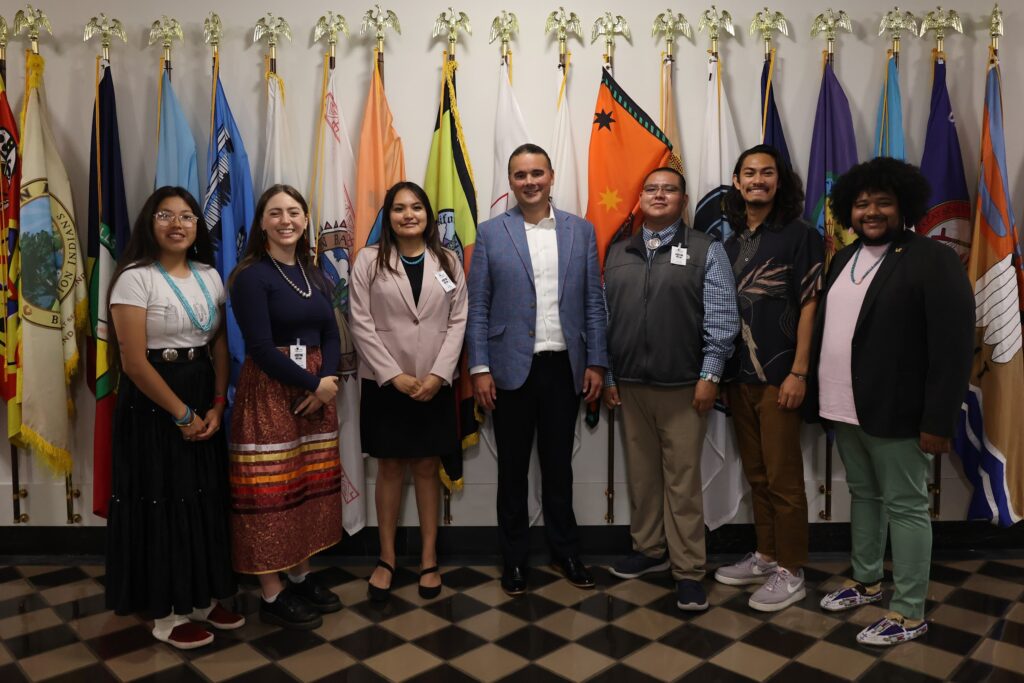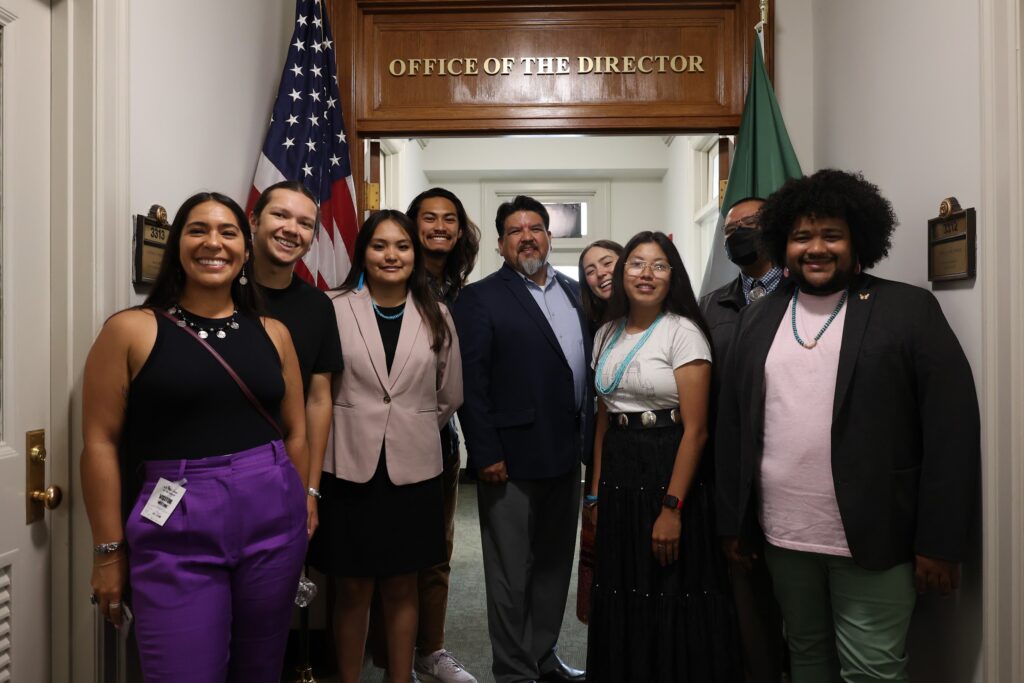 To end their week, Champions met at the Aspen Institute for professional headshots, green screen interviews, and a closing prayer. The Champions will stay connected and engaged with CNAY through our Youth Advisory Board and take advantage of ongoing opportunities to advance their platforms and advocate on critical issues affecting youth in Indian Country.
The Center for Native American Youth is honored to have Kaliko, Maria, Triston, and Ivy join the Aspen Institute family, and we look forward to a meaningful year of youth driven positive change.