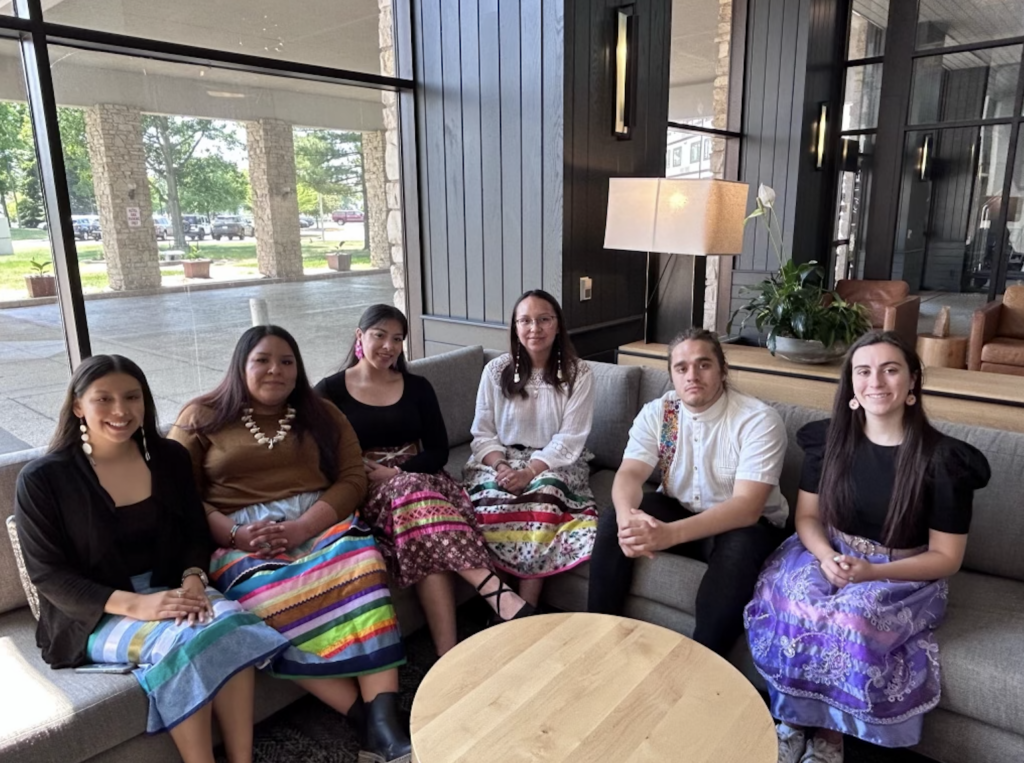 Amplifying Indigenous Perspectives: Brave Heart Fellows Driving Environmental Action and Advocacy
GREEN BAY, WISCONSIN – From June 1 to June 3, 2023, the inaugural class of the Brave Heart Fellowship (BHF) program gathered for the first time. This historic event brought together a vibrant group of passionate young leaders in the heart of America's Midwest. Led by the Center for Native American Youth's (CNAY) graduate student fellow Will Wilkinson, with the support of programs contractor Anthony Tamez-Pochel, the program aims to empower Indigenous and Native American youth, providing a platform for their influential voices in the areas of climate justice and environmental conservation while honoring Indigenous wisdom.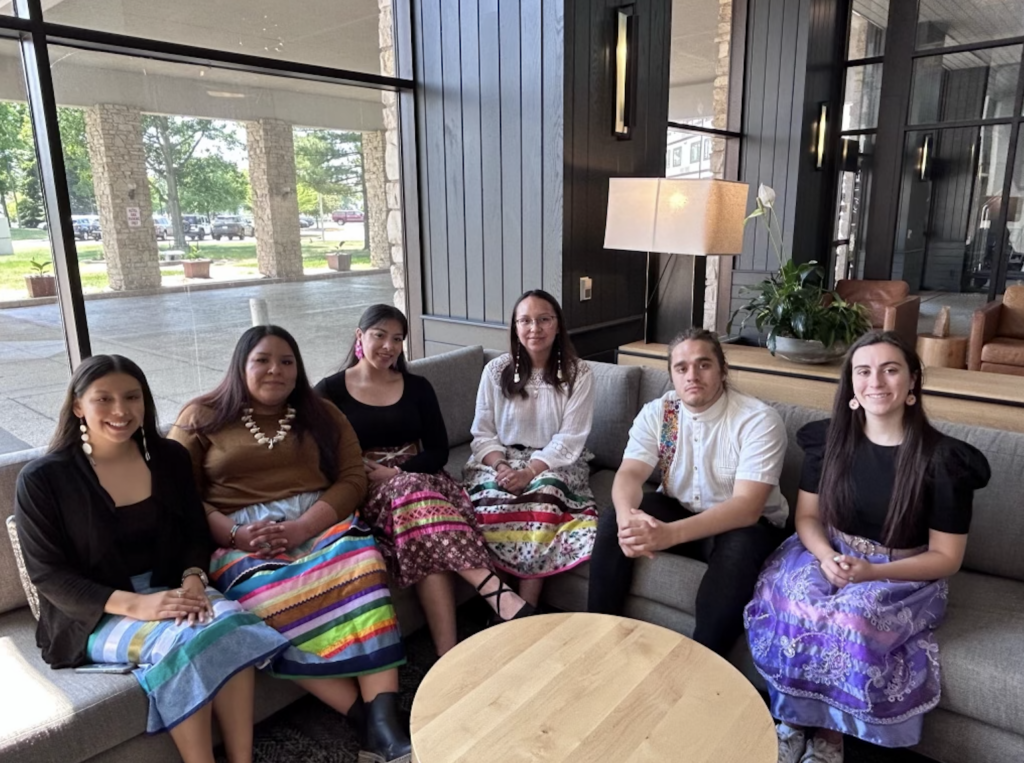 The BHF program addresses the gap in environmental justice conversations and philanthropic engagements that often overlook Indigenous viewpoints. This unique initiative recognizes the intricate connection between climate, cultural preservation, and mental health. Its aspirations lie in harnessing the wisdom, strength, and resilience of Indigenous peoples to generate significant impact in these interconnected areas. The initiative was sparked by the urgent environmental concerns expressed by Native youth, as evidenced by the Indigenous Futures Survey conducted by CNAY.
During their brief but impactful gathering in Green Bay, WI, the Brave Heart Fellows, Amber Manitowabi-Huebner, Avery Tilley, Cydnee Weber, Jenna Makes Good, Rebecca Villalobos, Virginia Snake-Bumann, Alexis White Hat-Kayonnie, and Luke Velasquez, made the most of every moment. Their itinerary included visits to the Bay Beach Wildlife Sanctuary, the Oneida Nation Gate and Lambeau Field, a stroll around downtown Green Bay, and an immersive experience at the Oneida Nation museum. They also explored the Three Sisters Garden and viewed a variety of contemporary Oneida and Iroquois arts and crafts. These experiences enriched their understanding of Indigenous culture and deepened their commitment to environmental justice.
The BHF program is a significant step towards fostering an inclusive, culturally rich, and action-oriented approach to climate justice. The inaugural gathering exemplified the program's commitment to empowering Native American youth and reshaping the narrative surrounding environmental justice. Each fellow has embarked on remarkable community action projects, showcasing their dedication and passion for making a positive impact.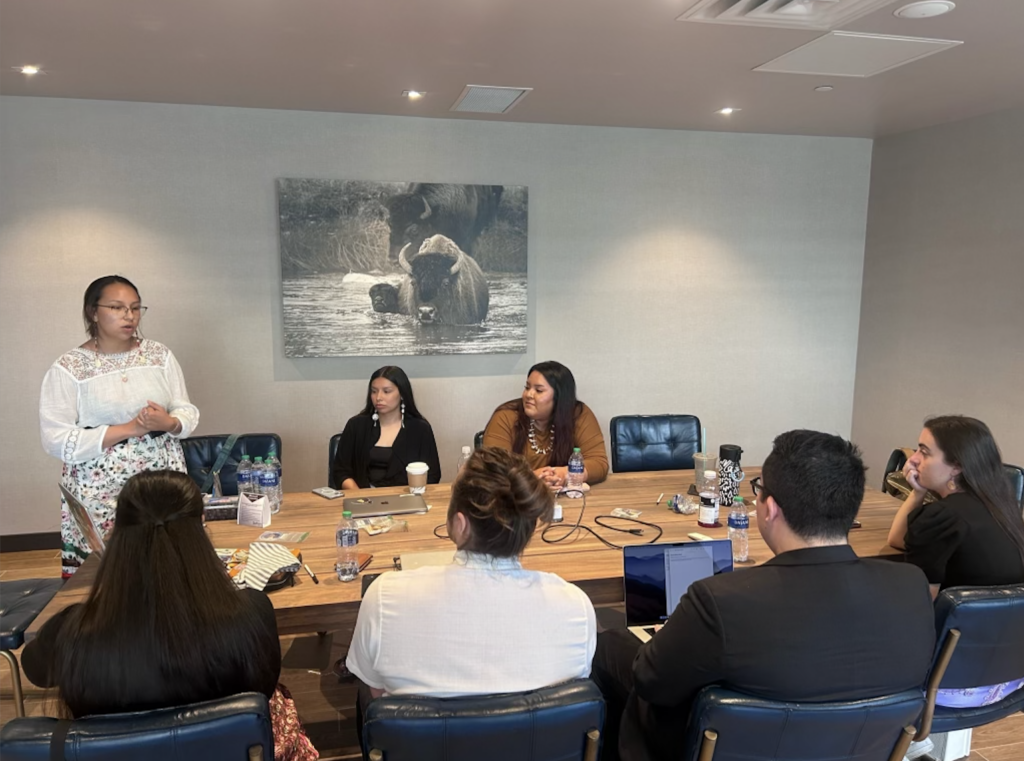 Amber
In an attempt to foster environmental stewardship among indigenous youth, Amber initiated a project that seamlessly blended the wisdom of the Seven Grandfather Teachings, the heart of Anishinaabe philosophy, with practical environmental activities. It commenced with engaging the children at the Sault Tribe cultural center through creative workshops and interactive environmental awareness sessions, thereby laying a solid foundation of knowledge about environmental conservation. A t-shirt design competition was introduced as part of the project, where children were encouraged to express their understanding and perspective on environmental respect. This not only amplified their creativity but also helped them internalize the importance of respecting nature.
The grand culmination of the project was a cleanup day at a local park. This hands-on activity allowed the children to put into practice the teachings they had learned, with a focus on preserving the environment. The trash pickup event not only helped clean the local area but also gave the children a tangible sense of achievement. They could see the difference they were making and how their actions contributed to a cleaner, healthier environment. The impact of this project was twofold – while it successfully beautified the local area, it also instilled a deep-seated sense of responsibility towards the environment in the minds of the participating indigenous youth, which will guide their actions in the future.
Avery
Avery, having identified a significant gap in his own education, dedicated his project to providing a corrective perspective on the field of natural resource management. He aimed to include comprehensive information about indigenous people's significant role in managing natural resources, something he noticed was missing from the mainstream curriculum. In an effort to impart this essential knowledge, he developed an array of informative resources, including an extensive slide deck, a recorded presentation, and an auxiliary document containing in-depth information.
These materials presented a nuanced understanding of the history, significance, and contributions of indigenous people in managing natural resources. Not only did these resources fill the void in the mainstream curriculum, but they also provided an avenue for academic institutions to reconsider and redesign their education policies. By providing these resources to institutions like Michigan State University and The Wildlife Society, Avery played a crucial role in driving a shift in how natural resource management education is approached, ultimately promoting more comprehensive, inclusive learning environments.
Alexis
Motivated by a vision to build a sustainable and climate-resilient community, Alexis took the lead on a series of ambitious projects. These projects were designed with a focus on community cleanups, youth engagement, reforestation, and winter preparedness. Alexis forged a strategic partnership with her tribe to kickstart a vast reforestation initiative, which resulted in the planting of 25,000 trees within a severely fire-damaged reservation. This endeavor not only contributed to the area's reforestation efforts but also played a crucial role in restoring the natural habitat of the region.
Her winter preparedness classes equipped community members with the necessary knowledge and resources to cope with harsh winter conditions. The distribution of winter preparedness kits further ensured that every household was well-equipped to handle severe weather. Alexis also invested her efforts in educating Native youth about identifying, harvesting, storing, and consuming native berries. This not only educated the younger generation about local biodiversity but also encouraged sustainable practices. All these concerted efforts contributed to creating a resilient community, prepared to face climate challenges, and determined to live sustainably.
Cydnee
Cydnee's project focused on creating a nurturing campus environment for indigenous students at the University of Illinois at Urbana-Champaign. The heart of her initiative was to identify areas on campus where students could connect with their cultural heritage and plant relatives. This necessitated meticulous research, consultations, and countless hours of physical verification. Once the areas were identified, she went a step further and developed an eco-cultural tour for incoming students. This guided tour familiarized students with these areas, thereby offering them a sense of familiarity and belonging right from their first day on campus.
In addition, Cydnee proposed improvements to areas on campus to make them more welcoming and resourceful for Indigenous students. This included enhancing the physical aesthetics of these areas and introducing relevant educational resources. The imminent execution of these improvements is projected to result in a significant enhancement in the campus environment for Indigenous students. This initiative will not only make the campus more inclusive, but it will also make it easier to have students access resources that are essential for their overall growth and development.
Jenna
Jenna's project delivered practical, actionable strategies to integrate sustainability into everyday life, promoting a culture of collective responsibility towards the environment. These strategies included the adoption of waste management techniques like recycling and composting, the encouragement of eco-friendly transportation such as cycling, walking or using public transit, and supporting local businesses to reduce carbon footprint. She further advocated for energy efficiency by promoting the use of renewable energy sources and energy-saving appliances, and for the integration of green spaces in urban areas through rooftop gardens or urban farming.
Through her project's successful completion, Jenna inspired a wave of change in her community. She sparked a drive in individuals to reduce single-use plastics, led initiatives for community clean-ups, and facilitated workshops on creating urban home gardens. Her project fostered an appreciation for Indigenous wisdom in modern contexts, inspiring individuals to adopt sustainable habits in their lives. The end goal was a collective push towards a more sustainable, balanced, and resilient world, showing that every action, no matter how small, could significantly impact the health of our planet.
Rebecca
Rebecca embarked on a mission to revitalize the Haskell Wetlands, an educational and ecological resource for the Haskell Indian Nations University and Lawrence, Kansas community. She developed and executed a comprehensive plan that included removing invasive species, organizing trash cleanups, and introducing interpretive signage. The invasive species removal, a significant aspect of the project, was conducted systematically and thoroughly, allowing the native flora and fauna to flourish. Regular trash cleanups ensured the wetlands were free from pollution, facilitating a healthy environment for the indigenous species.
One of the innovative aspects of Rebecca's project was the introduction of interpretive signage. These signs provided valuable information about the various plant species, their cultural significance, and the ecological role they play. This enhanced the educational value of the wetlands and fostered a sense of appreciation for native plant life among community members. Through this initiative, she also contributed to the revival of cultural language and practices. Rebecca's project not only revitalized the Haskell Wetlands, but it also enriched the cultural and educational experience for the Haskell Indian Nations University and Lawrence community.
Luke
Luke is leading an innovative project focused on the protection and enhancement of the cultural and historical treasures in the Cahokia area, near Collinsville, Illinois. This initiative, characterized by its unique blend of historical preservation, cultural advocacy, and ecological stewardship, is forging collaborations between archaeologists, Indigenous communities, and local authorities. The team is devoted to formulating and implementing effective conservation strategies that promote sustainable land use while upholding the region's cultural significance.
An integral component of Luke's ongoing project is the planned reintroduction of native species to Cahokia. This endeavor aims to bolster local biodiversity and restore ecological balance. Additionally, his efforts are critical in preserving the historical site of Cahokia, preventing its further degradation. Through this project, Luke strives to nurture indigenous-focused stewardship in the Saint Louis area, fostering a deeper connection between the land and its historical roots, and amplifying the appreciation for the region's rich Indigenous heritage.
Virginia
Virginia's project centered around advocating for the protection of traditional lands, waterways, and sacred sites within the Winnebago Reservation. Through a community project proposal, she partnered with Ho-Chunk Incorporated to establish a traditional plant medicines garden. The project expanded beyond its initial vision of a single garden, encompassing multiple locations across the reservation, such as the powwow grounds, big screen area, and community farmers market. By incorporating filtering plants like sunflowers and medicinal plants, Virginia successfully addressed the degradation of natural springs caused by restricted access and pollution from non-native farmers.
In addition to establishing community gardens, Virginia delivered a lecture that emphasized the significance of traditional medicines and traditional ecological knowledge (TEK) in revitalizing Indigenous identity, culture, and language. Furthermore, she conducted a "lunch and learn" workshop at the Little Priest Tribal College, engaging college students in hands-on activities centered around seed bombs. The workshop not only provided the necessary materials but also served as a platform for sharing knowledge about the importance of these plants in Indigenous communities. Virginia's project effectively highlighted the inseparable bond between Indigenous peoples and the land while empowering community members to contribute to the revitalization of their traditions and ancestral knowledge.
Towards a Greener Horizon
These fellows are leaving lasting imprints on their communities through their devoted efforts. Their projects, rooted in their passion and cultural backgrounds, serve as shining examples of the transformative power of community action. The inaugural Brave Heart Fellowship year has undeniably demonstrated the potency of Indigenous insights and expertise in environmental conservation and sustainability endeavors. The persistence, vision, and dedication of the fellows have resonated significantly within their communities and beyond, laying the groundwork for future initiatives.
As we pause to acknowledge the triumphs of the Brave Heart fellows, we eagerly await the launch of the program's second year. The next chapter will spotlight another region of the United States, continuing to uplift Indigenous voices and solutions in environmental sustainability. We invite you to stay tuned for more updates later this year as we broaden this exhilarating initiative to embolden the forthcoming generation of Indigenous environmental trailblazers. We are eager to explore what the future has in store!