CHAMPIONS FOR CHANGE
The Champions for Change (CFC) program is a Native youth leadership initiative designed to highlight positive stories of impact from Indian Country. The program, inspired by a 2011 White House initiative, develops young Native leaders through experience-based learning and tailored advocacy training.
About the Program
Each year, CNAY selects five inspirational Native youth, ages 14-24 and from across the United States to be Champions for Change. All applicants, regardless of acceptance, are named Gen-I Ambassadors and stay engaged with CNAY and the Gen-I Network. Champions are young leaders who have a desire to better their communities. This can be done in schools or programs, on reservations or urban environments, anywhere there is opportunity to create positive impact.
Champions for Change 2021
Due to the COVID-19 pandemic, CNAY will not be accepting applications for a 2021 Champions for Change cohort. CNAY is honored that our 2020 Champions for Change will serve an additional year. CNAY staff apologizes for any inconvenience. Applications for the next Champions for Change cohort will be available in the Fall of 2021. All young leaders are encouraged to apply!
What is the Role of a Champion?
Champions enter a close working relationship with CNAY that begins with a series of recognition events in Washington, DC in the spring, lasting an entire year. This national recognition provides an initial platform for Champions to amplify their leadership stories and benefit from a variety of resources that enhance their advocacy skills. Throughout their term as a Champion they will receive support, resources, and opportunities to represent themselves and CNAY at various events.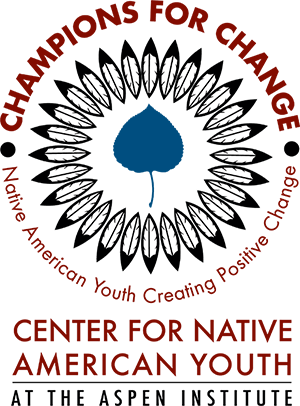 What happens after the event in DC?
Beyond national recognition events, Champions remain engaged with CNAY through a one-year term on CNAY's Youth Advisory Board, and take advantage of ongoing opportunities to contribute to the national dialogue on critical issues affecting youth in Indian Country.
CNAY Youth Advisory Board Members:
Participate in quarterly meetings to stay engaged in CNAY's work and build leadership skills;
Serve as young community experts and are invited to provide their perspectives at and participate in conferences, webinars, meetings, and other speaking engagements;
Lead by example by serving as positive role models for their peers; and
Act as community liaisons to share information about resources and youth opportunities with their communities and peers.