Obama Foundation Internship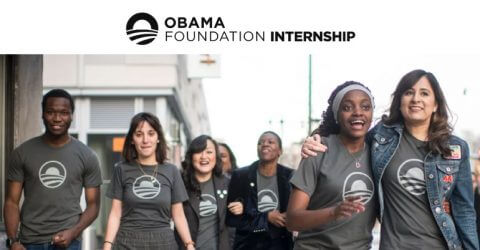 The Obama Foundation is now taking applications for their 2018 Summer Internship.
The internship will run from May 29, 2018 through August 17, 2018 (semester system students) and June 18, 2018 to September 7, 2018 (quarter system
students). Interns will work 40 hours a week in either the Chicago or D.C. office. Interns will also receive stipends and reimbursements for a
portion of the expenses directly related to their internship.
Applications are due February 12, 2018 5pm CT. Apply here!
Eligibility:  
Be a current full-time or part-time undergraduate or graduate student;
Be eligible to work in the U.S.; and
Must be able to commit to the program dates(May 29, 2018-August 17, 2018 or June 18, 2018-September 7, 2018)
To Apply: Complete the online application by February 12.
The following must be included:
One-page resume or CV;
Responses two short answer questions (100 words);
Essay response (500 words); and
Three references.
Note: You will not be able to save and come back to the application page. Download the Application Worksheet to preview the essay prompts and draft your responses.
BACK TO ALL RESOURCES