GENERATION INDIGENOUS NATIVE YOUTH NETWORK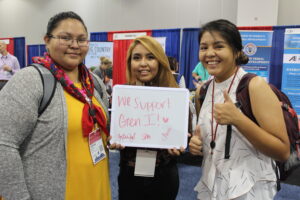 As part of the Generation Indigenous initiative launched by President Obama, CNAY manages the National Native Youth Network to provide a sustainable platform to connect, engage, and provide opportunities for Native youth. The network enables the exchange of resources ranging from attainment of higher education to career opportunities, professional network-building, and community initiative development. It also provides a platform to elevate Native youth voices into the national dialogue.
Youth Ambassadors
Gen-I Ambassadors serve as spokespersons for the Gen-I initiative, and act as community liaisons to share resources and opportunities with peers and communities. Learn more.
Gen-I Challenge
The Gen-I Challenge is pledge taken by individuals and groups to create positive change among their peers and within their communities by volunteering, initiating projects, or becoming mentors for other youth. Learn more.
Gen-I Map
An online map of youth and youth-serving programs that have accepted the Gen-I Challenge. View map.