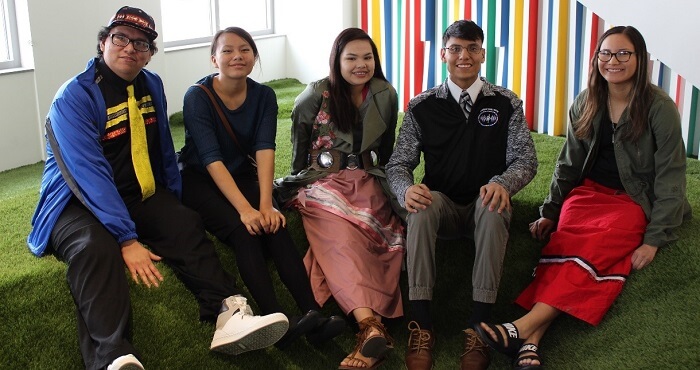 ​CNAY Welcomes Cheyenne River Youth Project Growing into Wowachinyepi Champions for Change
On April 8-11, the Center for Native American Youth at The Aspen Institute welcomed five Native youth advocates and two program coordinators from theCheyenne River Youth Project (CRYP) to Washington, DC. Oliver, Daniel, Randi, Jaymalee, Claudia and their chaperones come from Growing into Wowachinyepi (Growing into Leadership), a pilot youth recognition program inspired by CNAY's Champions for Change.
On Sunday, the group arrived excited to be in the nation's capital. For some, it was their first time on an airplane, and first time leaving South Dakota. CNAY met them at Carmine's for a fun dinner where everyone got to know one another. Afterward, CNAY staff Del and Nikki explored Chinatown and Metro Center with them before ending the night with cookies from Momofoku's Milk Bar.
On Monday, the CRYP team came to CNAY's headquarters for their first leadership development session entitled "Leading with the Why". There, the five youth leaders learned to focus their advocacy messages around the motivation behind their community change initiatives.
Following the session, CNAY hosted a breakfast reception to introduce the youth leaders to DC partners and stakeholders. Jackie Pata, Executive Director of the National Congress of American Indians, opened with an invocation and prayer. Elliot Gerson, Executive Vice President at The Aspen Institute, followed with remarks. Gerson spoke about the personal impact of his visit to the Cheyenne River Reservation with CNAY in 2017, and expressed his excitement about the development of the Growing into Wowachinyepi program. Afterward, Oliver, Daniel, Randi, Jaymalee and Claudia spoke to the group, shared their stories, and got to mingle and network with people over breakfast.
The youth felt great after sharing their story and meeting so many people and advocates. It was an honor to close out the reception with John Around Him     (Oglala Sioux Tribe) from the National Indian Education Association, who sang a prayer song with them. The youth headed to the roof for some fresh air and city skyline views before diving into their next advocacy training session.
Denise Desiderio, Senior Advisor for Akin Gump Strauss Hauer & Feld helped prepare the group for their upcoming meetings with legislators.They practiced sharing their stories and role-playing, with CNAY Executive Director Erik Stegman serving as a very comical Senator.
Photo: Denise Desiderio and Erik Stegman with GIW Champion Oliver Miner after the Advocacy 101 session.
Next, the youth participated in a communications strategy session facilitated by Amber Richardson. They learned the power of social media in connecting with influencers, promoting their platforms, expanding their supporter base, and engaging their community. A highlight of the session was browsing the encouraging messages stakeholders shared with them using #GIWChamps.
Photo: GIW Champions (L to R): Jaymalee, Claudia, Randi, Oliver, Daniel during communications training session.
On Tuesday, the Growing into Wowacinyepi Champions took to Capitol Hill to share their stories with their Congressional representatives. Claudia, Daniel, Jaymalee, Randi, and Oliver put their preparation into practice as they discussed the issues they're each passionate about and suggested how their South Dakota representatives could help support them in their efforts. After lunch at Dirksen Senate Buffet, the group toured the Capitol, saw the cherry blossoms and ended the day with a hop-on-hop-off night tour. It was a great day.
Photo: GIW Champions with South Dakota Senator Mike Rounds
Wednesday marked the end of their trip. Del and Nikki met the group for breakfast before seeing them off.
The Growing into Wowachinyepi Champions are returning home to continue to make positive change in their community. Jaymalee told CNAY that this is just the starting point and she feels prepared to make a powerful impact not only in Cheyenne River, but in Indian Country. CNAY is grateful for the leadership of Growing into Wowachinyepi, and cannot wait to see what the future holds for them.
Currently, CNAY is working with the Mandan Hidatsa & Arikara tribes in Fort Berthold, North Dakota for a local youth recognition program similar to Growing into Wowachinyepi and Champions for Change. We look forward to working with these young leaders!