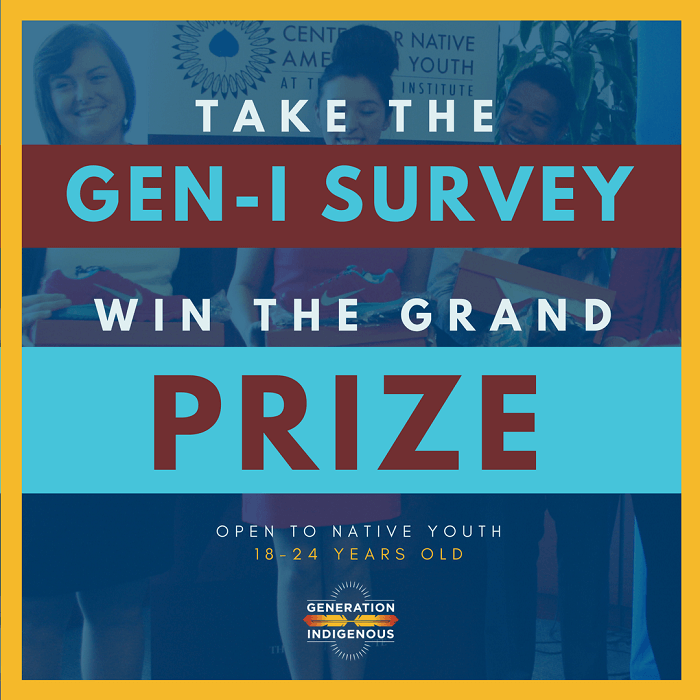 $20k Nike N7 Contribution Supports Generation Indigenous Native Youth Survey
This year, Nike N7 Fund contributed $20,000 to the Center for Native American Youth at The Aspen Institute (CNAY). This grant supports CNAY's management of the Generation Indigenous National Native Youth Network, a multi-sector approach to decrease barriers and increase opportunity for Native American youth.
In support of N7's focus on Native health and wellness, CNAY launched the second annual Generation Indigenous Native Youth Survey to better understand the challenges, strengths, needs and opportunities of tribal communities as reported by Indigenous youth. Prizes, including the grand prize of N7 gear, will be awarded to select Native youth who share their perspectives with CNAY by completing Parts 1 & 2 of the Gen-I Survey. The survey is open to Native youth between 18 and 24 years old, and will close on October 27. Note that the Gen-I Survey and giveaway are both being administered by the Center for Native American Youth, not Nike N7.
Results from the Gen-I Survey will help inform CNAY's State of Native Youth Report and guide the organization's programming. Survey data will be shared widely to assist Native youth and youth service providers in advocating for awareness and funding to address critical community challenges. The data will also be discussed through CNAY's report release event on November 15 in Washington, DC.
"The Gen-I Survey is our way of expanding CNAY's outreach to the tribal communities we haven't yet visited," says CNAY Executive Director Erik Stegman. "It's a way to ensure that our advocacy efforts align with what Native youth are really experiencing across the country."
Nike N7 began with a vision to directly increase access to physical activity and sport for tribal communities, and has developed into a program and the N7 collection within Nike's North America business. N7 promotes Native peoples' physical health and holistic wellness and supports the N7 Fund, which awards grants to help Native communities implement physical activity initiatives for youth. To date, the N7 Fund has awarded $4.6 million in grants to 200 communities and organizations, reaching more than 400,000 youth.
"Our goal with the N7 Fund is to get Native kids moving," says Jackie Blackbird, Nike's Program Manager of Native American Community Impact. "Sport builds self-confidence in Native youth, which enables them to be leaders of community change. We're proud to partner with CNAY to support Native youth wellness and leadership."
The Center for Native American Youth looks forward to learning about prominent issues facing Native youth, and sharing those findings with stakeholders. All are invited to 
share the survey
 with Native youth in tribal and urban Indian communities using this 
social media guide
. Questions     about the survey may be directed to 
cnayinfo@aspeninst.org
.