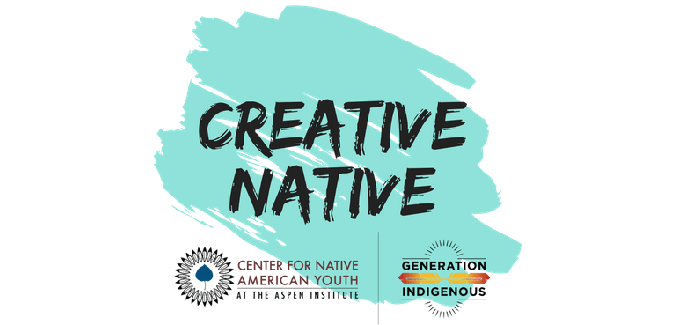 4/13 Gen-I NOW: Creative Native Call for Art
Marʉ́awe! Hello! in the Comanche language.  This Gen-I Native Opportunities Weekly (NOW) message shares information about the Gen-I Creative Native Call for Art.
Creative Native is a new Call for Art for Indigenous youth ages 5-24 years old. The Center for Native American Youth invites youth to submit an original artwork (painting, photograph, traditional art, etc.) that showcases what Generation Indigenous (Gen-I) means to them. This year's Creative Native awardees will receive $200, funding for art supplies, and national recognition in the State of Native Youth Report. The cover artist will also be brought to Washington D.C. for the release of the 2018 State of Native Youth Report. Click here to learn more about the contest.
Submissions are due 11:59 PM Eastern Time on May 16, 2018. Click  here to submit your art! 
Eligibility: Applicants must …
Self-identify as Indigenous;
Be between 5 and 24 years old by May 9, 2018;
Currently reside in the United States; and
Submit a high-resolution image or photograph of an original work of art.
Examples include but are not limited to paintings, drawings, photography, sculptures, and traditional works such as beadwork, carvings, baskets etc.
To Submit: Completethe Creative Native Contest Entry Form and include the following:
A high-resolution photo or image of your artwork that demonstrates what Gen-I means to you;
A short bio and brief statement about your artwork; and
If you are under 18 years of age, the electronic signature and contact information of a legal guardian.
Questions? Email Del Curfman at del.curfman@aspeninstitute.org or call at 202-736-3505.