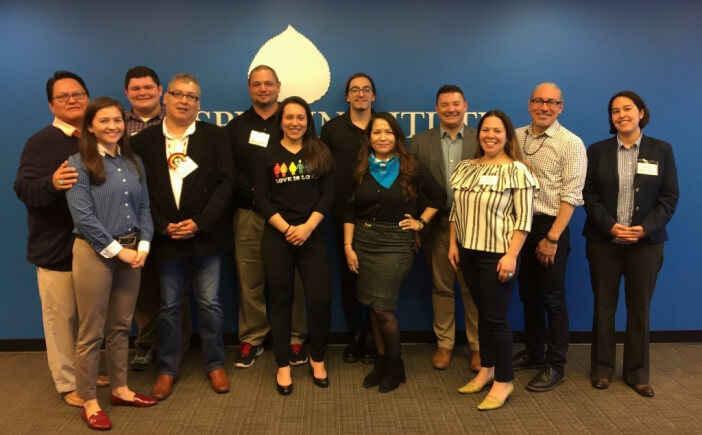 CNAY Announces project to support Native LGBTQ+ and Two-Spirit
March 17, 2017. Washington DC. — The Center for Native American Youth at The Aspen Institute (CNAY) partnered with the Arcus Foundation on a new one-year project to better understand the current landscape of Native LGBTQ+ and Two-Spirit youth perspectives, needs, strengths, and resources.
To support the development of this initiative, CNAY organized a diverse group of Project Advisory Panelists. In February, CNAY hosted its first in-person meeting with the panelists for a day-long session at The Aspen Institute in Washington, DC. Panelists collaborated to identify resources, develop the project's design, and strategize about other networks to engage. The advisory panel consists of Native youth, community leaders, youth service providers and other advocates who each bring a wealth of knowledge and experiences to the development of this initiative. Members of the project advisory panel are listed below.
Among several strategic recommendations, the panel advised that a local, culturally-informed approach is key for developing educational and healing initiatives for Native LGBTQ+ and Two-Spirit youth. The group emphasized that tribe-specific cultural knowledge and historical context are both critical in combating negative perceptions of Native LGBTQ+ identities, and that normalizing these discussions is the first step in fostering allies and creating effective support systems. The panel also hopes that CNAY's project will help reframe dialogues on LGBTQ+ identities in Indian Country and include discussions on traditional and cultural roles, identities, and an assertion of tribal sovereignty.
"Issues of identity for young people put them in a vulnerable place," said project advisory panel member Amber Ebarb. "Especially when you don't know where you stand with your community and are trying to navigate that."
Together, CNAY and its project advisory panel have created a working list of tribal communities and national convenings as potential sites for project outreach and direct youth engagement. These events and visits will allow CNAY to introduce the project, solicit feedback, and learn from communities and allies about opportunities for resource development aimed at increasing support networks for Native LGBTQ+ and Two-Spirit youth.
For more information about this project, contact Aaron Slater at aaron.slater@aspeninst.org or (202) 736-2905. You can also click here to receive future updates about the project.
CNAY Two-Spirit Project Advisory Panel Members
Tyler Campbell, Choctaw Nation, High School Student
Olivia Cook, Saint Regis Mohawk, Prevention Educator at Saint Regis Mohawk Health Services
Sarah Eagle Heart, Oglala Lakota, CEO at Natives Americans in Philanthropy
Amber Ebarb, Tlingit, Program Manager at National Congress of American Indians
Se-ah-dom Edmo, Shoshone-Bannock, Nez Perce, Yakama, Movement Building Director at Western States Center Movement
Lenny Hayes, Sisseton-Wahpeton Oyate, Executive Director/Therapist/Consultant at Tate Topa Consulting
Lindsey Hogg, Nottawaseppi Huron Band of the Potawatomi, Student
Harlan Pruden, First Nation Cree/nēhiyaw, Managing Editor at TwoSpiritJournal.com; PhD Candidate at University of British Columbia
Samuel Slater, Navajo Nation, Champion for Change at Center for Native American Youth
Elton Naswood, Navajo Nation, Senior Program Analyst at Office of Minority Health Resource Center
Nathan Taylor, Prairie Island Mdwekanton Sioux Community, College Student