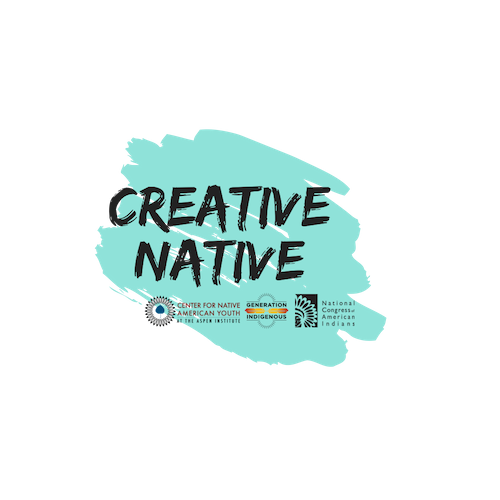 8/23 Gen-I NOW: Creative Native Call for Art Deadline EXTENSION
The 2nd Annual Creative Native Call for Art is sponsored by the Center for Native American Youth (CNAY) and the National Congress of American Indians (NCAI). This year we are excited to announce the deadline has been extended to September 20, 2019 11:59 PM EST.

Creative Native is a call for art that supports young Indigenous artists ages 5-24 years old by providing them with an opportunity to receive national recognition, funding for art supplies, and an award of $200. Examples of submissions include, but are not limited to: paintings, drawings, photography, sculptures, beadwork, carvings, baskets, etc.
To learn more about the Creative Native Call for Art, please join CNAY and NCAI during the Creative Native Informational Webinar, September 6, 2019 from 4-5 PM EST. RSVP here!
ELIGIBILITY:
Self-identify as Indigenous;  
Be between the ages of 5 and 24 years old by the application deadline;  and
Currently reside in the United States.
Click here for a complete list of Rules & Guidelines.
SUBMITTING YOUR ART:
Submissions will be accepted electronically through the Creative Native Entry Form. Submissions are due at 11:59 PM EST September 20, 2019.
*To be eligible for the State of Native Youth report cover art, artists must be between the ages of 15-24 years old.
**Each artist may submit one art submission to the 2019 Call for Art. Artists may submit up to three (3) images of their artwork, displaying alternate angles and perspectives if needed.
SUBMISSION SPECIFICATIONS:
Portrait Dimensions: 8.5in X 11in Quality: 250 to 300 pixels per inch (ppi) Format options: .png, .psd, .ai.
Landscape Dimensions: 17in x 11in Quality: 250 to 300 pixels per inch (PPI) Format options: .png, .psd, .ai.
If you have any questions, please contact Tashia Arnold at tashia.arnold@aspeninstitute.org or call 202-464-4332.