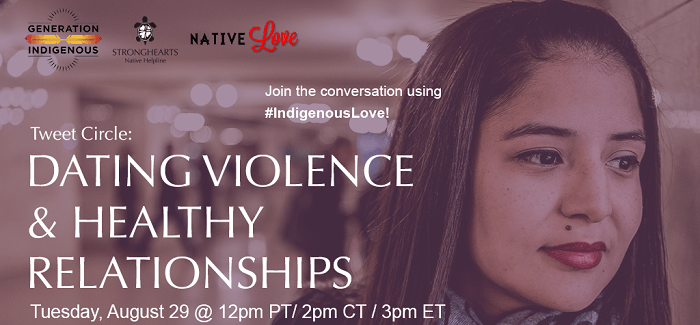 8/29 Gen-I NOW: #IndigenousLove Tweet Circle on Dating Violence & Healthy Relationships
On Tuesday, August 29, Generation Indigenous partnered with StrongHearts Native Helpline and Native Love to host a Tweet Circle chat to discuss teen dating violence and healthy relationships among Native youth. Joining the chat was Jazmyn Espinoza, a Gen-I Youth Ambassador, 2015 Champion for Change, and advocate for sexual assault survivors.
Native youth, educational and advocacy organizations, schools, and others were incited to join the conversation by using the hashtag #IndigenousLove.We asked a few questions throughout the chat, gave everyone time to respond live, and left a few minutes at the end for additional Q&A.
Missed it? You can still jump in the conversation to ask questions, get answers, and give and take advice about how to end dating violence in our communities! Just reply to our tweets using the hashtag #IndigenousLove!
How to Participate
Log on to Twitter.
Follow @GenIndigenous, @StrongHeartsDV, and @NativeLoveIs.
Use the hashtag #IndigenousLove to join the conversation and share your opinions and advice! You can also tweet us your own unique questions. We'll follow up with resources that can help you support Native youth in spotting and stopping dating violence.
Still have questions? Email bettina.gonzalez@aspeninst.org or Tweet at Gen-I.