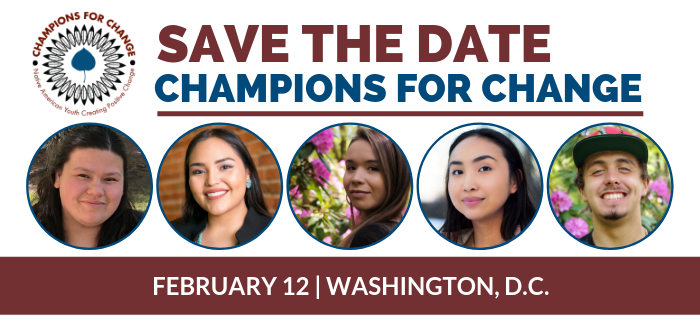 Save the Date! Meet the 2019 Champions on February 12!
Join us and hear the inspiring stories that led Autumn, Shandiin, Madison, Charitie, and Adam to be named 2019 Champions for Change. The 2019 Champions for Change serve as representatives of the next generations of leaders in Indian Country. From Alaska to Connecticut to Washington, the 2019 Champions have advocated for issues important to them, including improving child welfare systems, decolonizing education standards, or supporting victims of sexual assault.
RSVP to attend the panel discussion with this year's Champions and celebrate their leadership at CNAY's eighth anniversary reception.
---
Panel Discussion with 2019 Class of Champions for Change
Tuesday, February 12, 2019 | 12 – 1:30 PM
The Aspen Institute
2300 N Street NW
Washington, DC 20037
Smith Conference Room | 8th Floor
*Lunch provided
Center for Native American Youth Anniversary Reception
Tuesday February 12, 2019 | 5-7 PM
Capital Hilton
1001 16th St NW
Washington, DC 20036
*Refreshment Provided