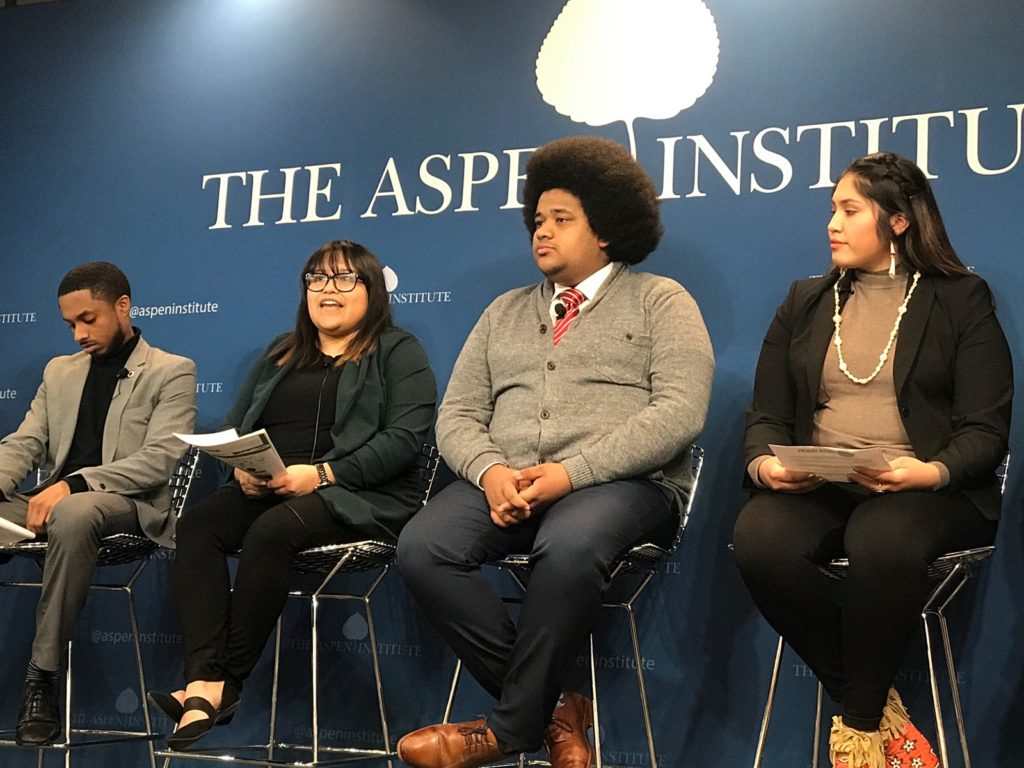 Fresh Tracks Forum Looks Back on Program Successes
Washington, DC, January 17, 2019 – Today, The Aspen Institute's Center for Native American Youth (CNAY) hosted the Fresh Tracks Forum, which brought together youth leaders, Fresh Tracks leaders and participants, and the CEO of the Aspen Institute Dan Porterfield to discuss the importance of connecting youth and promoting leadership.
In his opening remarks, CEO Dan Porterfield stated, "part of being at the [leadership] table as young people is understanding other young people, and learning how to find unity in difference, and how to understand the diversity of cultural backgrounds…and maybe even be a model for older people."
Fresh Tracks answered a call to action from President Barack Obama resulting from his visit to Native communities in Alaska. The idea involved a program that bridges divides to bring together tribal, urban, and rural youth in the outdoors in pursuit of empowering the next generation of leaders.
CNAY Executive Director Erik Stegman stated, "I had never heard of a program that actually brought Native youth together with youth from other communities to really focus on what they can do to build power together across cultures, and really relying on nature as a platform for organizing and civic action—and that's really what Fresh Tracks is."
A panel including youth leaders, Fresh Tracks participants, and Fresh Tracks trainers discussed the success of the program, sharing best practices for intercultural exchange and leadership development. Panelists highlighted how Fresh Tracks sparked action in their community after they returned from their expeditions.
The event included four participants of inaugural Fresh Tracks regional expeditions, Carina Cisneros, Devin Edwards, Anthony Tamez (Sipihk First Nations Cree/Sicangu Lakota), and Kyra Antone (Coeur d'Alene/Tohono O'odham), Native American Women's Association President at Washington State University.
"[Fresh Tracks] brings a lot of you. It brings out more in you than you knew it could" said Antone.
Fresh Tracks is run in partnership with the Center for Native American Youth (CNAY), the Aspen Institute, the Children and Nature Network (C&NN), Generation-Indigenous (Gen-I), C&NN's Natural Leaders Network, the My Brother's Keeper Alliance (MBK), and Opportunity Youth United (OYU).
The program was brought to life through the generous giving of the Walmart Foundation, REI Co-op, Casey Family Programs, and the Newman's Own Foundation. Learn more about Fresh Tracks at freshtracksaction.org