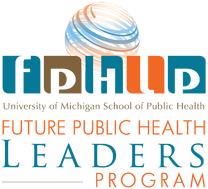 1/9 Gen-I NOW: Future Public Health Leaders Program
The University of Michigan Future Public Health Leaders Program (UM FPHLP) is a 10-week residential summer program funded by the CDC. UM FPHLP provides students with opportunities for growth, learning and awareness in the field of public health. The summer program is designed to encourage underrepresented college students to consider careers in public health. The 2019 program will run from May 28 – July 31, 2019 and includes public health and career mentorship, hands-on and practical field experience, seminars, lectures and workshops with public health leaders.
APPLY by January 31, 2019 5PM EST!
Eligibility:
Students who have completed at least to years (or equivalent) of undergraduate study from an accredited college or university in the U.S., Puerto Rico, or other U.S. territory;
Recent college graduates (Fall/Winter 2018 or Spring 2019) who have not been accepted into a graduate program;
U.S. citizen, permantent resident or U.S. National;
African American, American Indian/Alaska Native, Asian American, Hispanic/Latino, Native Hawaiian/Pacific Islander, persons with disabilities, and economically disadvantaged individuals are strongly encouraged to apply; and
Minimum of 2.7 GPA is recommended.
*Note: Students with an Associates Degree must provide proof of acceptance into a 4-year institution.
To Apply: Create an account here, and:
Complete the online application (including essay section);
Provide unofficial University transcript(s) in PDF format;
Resume in PDF format; and
Provide two letters of recommendation uploaded by recommenders by January 31, 2019.
*Click here for tips for a stronger application.
Questions? If you have questions please email fphl.program@umich.edu or call 734-763-1694.