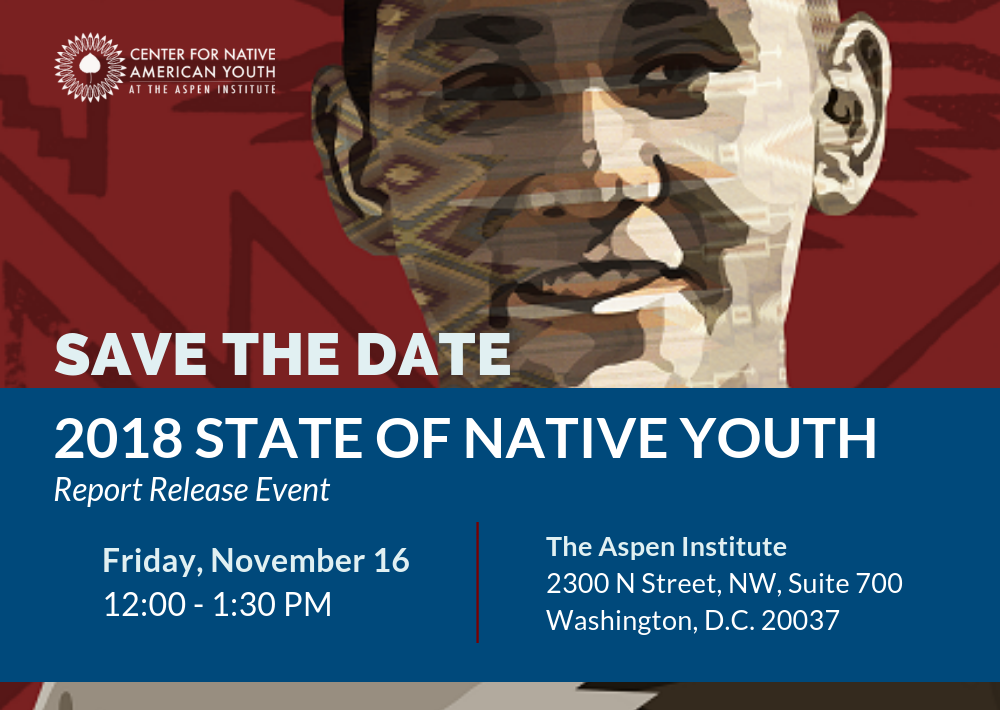 Save the Date: 2018 State of Native Youth Report Release Event
---
2018 STATE OF NATIVE YOUTH REPORT
Report Release Event
Friday, November 16
12:00-1:30pm
The Aspen Institute
2300 N Street NW, Suite 700
Washington, DC 20037
---
The Center for Native American Youth will release its 2018 State of Native Youth report with a panel event at The Aspen Institute on November 16, 2018. Featured speakers will include Native youth, policymakers and program leaders who will share their insights about the policy issues facing Native youth and the innovative programs they're leading in their
communities. The theme of this year's report is Generation Indigenous—a national network connecting Native youth leaders and their movements.
This event is free and open to the public. We encourage you to RSVP early and share this message with friends and colleagues in your networks. Lunch will be provided.
Meet the Speakers & Panelists
Opening remarks by Dan Porterfield, President and CEO of the Aspen Institute, and Sen. Byron Dorgan (ret.), Founder and Chair of the Board of Advisors of the Center for Native American Youth;
Isabel Coronado-Jones, Muscogee Creek Nation, 2018 Champion for Change;
Trenton Casillas-Bakeberg, Cheyenne River Sioux Tribe, Gen-I Youth Ambassador and Fresh Tracks Trainer; and
Darby Raymond-Overstreet, Navajo Nation, Grand Prize Winner of the Gen-I Creative Native Call for Art.
For questions about the event, contact Aaron Slater at aaron.slater@aspeninstitute.org or (202) 736-2908.