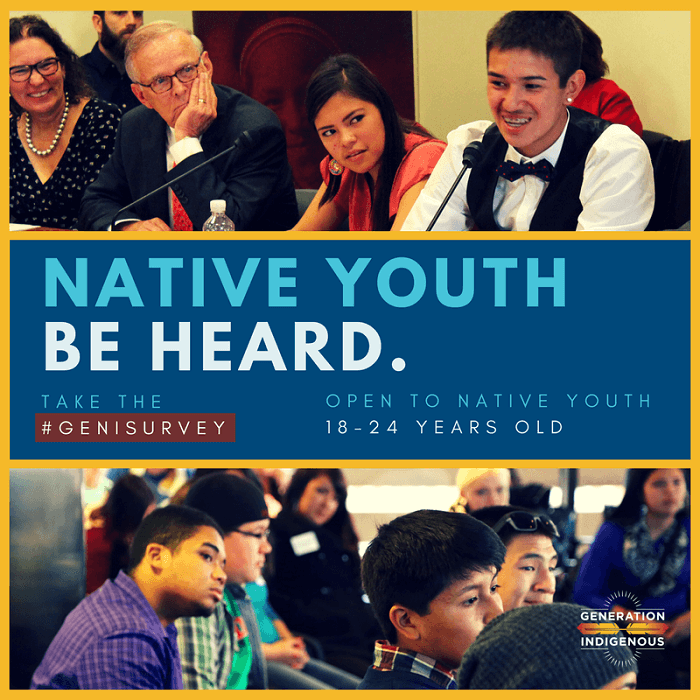 Take the Gen-I Survey for a Chance to Win!
The Center for Native American Youth is pleased to announce the reopening of the annual Gen-I Survey. This fifteen-minute online survey asks self-identified Indigenous youth between the ages of 18 and 24 years old to tell us about challenges, strengths, and existing or missing resources
in their communities. Youth respondents who complete Parts 1 and 2 before the survey closes are eligible to win Nike N7 gear and CNAY swag as a thank you for their participation.
The data collected will be used to guide CNAY's programming and advocacy efforts, and contribute to research that supports community changemakers in addressing challenges within their tribal nations.
Though we at CNAY do our best to connect with Native youth in reservation, urban and rural communities across the country, our outreach is inevitably limited. That's why we're counting on youth, educators, tribal leaders, service providers, and others to share the survey widely
with youth 18 to 24 so that the data are as representative of our diverse tribal communities as possible. We created a social media guide to make it easy! Additionally, youth are encouraged to promote their survey participation using #GenISurvey on Facebook, Twitter, and Instagram.
Thanks for supporting our work to understand and support the needs of Native youth. For questions about the Gen-I Survey, email cnayinfo@aspeninst.org or call (202) 736-3577.