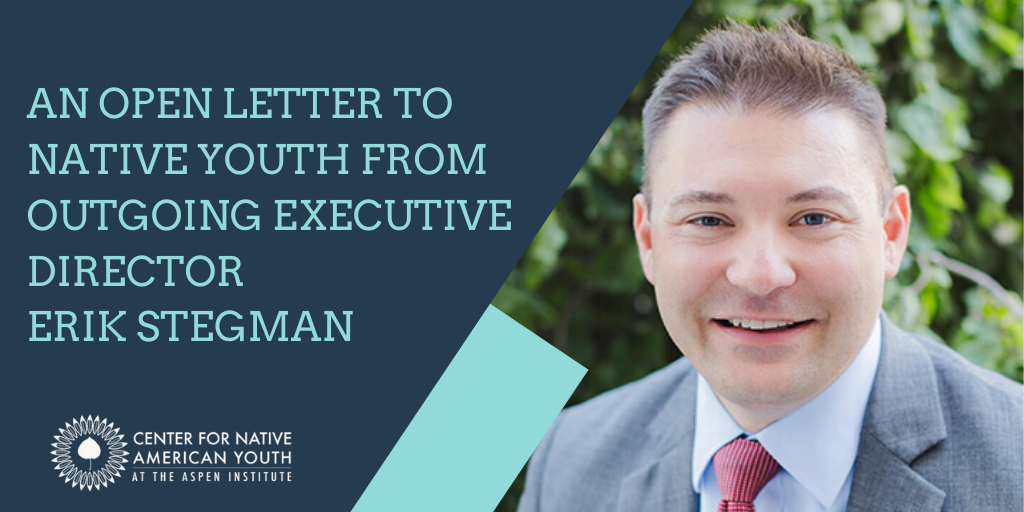 An open letter to Native youth from outgoing Executive Director Erik Stegman
Dear Native Youth:
January 30, 2020 was my last day at the helm of the Center for Native American Youth (CNAY) at the Aspen Institute. I've transitioned in and out of many meaningful jobs over my career, and this has been the hardest one to leave, but certainly not to say goodbye.
Working with all of you—and more importantly learning from all of you—every day over the last several years is why this job is harder than others to leave. Only two months after I started, I had the chance to work with the team to help host my first Champions week, welcoming a group of five young leaders to Washington DC to kick-off the next stage of their leadership journeys with us. It was at that moment early in the job that I realized how special this place was. Those five Native youth represented the resilience, hard work, and commitment to culture present in hundreds of tribal communities across the country. Each of you carry that same strength with you. You are the reason our ancestors and relatives know that we have a strong future.
I also want to thank all of you on a personal note. My great grandfather ran away from his boarding school many years ago. He was removed from his family and disciplined for practicing his culture and speaking his language. He finally started a new life in Chicago, but he rarely returned to his Nakoda community. His son grew up to become one of the first Native American dentists and served several tribes in the 50's and 60's during the termination period. Like so many others, I have struggled with our family's loss of connection to culture, but you have all been some of my strongest guides in rebuilding that connection. You have reached out to learn from your elders. You have developed innovative ways to teach culture and language to other youth and children. You have led global movements to protect your sacred sites, lands, and waterways. You are leading through your action and the wisdom you carry forward for your communities.

Though I am moving on, I remain your friend and partner as you lead with your communities. Later this month I start a new role as Executive Director of Native Americans in Philanthropy, an organization dedicated to strengthening philanthropic investment in tribal communities. My years at CNAY have given me such a gift. I feel that I understand the strength of Native youth movements and initiatives so much better than I did going into that role. Because of that, I will continue to build as many platforms for you as I can with funders and other nonprofit organizations. You are always welcome to call on us as an organization, or on me personally as a mentor.
Finally, CNAY has always been the special place it is because of its remarkable team of staff, interns and volunteers. All the amazing programs and initiatives you co-created with us are in very good hands. I'm already in discussions about how I can support many of CNAY's programs from my new role at NAP. I will always be grateful for the honor of working with so many people committed to you and all the other Native youth leaders across the country every day.
I know many of you face some very serious challenges in your communities. But I also know personally the strength you bring to one another in not only confronting those challenges, but driving forward innovative solutions built on the wisdom of your ancestors. Keep driving forward and know that you have an entire network of us here to support you.
Thank you for all that you have given me.
Erik