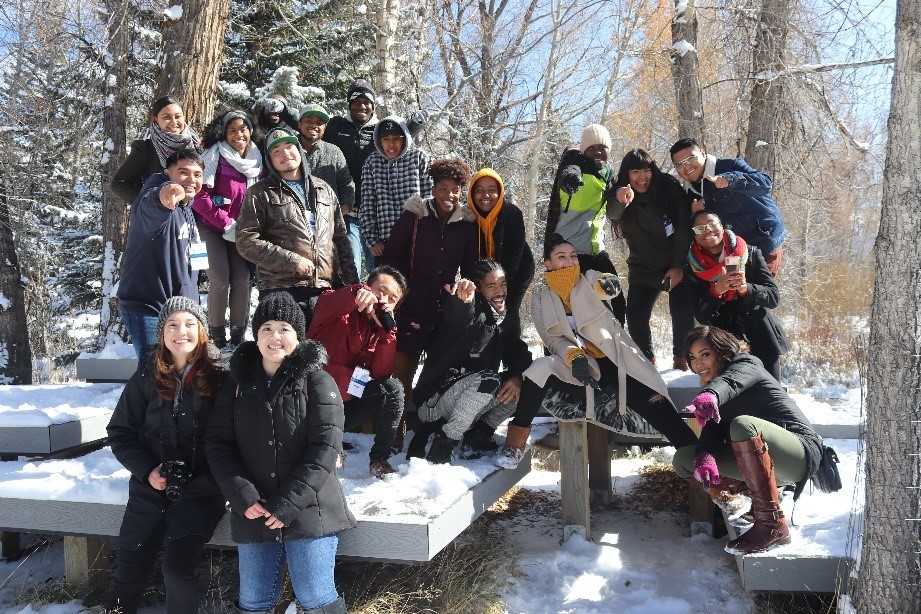 Aspen Institute Opportunity Youth Forum: Fresh Tracks
This October, the Center for Native American Youth traveled to Aspen, Colorado to attend the Aspen Institute Opportunity Youth Forum. Executive Director Erik Stegman, Senior Fellow Juan Martinez, and Program Associate Jen Peacock traveled with four youth to attend and facilitate sessions at the forum. Youth leaders brought to Aspen were supported by CNAY as well as our Fresh Tracks partner, Children & Nature Networks Program Manager CJ Goulding.
Prior to the convening beginning, Erik Stegman and Juan Martinez facilitated the Outdoor Wellness and Equity roundtable. This roundtable was done in partnership with the Aspen Institute Forum for Community Solutions and Children & Nature Network. The focus was to discuss the outdoors as a platform to promote equity, wellness and opportunity youth outcomes. The roundtable was seeking strategies for effective collaboration and program development, data driven decisions, developing supportive policies, and utilizing funding support to sustain innovation. Representatives from various organizations were in attendance, including the Blank Foundation, REI Foundation, Andrus Family Fund, The Strategist, California Endowment, Annie E Casey Foundation, the Outdoor Foundation, and LBC Action.
The following day, youth leaders Trenton Casillas-Bakeberg, Cheyenne River Sioux, Devin Edwards, and Jaren Savage facilitated the Fresh Tracks Outing hosted in partnership with the Opportunity Youth Leaders Council. The outing provided youth leaders a chance to explore the outdoors in Aspen, Colorado and learn more about the Fresh Tracks program. Trenton, Devin, and Jaren had the opportunity to share their experiences with Fresh Tracks and the power nature has had on their lives. Devin Edwards explained one of his most valuable takeaways from his Fresh Tracks exhibition experience, "Fresh Tracks provided me with the importance of land, and how to give back to land rather than take from it. We never think about giving back to it. My brother here, who lives on a reservation, lives a totally different life than I do in an inner city."
Youth received a tour of the nature preserve offered by the Aspen Center for Environmental Studies, including the Birds of Prey educational program. Youth hiked along the Rio Grande Trail back to the Aspen Meadows Resort, allowing time to connect with one another outside of their workshops.
Jaren, Trenton, and Devin were joined by Fresh Tracks leader Kim Pikok, Iñupiat, following the hike. This private session among the youth leaders was co-facilitated with CNAY and CJ Goulding. The focus of this discussion was on the development, vision, and structure of a Fresh Tracks Youth Advisory Board. A core part of the conversation was understanding what authentic engagement of youth looks like for leaders on the board. A dialogue focused on inclusion, transparency, and mentorship helped CNAY and CNN staff begin the early phases of developing this board. The creation of this board will expand the ways in which youth can get involved in Fresh Tracks before, during, and after their exhibition experience.
The final day, youth leaders had an opportunity to moderate a panel, titled: scaling outdoor experiences for opportunity youth to drive community well-being outcomes and equitable access to nature. Introductions were provided by Juan Martinez and Children & Nature Network Executive Director Sarah Milligan-Toffler. Panelists included Dr. Cynthia Weaver of the Annie E. Casey Foundation, Dr. Sharoni Little, Fresh Tracks Evaluation Expert, and Dr. Hanna Hamdi Director of Health Impact Investment Strategies and Partnerships at New Jersey Community Capital. Fresh Tracks leaders Devin, Kim, and Trenton each crafted their own questions for panelists and facilitated the discussion. This breakout session focused on evidence-based strategies of the power of culture to drive social justice, community well-being, and leadership development through the outdoors. Attendees gained an understanding of the Fresh Tracks program and learned of the ways to integrate the outdoors into equity work.
During the panel, Dr. Little shared countless valuable insights as the Fresh Tracks lead evaluator. Specifically, she discussed the role of discovery and connection this program brings across-culture. Dr. Little shared, "It may not be easy to bring people together from rural, urban, and Indigenous backgrounds
together because you don't really know what you may get. When you put them there and say, we recognize your difference, we don't ignore it, we know it exists, but we want you to understand the power of your narrative. Fresh Tracks focuses on you identifying and clarifying who you are as a young person rather than us as adults overlaying who we think you are." Dr. Little went deeper into the collaborative and cross-cultural strengths of the program, highlighting youth interaction during the exhibition, "They have compelling purpose and curiosity that when they don't know something, they are willing, open, and vulnerable to say can I learn from you? Can I understand your perspective? Can you teach me that?"
As the program closed, many shared their larger takeaways. Trenton explored what has impacted him the most throughout his time in the Fresh Tracks program, "The part of the program that really affected me is that we've all come to realize how much nature has to offer in terms of helping us. It's also coming from my perspective living on the plains and seeing some of the things I've seen, we have to remember that as much as nature can help us – we have to help nature back as much as we can."
CNAY is truly grateful for the hard work of our many partners that made this experience a success. We are looking forward to enabling these young leaders to shape the future of the Fresh Tracks program and continuing our relationship with the Aspen Forum for Community Solutions.