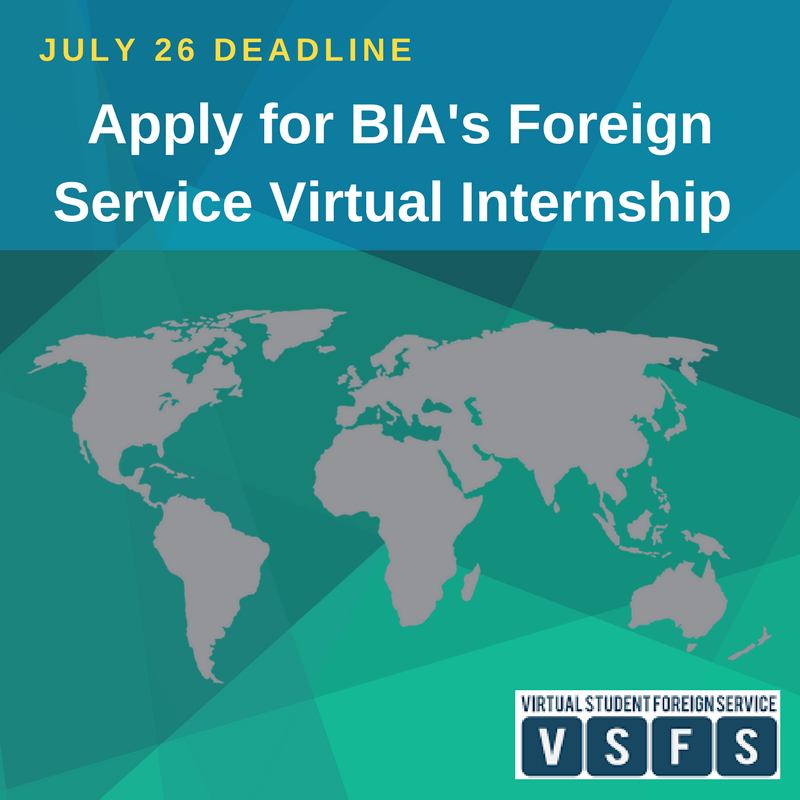 BIA Virtual Student Internships
7/12 Gen-I NOW: BIA Virtual Student Internships
Yá'át'ééh (Hello in the Navajo Language)
This Gen-I Native Opportunities Weekly (NOW) message shares information about the Bureau of Indian Affairs partnership with the U.S. Department of State's Virtual Student Foreign Service program!
All application materials must be submitted by July 26, 2017 .
ABOUT:
The Virtual Student Foreign Service program is offering several remote internship opportunities to students who would like to make an impact in the work of the U.S. government while building valuable skills like communication, writing, research, data analysis, mapping, and economic and political reporting. The intern will work a flexible 10 hours per week schedule running from September until May during the 2017-18 academic school year. While the program offers hundreds of virtual internship opportunities at 33 federal agencies – including Indian Health Services – there are also opportunities designed specifically for Native youth. Some of these exciting Native youth focused internship opportunities include:
ELIGIBILITY:
US. citizens who are in "student status" in a full-time or part-time degree or certificate program, and taking classes in-person or online, in the U.S. or abroad, may apply. To be clear, an applicant must be:
Must be a U.S. citizen.
Must be enrolled as a student in a college level or above degree or certificate program.
TO APPLY:
For questions, look at VSFS FAQs, or contact ryan.ward@bia.gov or morgan.gray@bia.gov.
---
We encourage you to visit our resource exchange at do.ready-for-feedback.com/thrively-digital/cnay for a comprehensive list of available resources (scholarships, fellowships, summer programs, grant opportunities, etc.). Thank you for your continued support and interest in the Center for Native American Youth and Generation Indigenous.
Don't see what you're looking for? Email us and let us know what types of Native youth opportunities and resources you're looking for. You can get the Gen-I NOW in your inbox by clicking also update your email preferences here.
Sincerely,
Center for Native American Youth
do.ready-for-feedback.com/thrively-digital/cnaycnayinfo@aspeninstitute.org