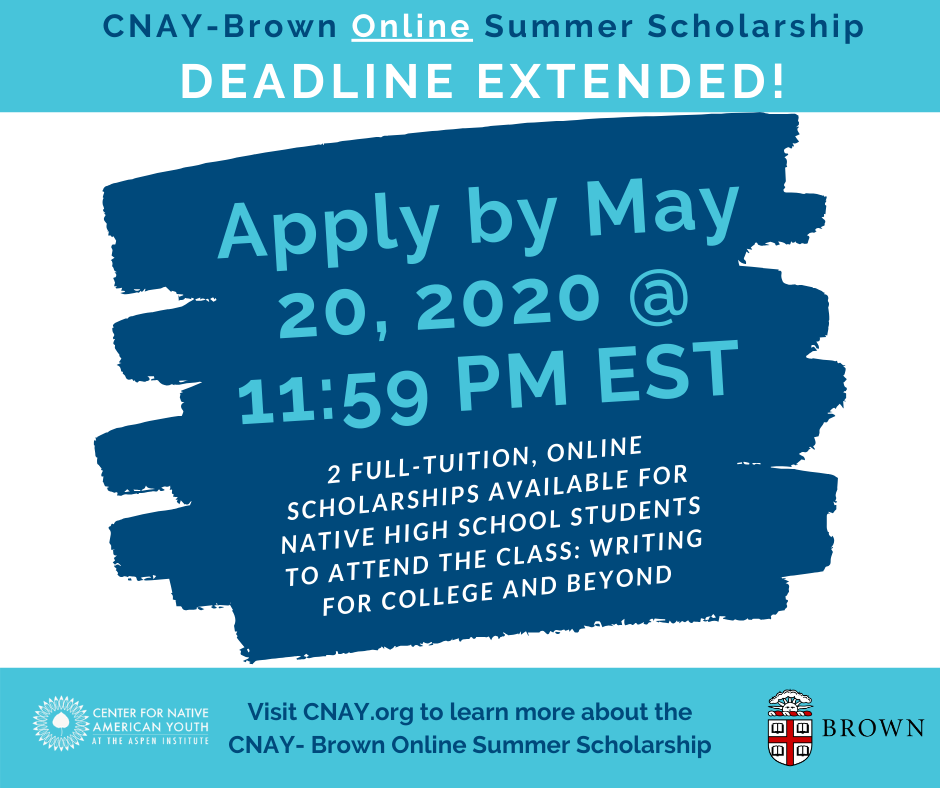 CNAY and Brown University's Online Summer Scholarship 2020 EXTENDED
The Center for Native American Youth at The Aspen Institute (CNAY) has partnered with Brown University Pre-College Programs to award two full-tuition scholarships for Native high school students. This is an online scholarship to attend the Writing for College and Beyond course which will take place July 6th – August 5th 2020. The scholarship will cover application and tuition fees.
Extended Application Deadline: Due on May 20, 2020 at 11:59pm Eastern Standard Time.
What do I need to take an online course?
In order to take this course, you will need:
A computer with a reliable internet connection | Note: Mobile devices (smart phones, tablets) are supported but are not ideal for required assignments.
Up-to-date Internet browser
Headphones, earbuds or speakers
Webcam and microphone
Adobe Flasher Player browser plugin (Course elements may require Flash and will not work on an iPad.)
Word Processing application to save an open Microsoft Office formats (Word, Excel, and Power Point)
ELIGIBILITY:
Applicants for the CNAY-Brown Summer Scholarship must meet all the following criteria. CNAY cannot make an exception to eligibility requirements.
Must be currently enrolled in high school grades 9-12;
Must identify as Indigenous and reside within the United States; and
Must be at least 15 years old by the start of the program.
TO APPLY:
Complete the online scholarship application which includes the following materials:
Response to an essay prompt (750-word maximum);
High school transcript (unofficial transcript accepted); and
Explanation of why you are interested in attending this class (one paragraph).
Letter of Recommendation Form #1
This form should be submitted by a guidance counselor, principal, or headmaster commenting on the student's maturity, engagement, grit, and motivation for participating in the Writing for College and Beyond course.
Letter of Recommendation Form #2
This form should be completed by an instructor who teaches in a field closely related to this course. The comments should describe the applicant's knowledge of that field, overall intellectual curiosity, and assess the applicant's qualification to engage in concentrated study. The recommender should speak to how the applicant will benefit from the experience at Brown University.
*Applicants may submit an optional, supplemental High School resume.
All materials must be submitted to CNAY by 11:59 PM Eastern Standard Time May 20, 2020.
For more information on the program and course objectives, visit the Summer@Brown Writing for College and Beyond page or the FAQ page. Note that applicants for the CNAY-Brown scholarship must apply through CNAY's online process, not Brown's portal. If selected, CNAY will guide the scholar through Brown's process. Brown's fee structure does not apply to the CNAY-Brown applicant.
Please note: All programming is subject to cancellation by the university managing the programming. In the event a program is canceled due to low enrollment, or any other circumstances requiring cancellation as determined by the university, in its sole discretion, the university will refund program already-paid deposits and fees according to the university's refund policy. The Aspen Institute (CNAY) will not be liable to applicants for any impacts or losses in connection with a cancellation.
Contact CNAY Program Associate Jennifer Peacock at jennifer.peacock@aspeninstitute.org with any questions.