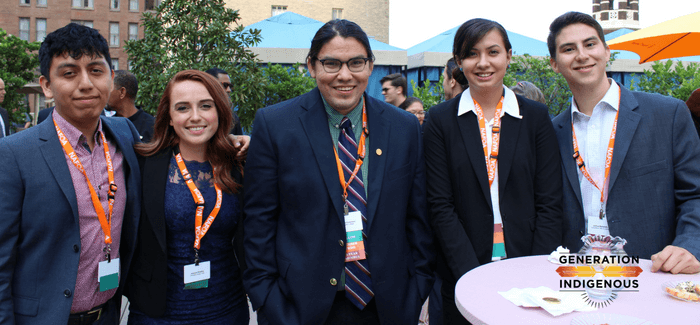 CNAY and NAFOA Hosts the Second Annual Gen-I Career Success Leadership Summit
Sunday, April 22, 2018 New Orleans, LA – Following the success of the first year of the Native American Success Academy and Gen-I Career Success Fellowship, the Center for Native American Youth and the Native American Finance Officers Association (NAFOA) have partnered again for 2018 with an improved NACSA curriculum and a second cohort of fellows.
Over 110 Native youth registered to enroll in NACSA this year. Those who completed both modules of the curriculum, which covered career preparation and managing personal finances, were eligible to apply for the Gen-I Career Success Fellowship and receive more hands-on career prep. The fellowship program received more than double the number of applicants this year compared to the inaugural year.
This year's Gen-I Career Success Fellows are Jessica Bradby (Pamunkey Indian Tribe), Joshua Bertalotto (Tunica-Biloxi Tribe), Jordan Oglesby (Navajo Nation), Jorge Martinez (Mazahua (Jñatrjo) and Mixtec (Ñuu Savi)), and Joshua Emerson (Navajo Nation). Jaimie Cruz (Squaxin Island Tribe), who was selected last year, also joins the 2018 cohort.
"As someone who studies Native policy, I wasn't aware what Tribal economic development can do for policy, and vice versa. With this Fellowship, I learned how bankers and investors can work together with policymakers to improve Indian Country," – Joshua Bertalotto, 2018 Gen-I Career Success Fellow
The five Fellows, accompanied by CNAY and NAFOA staff, met in New Orleans on April 22nd for the Gen-I Career Success Leadership Summit hosted by NAFOA. During the Summit, the Fellows received career-readiness advice from MBA students, Native professionals, and representatives from corporations. Additionally, they learned about Tribal Business Enterprises like the Gila River Indian Community Utility Authority and met with Tribal leaders like Cherokee Nation Treasurer Lacey A. Horn, and Tribal Chair & CEO Stephanie Bryan of the Poarch Band of Creek Indians.
After the Summit, Fellows attended the 36th Annual NAFOA Conference where they had the opportunity to join various sessions related to Tribal economic development and, importantly, network with Native professionals in business, finance, and management.
"It's been exciting! I learned a lot through the different sessions and meeting with influential tribal leaders, especially women leaders." – Jessica Bradby, 2018 Gen-I Career Success Fellow
To learn more about the Fellowship and how you can apply next year, click here.