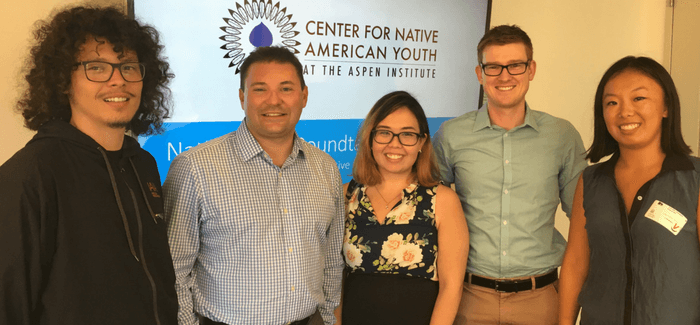 CNAY Hosts Australian Visitors from US State Dept International Visitor Leadership Program
Tuesday, September 12, 2017, Washington, D.C. — As part of our commitment to supporting indigenous youth across the country and internationally, the Center for Native American Youth frequently meets with international indigenous youth and those who support them.
Our staff met with two Australian visitors working on youth empowerment and Aboriginal youth issues in their home countries participating in the US State Department's International Visitor Leadership Program (IVLP). The staff introduced visitors to CNAY's work to elevate Native youth priorities and shared resources and programs for supporting their personal, academic and professional growth. In turn, the Australian visitors discussed how the Australian government and nonprofits engaged with First Nations youth in their country, and ways in which supports can be strengthened.
In Washington, D.C.? To organize a visit between your program and CNAY, please contact bettina.gonzalez@aspeninst.org.
---
This post contributed by Bettina Gonzalez, Outreach & Engagement Program Coordinator.