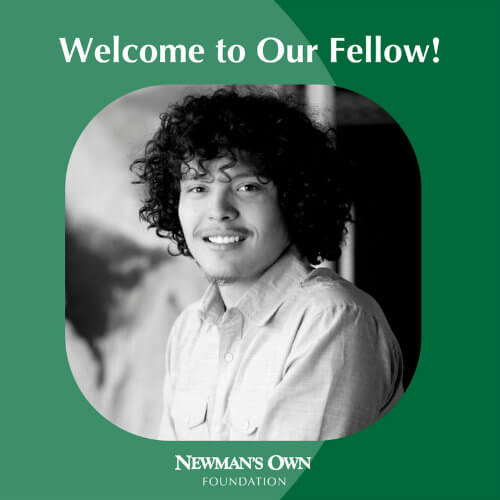 CNAY Welcomes Newman's Own Foundation Fellow
The Center for Native American Youth at The Aspen Institute (CNAY) is hosting Del Curfman for a one-year work experience as part of the Newman's Own Foundation Fellowship Program. Del will support a variety of CNAY initiatives including the Champions for Change Native youth leadership program; a new project mapping needs and resources for Native LGBTQIA+ and Two Spirit youth; development of CNAY's annual State of Native Youth Report; and a new art competition aimed at engaging young Native artists in the Generation Indigenous National Native Youth Network.
Del is a member of the Crow Nation from Lockwood, Montana, and recently graduated with dual degrees in Studio Arts and Museum Studies from the Institute of American Indian Arts. He is one of 17 Fellows selected this year by Newman's Own Foundation, the independent foundation created by the late actor and philanthropist, Paul Newman.
"Positively impacting and inspiring Native youth has been a lifelong goal," says Del. "I'm very excited to work with the Center for Native American Youth!"
Del will be a great addition to the Center for Native American Youth, which works to improve the health, safety, and overall well-being of Native American youth ages 24 and under.
"We are thrilled to partner with Newman's Own Foundation for a second year," says Erik Stegman, Executive Director of the Center for Native American Youth. "This fellowship is such a unique opportunity to build our capacity to serve Native youth, and share insights from our work with their growing network of Fellows."
"Our partnership with Newman's Own Foundation has not only allowed us to strengthen our initiatives for Native American youth," says CNAY Founder Senator Byron Dorgan (ret.), "It has also highlighted our important work to a dynamic network of fellows and organizations in their network."
The Fellowship program is designed to provide an enriching experience of nonprofit work with support from Newman's Own Foundation in the way of workshops, coaching, and professional development. Through their experiences, the Fellows will develop a strong sense of civic responsibility, cultivate a deeper understanding of philanthropy, learn new skills, and help connect their values and passions to career choices.
###