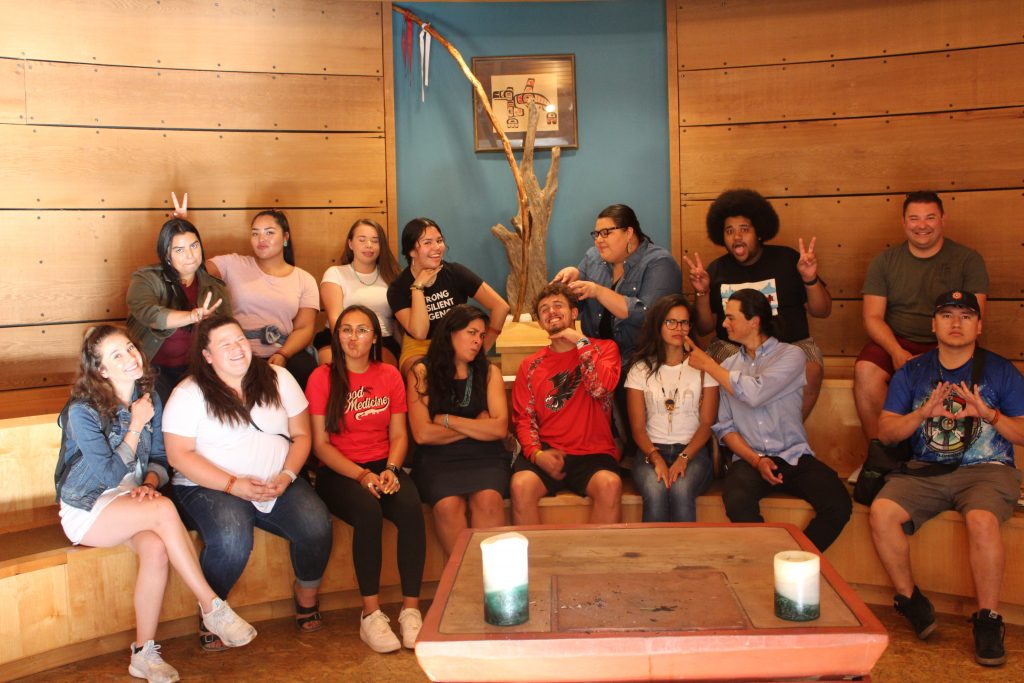 CNAY Youth Advisory Board Comes Together
August 25-27, 2019 | Seattle, WA – Nancy Deere-Turney, Msvkoke, YAB Chairwoman
The Center for Native American Youth (CNAY) has built a home for our Youth Advisory Board (YAB). At the end of August, the Youth Advisory Board gathered for the first in person convening, which provided the opportunity to see each other face to face. We come from many communities, tribes, and states all over the United States, and have been working together for years. We have built a relationship of trust with each other, and we let that serve as the foundation of this home. Together we have crafted goals and purpose for ourselves individually and as a whole.
While we were together at in Seattle, we worked together on our vision for 2020. We recognize the difficulty of trying to do this alone, and were more than happy to have all the help we had. Maketa Wilborn, graphic facilitator, helped lead and direct our conversations to keep us focused and energized. Without his help this process would not have been as fun or organized. We were inspired by our many esteemed and amazing guests: Janeen Comenote (Quinault), Executive Director for the National Urban Indian Family Coalition and Abigail Echohawk (Pawnee), Chief Research Officer for the Seattle Indian Health Board. We participated in a site visit to the Chief Seattle Club, where the Executive Director Colleen Echohawk (Pawnee) spoke to us about the importance of homelessness for urban natives. She also inspired us to be creative on finding solutions to the problems we look to solve. During a networking reception, we were also joined and supported by a member of our Board of Advisors, former Secretary of the Interior, Sally Jewell. There we shared out stories and current work, education, and generally what we have going on in our lives with the group.
We gathered each day and discussed issues in Indian Country. These conversations are hard to have. We leaned on each other and staff to get us through the heavy topics. We also spent our evenings getting to know each other and learning more about the communities we all come from. We followed the magic and let it lead us to the first Policy Platform for the Youth Advisory Board.
Together we decided our purpose is to provide an amplified platform for diverse Native Youth. Our outlet of choice includes Representation, Cultural Revitalization, and Policy. We plan to promote the organization of Indigenous Peoples Day campaigns to increase representation beyond tribal communities. We plan to celebrate the best practices for Cultural Revitalization in Indian Country by highlighting and elevating success stories. We are also in the process of designing a platform and tool kit to educate peers on the policy making process.
We came to this Policy Platform agreement by not only focusing on the issues in Indian Country and what we can do to solve them, but by reviewing the success we see and how to keep those movements going. Our foundation is stable because we understand that our work is better together. We look forward to 2020 and rolling out our Policy Platform. We hope this will provide a great framework for others to use. Thank you to everyone who has helped all of us get to where we are, and thank you CNAY for giving us space to create change.