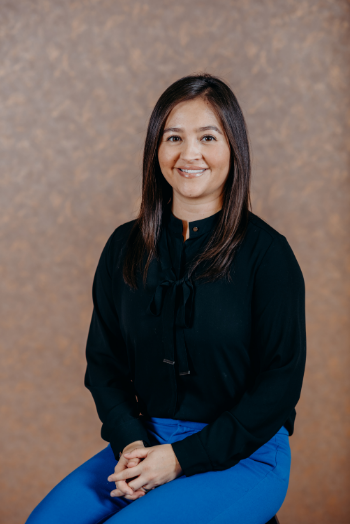 CNAY's Josie Raphaelito Shares Her Experience as an LGBTQ2S & Public Health Advocate
Josie Raphaelito, MPH, is a passionate advocate for tribal public health. She has six years of experience building relationships with Tribal Nations and citizens through community engagement and providing tools to elevate local perspectives of strengths and challenges into national discussions for change in Washington, DC. Josie currently serves as an Advisory Board Member for the Center for Native American Youth.
Yá'át'ééh. Shí éí Josie Raphaelito yinishyé. Biligaana nishłį́ doo Haltsooí bashishchiin. Adoo Biligaana dashicheii doo Todikozhi ei dashinalí. Ákót'éego diné asdzáán nishłį́. Hello, my name is Josie. My mother is Scandinavian and I'm born for the Meadow People Clan. My maternal grandfather is German and Scott Irish, and my paternal grandfather is of the Salt Water Clan. This is how I am a Diné (Navajo) woman. I grew up on the Ramah Navajo Reservation in New Mexico where I found a supportive network built around my family, friends, and community. Collectively, they supported and encouraged me (and my peers) to build off of the success and hard work of our elders and to find a purpose in life that brings balance and positivity to those around us. For me, that purpose is inspiring pathways to achieve holistic health and wellness, especially through an Indigenous lens.
My introduction to the field of public health and its impact in our communities began with a 2008 Health Policy Fellowship provided in partnership by the National Indian Health Board. Through this Fellowship program, I had the unique opportunity to intern at the Centers for Disease Control and Prevention (CDC) in Atlanta, GA. I was paired with a Navajo mentor in the Division of Nutrition, Physical Activity, and Obesity Prevention to work on the Navajo Nation Breastfeeding Resolution initiative. Through this, I had a formative experience understanding how our communities are using traditional knowledge to develop public health policy and inspire action.
With my passion for Indigenous health pathways ignited, and my recognition of the need for inclusion of Native peoples' perspectives, I enrolled at the School of Public Health and Health Services at the George Washington University in Washington, DC. Although I often found myself challenged with being the only Native student in classroom discussions, I also acknowledge that this was an important time in my life where I was compelled to become an advocate. My perspective was no longer about me, as a Diné woman from Pine Hill; it was about my Tribal Nation and about the need to educate my peers and professors about the diversity and strength of Tribal Nations. While in DC, I had the privilege to learn from and work with the best and brightest leaders serving as champions for Indian Country. I interned at the National Indian Health Board, National Congress of American Indians, and I spent a great deal of time learning from the National Council on Urban Indian Health. These internship opportunities truly shaped my education and professional career and enabled me to apply my graduate level education to real Tribal health issues.
Learning about the vast challenges in health and wellness in Indian Country gave me some direction of where I wanted to go with my education, but it wasn't until I learned about the high rates of suicide impacting our Native youth, families, and communities that I found my passion in the world of prevention. In 2011, I volunteered at a launch event for a new organization founded by former US Senator Byron Dorgan called the Center for Native American Youth. I instantly fell in love with the mission, vision, and the sincere approach to partnership with Native youth and Tribal Nations to address suicide in our communities. I joined as an intern and spent the next six years developing programming from website design, community outreach, to suicide prevention research and advocacy efforts at Tribal, state, and national levels. What's important about CNAY is that the work is centered around suicide prevention with a focus on conversations and coordinated action around holistic health and community with Native youth in the driver's seat.
Through Native Youth Roundtables, the CNAY team asks youth participants about key issues (challenges and strengths) that they see impacting their lives. In earlier conversations, we heard there needed to be more inclusion and consideration of our Two-Spirit and Native LGBTQIA+ relatives. As a Two-Spirit and Queer Indigenous woman myself, I found this acknowledgment to be a sincere request that needed more attention. Our Two-Spirit and Native LGBTQIA+ youth are at a higher risk of suicide, and I found it truly inspiring that CNAY creates space in existing work to build more understanding and develop resources to highlight the strengths and needs of this community.
My passion for public health through the lens of inclusion and prevention continues to grow every day. I currently serve as an Advisory Board Member of CNAY, as an Independent Consultant to support Two-Spirit initiatives, and as part of the team at the Seneca Nation Health System focused on service delivery and prevention models. It has been through these various experiences and lessons learned in the public health field over the past few years that I have been led to a special project that devotes attention and resources to our Two-Spirit and Native LGBTQIA+ relatives.
With input and guidance from a strong Native Youth Collaborative, we've created a resource that helps build understanding about Two-Spirit and Native LGBTQIA+ community members and encourages the practice of culture, language, and action by youth to help Indigenize Love and strengthen inclusion. Stay tuned for a 2019 summer launch of this exciting new resource which will be available at https://www.westernstatescenter.org/. As a community, we're all hoping that Native youth (both Allies and those in the Two-Spirit and LGBTQIA+ community) take a chance to read, watch, listen, and participate in this interactive toolkit.
While there are lots of resources to support Two-Spirit and Native LGBTQIA+ relatives, I believe the most important resources are our own communities. Whether we realize it or not, there are elders, parents, and young leaders who have thoughts about public health and inclusion, and more importantly, they have ideas for solutions that involve Indigenizing the way we think of health and wellness. I'd encourage anyone who reads my story to initiate conversations about what inclusion means to them when we talk about health and wellness. Next, visit CNAY's Resource Exchange to learn about, or submit your own, Native youth health and wellness resource for our Two-Spirit and Native LGBTQIA+ youth.