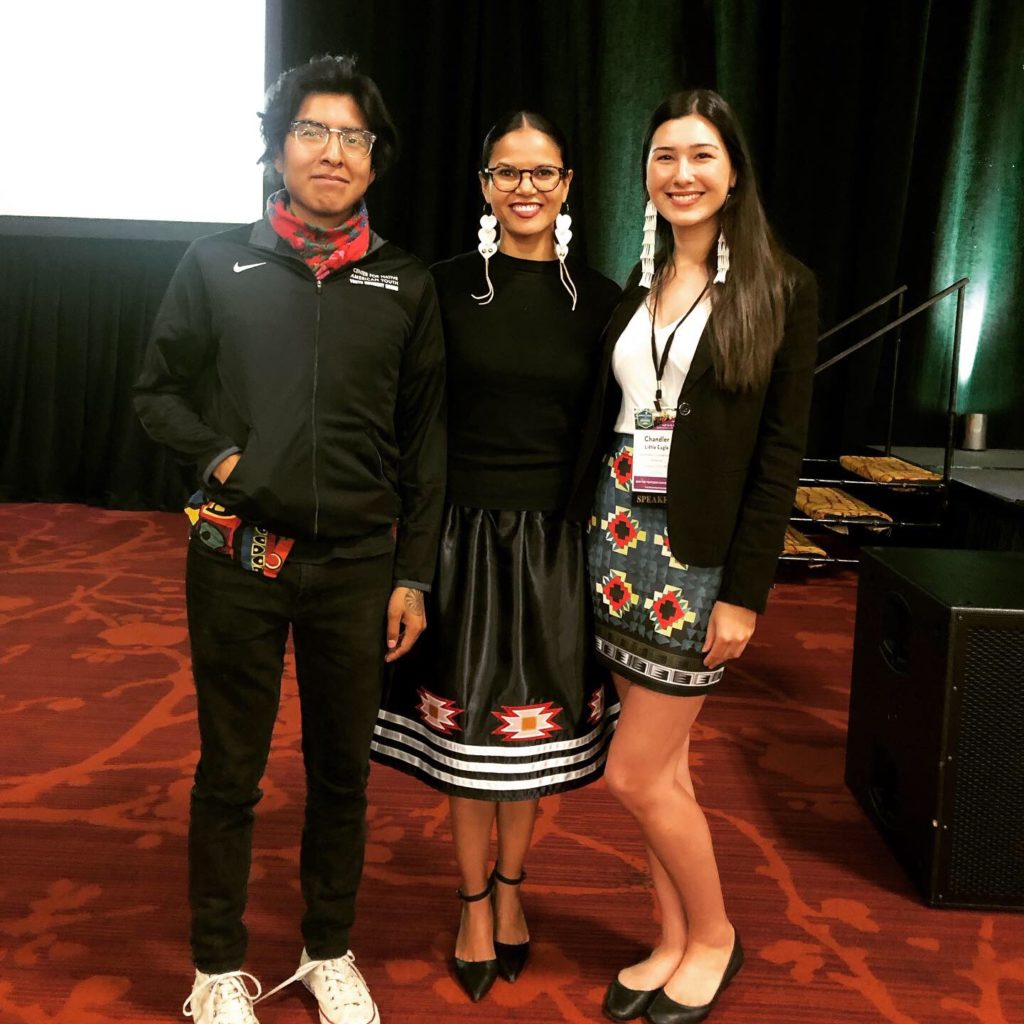 CNAY's Nikki Pitre Gives Keynote at Children & Nature Conference
In May, CNAY Staff Nikki Pitre provided a keynote at the Annual Children & Nature Conference. This year, the conference was hosted in Oakland, California. This conference is a gathering for children and nature activists from around the world. The conference featured keynotes and interactive workshops focused on best practices for increasing equitable access to nature for children, families and communities. The conference offered several tracks including outdoor sessions.
Nikki Pitre provided remarks which included a land acknowledgment of the Ohlone people, and an overview of youth recognition programs including Champions for Change and Fresh Tracks. She shared how the outdoors and nature shaped her into the person she is today, including core lessons about the mountains, water, trees and wind.
The mountains are our grandpas- our Selah. Selah protects us from elements. Our selah have been here long before us and will be here long after we are gone. Our selah teaches us that we do not to be loud and boastful to be recognized as strong. Our Selah teaches us that when we face adversity, that we stand our ground and weather the storm. The trees—kwai'salq' the cedar trees are our medicine. Kwai'salq' teaches us that if we want to provide medicine to others, to stand strong, we must first be deeply rooted. Sikwe', water, is life. Sikwe' gives us life and we must care for the sikwe' the way sikwe' has cared for us. Please, take care of our sikwe'. Plants that grow on top of fallen trees or logs in the forest show us that we grow on the foundation of the ones that walked before us. You see, the mi'yep is that we stand on the shoulders of our tsu'tsutn, our ancestors. We stay connected to our ways through our roots that are deeply connected to that fallen tree, our tsu'tsutn—our ancestors. In our way, the wind is medicine. If we listen closely, the wind carries stories and songs of our grandmothers. When we face a hard time, let those flow through you like the wind does. Listen to the lesson it teaches you, for it holds our songs of our tsu'tsu'tn. These are not simply "concepts" to us, these are our truths. With these mi'yep, it is without a doubt, that this land we inhabit today is sacred. Thank you for allowing me to share a little of my truth with you. This is why I am so passionate about the work of fresh tracks, and the power of youth healing through the outdoors because of these truths.
Nikki then shared the stage with Dr. Sharoni Little, the evaluator of the Fresh Tracks Program. Sharoni introduced herself and the work she does within the Fresh Tracks program. Damien Carlos, of the Tohono O'odham Nation shared his story and his work as a Champion for Change as well as how Fresh Tracks has supported his youth council in his community. Lastly, Chandler Little Eagle, a participant of Fresh Tracks Midwest, discussed the importance of youth in civic engagement. The panel ended with a call to action from Nikki:
My call to action to you is simple: when you discuss the outdoors and nature, remember Indigenous peoples. Remember our truths. Remember our resilience. And remember to include us at your table, not to tokenize us, but allow us to participate and contribute in meaningful ways.