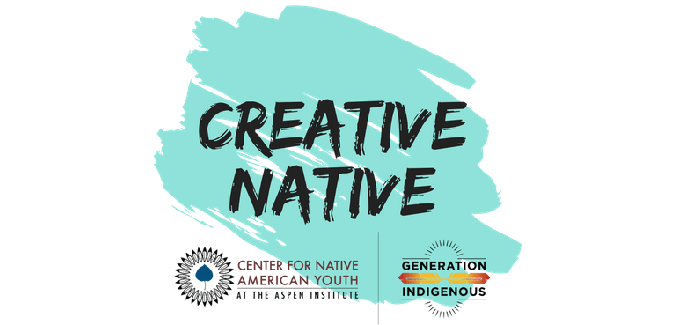 Creative Native Call For Art Deadline Extended
The Center for Native American Youth (CNAY) is excited to launch the first ever Creative Native Call for Art as part of the Generation Indigenous (Gen-I) initiative!
ABOUT CREATIVE NATIVE
Creative Native is a new Call for Art that supports young Indigenous artists ages 5-24 years old by providing them an opportunity to receive national recognition, funding for art supplies, and $200. Select artists between 15 and 24 years old have an additional opportunity to be the cover artist for CNAY's 2018 State of Native Youth report. The cover artist will be flown to Washington, D.C. to participate in the report release event in November.
Creative Native also presents a new and exciting way to engage youth in the Generation Indigenous National Native Youth Network. Gen-I is a cross-sector initiative focused on removing the barriers that stand between Native American youth and their opportunity to succeed. Artists who submit an entry to the Creative Native Call for Art will have their submissions counted as their Gen-I Challenge activities. Artists ages 14-24 will also be recognized as Gen-I Ambassadors. As Ambassadors, the artists join a network of Native leaders and get continued access to exclusive leadership and advocacy opportunities. Click here to learn more about the Gen-I Network.
SUBMITTING YOUR ARTWORK
Art submissions must answer the question: What does Generation Indigenous mean to me?
Submission photos and images will only be accepted electronically through the online Creative Native Entry Form. Submissions will be reviewed by an independent review committee, which will select one awardee from each age category: 5-9-year-olds; 10-14; 15-19; and 20-24. Examples of submissions can include, but are not limited to paintings, drawings, photography, sculptures, and traditional works such as beadwork, carvings, and baskets. Artists can submit a maximum of three entries. Artists will need to submit separate forms for every entry.
To be eligible to submit, artists must:
Self-identify as Indigenous;
Be between the ages of 5 and 24 years old by the submission deadline;
Currently reside in the United States;
Provide a signture from a parent, guardian or legal representative if the artist is under 18 years old; and
Submit a high-resolution image or photograph of an original work of art.
Note that artists must be between the ages of 15 and 24 years old to be eligible to be selected as the State of Native Youth report cover artist.
Submission specifications:
Orientation: portrait
Dimensions: 8.5in x 11in
Quality: 250 to 300 pixels per inch (ppi)
Format options: .png, .psd, .ai
Alternatively, for a front and back continuous cover page:
Orientation: landscape (but the image should be aesthetically divided down the middle)
Dimensions: 17in x 11in
Quality: 250 to 300 pixels per inch (PPI)
Format options: .png, .psd, .ai
Artists may submit up to three (3) images of each artwork, displaying alternate angles and perspectives.
Submissions are due at 11:59 pm Eastern Time on May 16th, 2018.
OTHER USEFUL LINKS:
If you have any questions, please contact del.curfman@aspeninstiute.org.