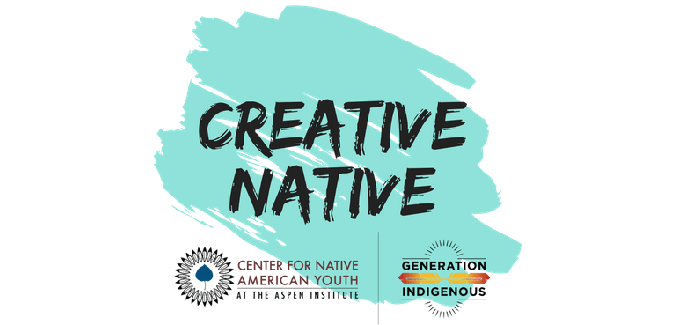 Creative Native Frequently Asked Questions
Q. Who can submit their artwork?
A. Self-identifying Indigenous youth who will be between the ages of 5 and 24 years old by May 9, 2018 and currently reside in the United States.
Q. What are the rules and guidelines for submission?
A. Click here to view the Creative Native Rules & Guidelines.
Q. What are the submission specifications?
A.  Submissions must meet all the following specifications:
Orientation: portrait
Dimensions: 8.5in x 11in
Quality: 250 to 300 pixels per inch (ppi)
Format options: .png, .psd, .ai
Alternatively, for a front and back continuous cover page:
Orientation: landscape (but the image should be aesthetically divided down the middle)
Dimensions: 17in x 11in
Quality: 250 to 300 pixels per inch (PPI)
Format options: .png, .psd, .ai
Q. Where can I submit my work?
A. Artists may only submit their work electronically, through the Creative Native Call for Art Contest Entry Form.
Q. Do I need guardian consent?
A. If you are an artist under the age of 18, you must have a parent, guardian or legal representative provide their electronic signature in the "Acknowledgement of Terms" section at the end of the Creative Native Contest Entry Form.
Q. What kind of artwork is accepted?
A. Each submitted artwork must be artist's own, original work and may not infringe on the rights of another person. The Creative Native Call for Art will accept high resolution images of contemporary and traditional arts that answer the prompt: What does Generation Indigenous mean to me? Examples of submissions can include, but are not limited to images of your paintings, drawings, photography, sculptures, and traditional works such as beadwork or regalia, carvings, etc.
Q: What is Generation Indigenous?

A. Launched in 2014 by the Obama White House, Generation Indigenous (Gen-I) is a cross-sector initiative focused on removing the barriers that stand between Native American youth and their opportunity to succeed. By taking the Gen-I Challenge, Native youth pledge to spark positive change in their communities, and join the National Native Youth Network, which recognizes their leadership and connects them to opportunities and one another. Click here to watch MTV's video about Gen-I. For more information about the Network, visit the Gen-I Network webpage or read the Gen-I Network One Pager.
Artists who submit an entry to the Creative Native Call for Art will have their submissions counted as Gen-I Challenge activities. Eligible artists will also be recognized as Gen-I Ambassadors, and will receive ongoing leadership opportunities through the Center for Native American Youth and its partners.
Q. How many pieces of artwork can I submit?

A. You may submit up to three different works of art. Each piece will require its own separate entry form. In other words, if you want to submit two pieces, you must submit two separate entry forms – one for each.
Q. When Is the deadline?

A. The deadline to submit is 11:59 PM Eastern Time on May 16, 2018.
Q. What if I have a question about the Creative Native Call for Art Contest?

A. If you have reviewed the blog post and Rules & Guidelines and still have questions, please contact Del Curfman at (202) 736-3505 or del.curfman@aspeninstitute.org.