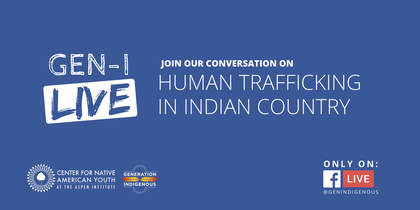 Gen-I is Going Live!
In 2014, President Obama launched Generation Indigenous—an all-hands initiative by government, businesses, and other sectors to do everything they can to strengthen resources and support for Native American youth. Since then, Native youth across the country have taken the President's call to action and turned Gen-I into a movement.
And now, Gen-I is going live!
"Gen-I Live" is a new opportunity for you to tune in online and take a deep dive on the issues that matter most for Native youth. The Center for Native American Youth is drawing from the wealth of experience and knowledge of our youth, partners, and other stakeholders to launch a new series of regular Facebook Live panels by Native youth, for Native youth.
We hope these panels will inspire you, expand your knowledge and understanding of other Native youth and the communities they serve, learn about new resources, and help us shape the future of Gen-I.
Not only that, but we're taking Gen-I Live on the road. While some Gen-I Live panels will be based in Washington, DC, we're excited to bring you to youth summits, conferences, and other exciting events around the country that CNAY coordinates and participates in.
The first Gen-I Live panel will be focused on the issue of Human Trafficking. Human trafficking is a subject that is often overlooked, yet Native women and girls are disproportionately impacted. This Gen-I Live panel will include policy experts from the National Congress of American Indians and the U.S. Department of Homeland Security's Blue Campaign. Join the conversation on March 29 at 1:00PM Eastern time at www.facebook.com/genindigenousand be sure to ask your questions to our experts!
If you have any questions, please contact Teddy McCullough at teddy.mccullough@aspeninstitute.org.