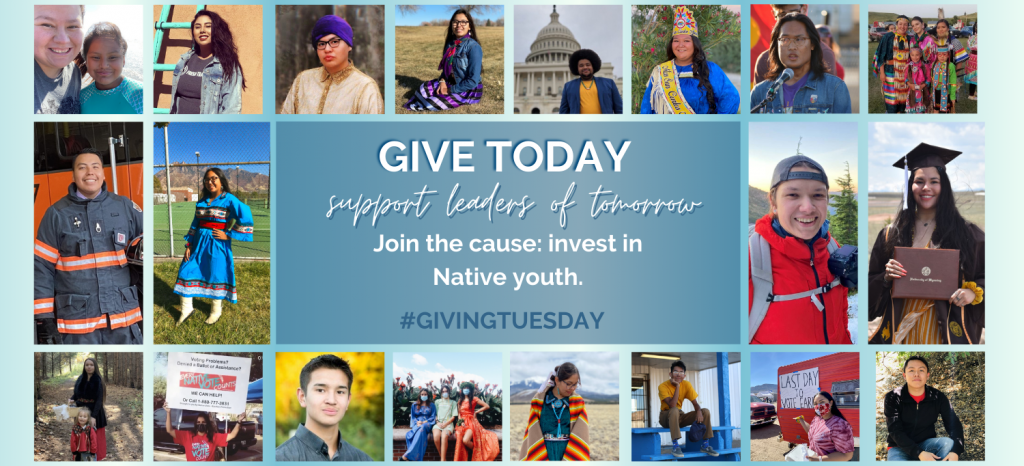 Giving Tuesday
Dear Relatives:
Today is #GivingTuesday, one of the biggest giving days of the year. During this day of giving, please consider supporting the Center for Native American Youth (CNAY) at the Aspen Institute as we continue to work to improve the health, safety, and overall well-being of Native American youth across the country.
Throughout the year, CNAY works directly with hundreds of Native American youth from urban, rural, village and reservation communities across the country to share their narrative, grow in leadership, and build the power to better their communities. Additionally, CNAY supports a national network of youth that shares knowledge and resources, connects youth leaders, and empowers youth-led movements. This work would not be possible without the support of our relatives, like you. This #GivingTuesday, please consider supporting CNAY. Your contribution is an investment in a strong future for tribal communities and the success of every young Native leader we work with. To show our appreciation, we are gifting a 2021 CNAY calendar which features Creative Native Call for Art submissions, a copy of the 2020 State of Native Youth Report, and a t-shirt to those who give $100 or more.
Help us as we strive to make a greater impact for Native American youth in 2021.
With Gratitude, The Center for Native American Youth
"Native youth are the future bearers of culture and tradition, and future tribal and community leaders."  -Paulette Jordan (Coeur d'Alene Tribe)