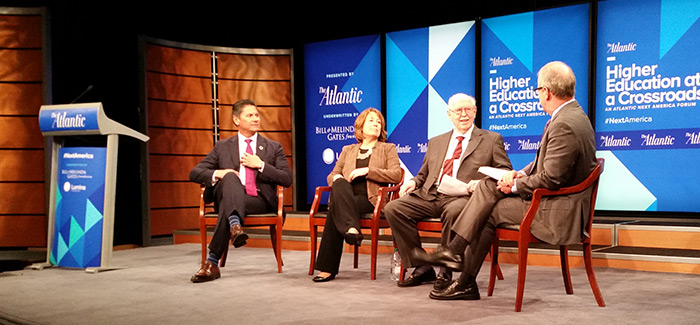 Higher Education at a Crossroads: #NextAmerica Event with AtlanticLIVE
On March 22, 2017, Center for Native American Youth staff attended an event at the Newseum hosted by AtlanticLIVE on the new administration's take on higher education and how it will impact states.
Higher Education at a Crossroads
The first session of the morning, The Role of Congress, featured Congresswoman Susan Davis (D-CA) interviewed by
AtlanticLIVE Contributor Joie Chen. In their discussion, the Congresswoman stressed the importance of affordability and protecting and building on a federal budget that gives students enough aid to pursue higher education.
Congresswoman Davis, who serves as the Ranking Member House Committee on Education and the Workforce, also spoke about needing to prepare students early on to avoid extending their college or post-secondary education beyond what is necessary and thereby avoid accumulating more debt.
The following session, Learning from the States, was a panel discussion between higher education commission officials from Oregon, Ben Cannon, and Tennessee, David Wright. Both states have a Promise programs where the state offers grants and tuition assistance for any in-state community college. The Oregon program specifically was designed to focus on students who "feel priced out" of higher education due to rising tuition costs. "You can never go wrong investing directly," says David Wright. The Tennessee promise program also includes transfer pathways for students interested in transferring to                 a four-year college or university to remove the guesswork of completing a college degree.
Click on the links to learn more about the Oregon Promise and Tennessee Promise programs.
The final session of the day, The Campus Experience, was also a panel discussion between Washington College President Sheila Bair, Chancellor of California Community Colleges Eloy Oakley, and President of the Association of Public and Land-grant Universities Peter McPherson. The panel focused on the issues of access and equity in higher education. By 2020, it is projected that the majority of high school graduates will be students of color, and Chancellor Oakley higher education institutions need to be better prepared for the changing tide of students. President Bair also spoke about the importance of fixing the public high school system so that students can make the most of continuing their education and make sure they attain degrees that mean something.
You can watch the entire event with all three sessions here: https://www.youtube.com/watch?v=ateIhUtFKxA