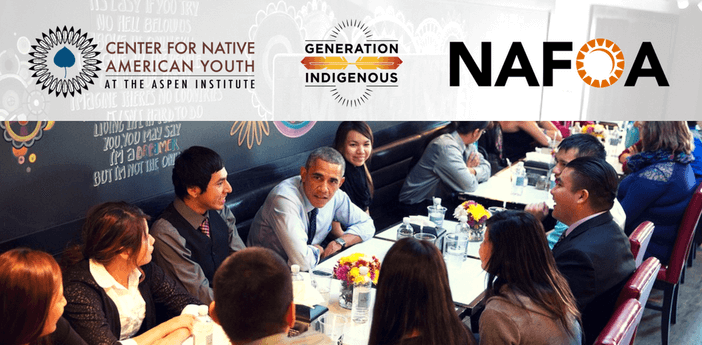 Introducing the 2018 Gen-I Career Success Fellows!
As part of Generation Indigenous (Gen-I), CNAY and the Native American Finance Officers Association (NAFOA) partnered in 2017 to create the Gen-I Career Success Fellowship. Through this partnership, CNAY connects the Gen-I National Native Youth Network with NAFOA's network of leaders in finance, business, and tribal economic development. Together, we're building career opportunities for Indigenous youth through online skill building, leadership development, and direct connections with employers.
This year's Gen-I Career Success Fellows are Jessica Bradby (Pamunkey Indian Tribe), Joshua Bertalotto (Tunica-Biloxi Tribe), Jordan Oglesby (Navajo Nation), Jorge Martinez (Mazahua (Jñatrjo) and Mixtec (Ñuu Savi)), and Joshua Emerson (Navajo Nation). Jaimie Cruz (Squaxin Island Tribe), who was selected last year, also joins the 2018 cohort. Click here to learn more about the Fellows.
The 2018 Fellows were selected among the top performing students enrolled in the online Native American Career Success Academy (NACSA), a free program available for Native youth ages 18-24. The NACSA curriculum includes two courses: personal finance and career preparation. Students who completed the online NACSA curriculum were invited to apply to the Gen-I Career Success Fellowship program.
From April 22-24, the Gen-I Career Success Fellows will participate in seminars led by inspirational Native professionals who will help them advance their new skill set and prepare them for the job market. The Gen-I Career Leadership Summit preceding NAFOA's 36th Annual Conference in New Orleans includes special Gen-I networking events and luncheons, career development opportunities with conference participants, and special presentations. This is the Fellowship's second year of operation.
For more information about the program and partnership, contact Bettina Gonzalez at bettina.gonzalez@aspeninstitute.org.