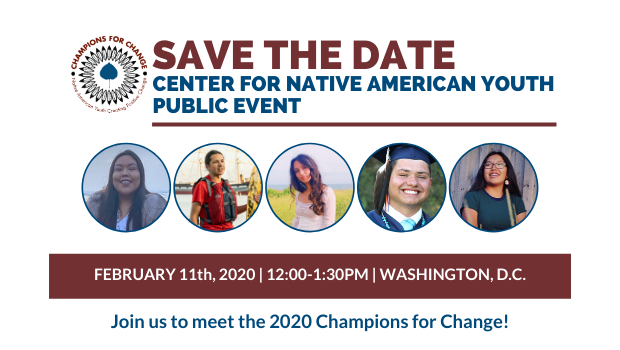 Join Us To Meet The 2020 Champions For Change
Join us and hear the inspiring stories that led Jazmine, Isabella, Owen, Shavaughna and Warren to be named 2020 Champions for Change. The 2020 Champions for Change serve as representatives of the next generations of leaders in Indian Country.

From Washington to California to Wyoming, the 2020 Champions have advocated for issues important to them, such as revitalization of language and culture, advocating for gun control, destigmatization of mental illness, implementing traditional coping mechanisms for intergenerational traumas, and increasing visibility and Native storytelling.
---
Panel Discussion with 2020 Champions for Change
with Keynote Speaker Paulette Jordan
Tuesday, February 11, 2020 | 12:00 – 1:30 PM
The Aspen Institute
Smith Conference Room | 8th Floor
2300 N Street
NW
Washington, DC
20037

*Lunch provided

RSVP here to attend the panel discussion.

Champions for Change 8thAnniversary Reception
Tuesday February 11, 2020 | 5:00-7:00 PM
Capital Hilton
Room: Federal AB
1001 16th St. NW
Washington, DC 20036

*Refreshment Provided

RSVP here to attend the reception.
The Center for Native American Youthis a policy program of The Aspen Institute, located in Washington, DC. Created by former US Senator Byron Dorgan, CNAY believes Native American youth should lead full and healthy lives, have equal access to opportunity, and draw strength from their culture and one another. CNAY focuses on the resilience of Native youth and supports them through youth recognition, inspiration, and leadership; research, advocacy, and policy change; serving as a national resource exchange; and by developing strengths-based Native youth media opportunities. Learn more at www.cnay.org.