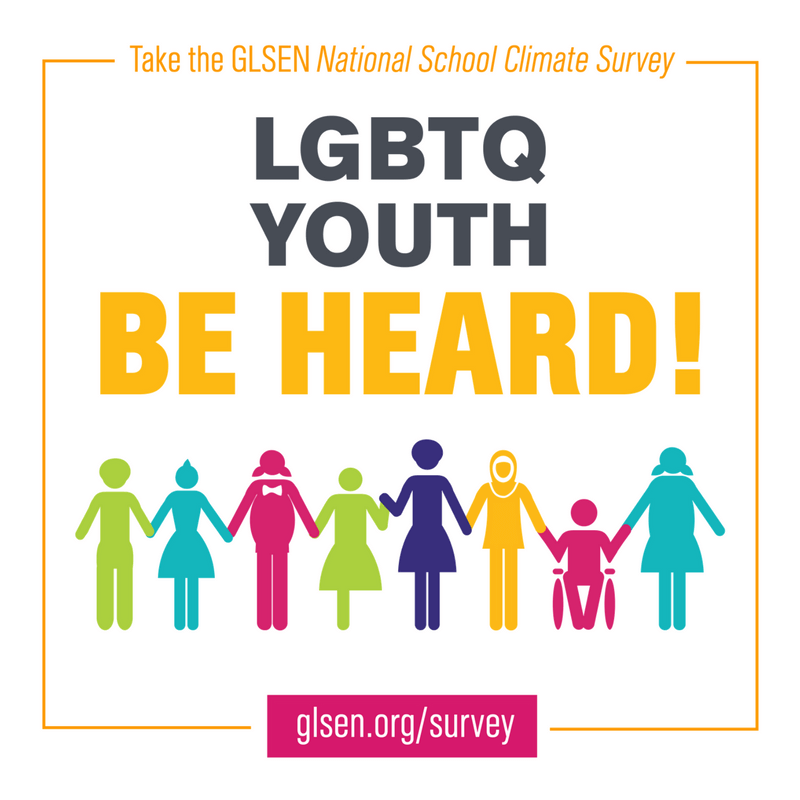 LGBTQ Youth – Share Your Story for the 2017 National School Climate Survey
Chikaano (Hello in Koasati Language)
In honor of Pride month, this Gen-I Native Opportunities Weekly (NOW) message shares information about GLSEN's 2017 National School Climate Survey. GLSEN conducts this survey every two years to understand the experiences of lesbian, gay, bisexual, transgender, and queer (LGBTQ) youth, as well as youth of all gender identities, in our nation's schools. The information gathered from this survey will help inform education policymakers and the public about the right of all students to be treated with respect in their schools.
Participation is open until the end of July 2017. Access the survey HERE.
PARTICIPATION DETAILS:
If you attended high school or middle school sometime during the last school year (2016-2017), identify as lesbian, gay, bisexual, transgender, queer, questioning, non-binary, Two-Spirit, and/or identify your gender in some other way, and are at least 13 years old, tell GLSEN about your experiences in school. (If you did not complete the entire school year you can still participate in the survey.) The survey is completely anonymous.
The survey asks questions about your experiences in school, including hearing homophobic remarks, being harassed because of your sexual orientation and/or how you express your gender, and seeks to understand how supportive your school is of LGBTQ students.
TAKE THE SURVEY!
To take the survey, click here
. If you have any questions about the survey, contact Dr. Emily Greytak, Director of Research, at 
emily.greytak@glsen.org
.