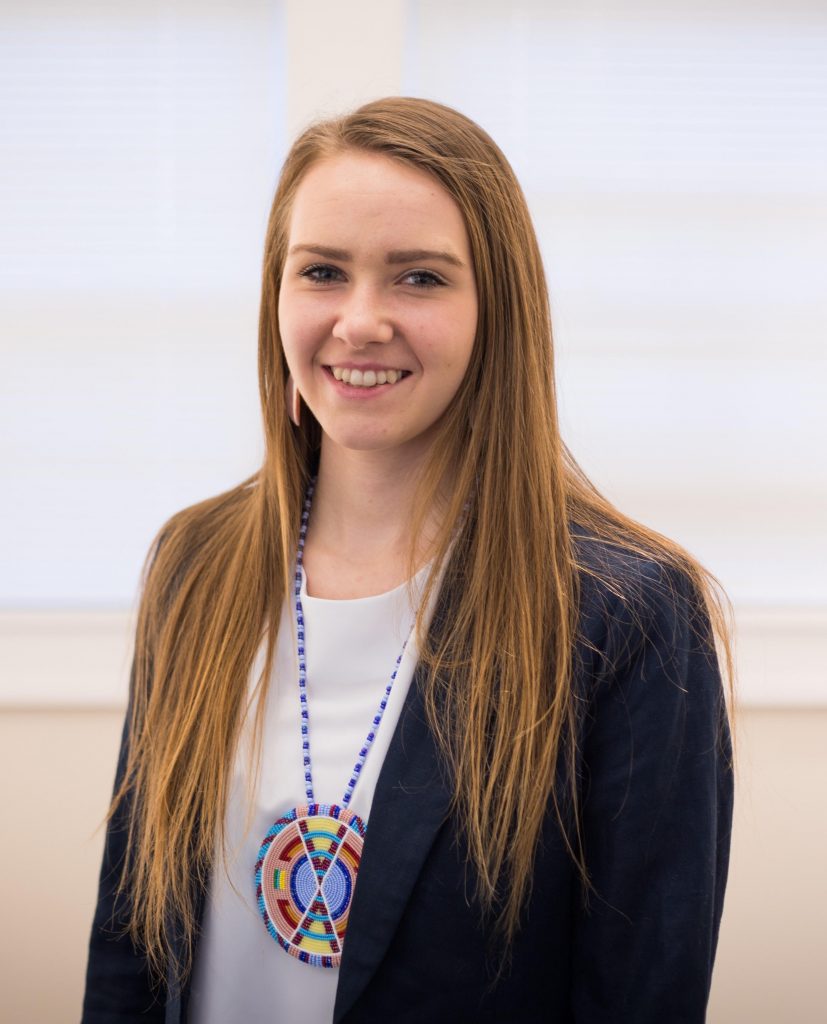 Little Shell Tribal Youth Reflects on Federal Recognition
On Saturday January 25, 2020, I joined my fellow Little Shell in celebrating our Tribe's federal recognition. When the news of our recognition broke in December of 2019, I called my Grandma to share the news. Through tears she kept repeating, "I am so happy for you."
My Grandmother was overjoyed that my generation could begin to focus on revitalizing our language, learning our culture, and reentering national Native politics. She was overjoyed, that unlike hers, my life wouldn't be all consumed with seeking recognition.
The Little Shell story is one of resistance and survival. The Little Shell Tribe of Chippewa Indians is a political successor to the 1863 Pembina Treaty (Treaty of Old Crossing), along with the Turtle Mountain Band of Chippewa and Rocky Boy Chippewa-Cree. This Treaty led to the cessation of large areas of the Red River Valley and, shortly thereafter, the creation of the Turtle Mountain Reservation. Like many Little Shell, my ancestors were given allotments at Turtle Mountain, but their children walked, rode horses, and drove Red River carts west. These children, my great-great-grandparents, wished to continue their way of life, traveling freely and trapping along rivers outside of the confines of the Turtle Mountain Reservation.
In 1883, my great-great-grandmother was rounded up along with her family in northeastern Montana and marched into Canada. Groups of Chippewa-Cree were often rounded up by the U.S. Army and taken back to Canada and later to the Turtle Mountain Reservation in North Dakota. But my great-great-grandmother returned to Montana and continued to trap along the Milk River. During my great grandfather's lifetime, the Little Shell Tribe petitioned the federal government to be allowed to organize under the Indian Reorganization Act of 1934 (IRA). The Commissioner of Indian Affairs at the time, John Collier, concluded that the Little Shell were eligible to organize under the IRA, but it was the height of the depression and Congress was unable to dedicate funds towards purchasing land for a reservation. Without a settler designated land base, the federal government considered Little Shell unorganized and unrecognized.
Almost all of the tribes in Montana maintain stories of the Chippewa-Cree who lived and continue to live among them. My great grandfather and great-great aunt lived most of their lives up on the Hi-Line in Montana ranching and working in the Malta area, and attending boarding school at Fort Peck. Other Little Shell families remained in Lewistown, joined family at Rocky Boy, settled up on Hill 57 near Great Falls, and many more blended into families at Fort Belknap, Blackfeet, Crow, and Flathead. My own family found home on the Fort Peck and Crow Reservations.
Federal recognition is just one part of our long history of resistance and survival. I hesitate to dwell on the importance of this moment because I don't believe that we need to be recognized by the settler government to be a sovereign nation. As Native American Rights Fund lawyer Kim Gottschalk said at the federal recognition celebration, "You were a sovereign nation before you signed the 1863 treaty, you were a sovereign nation when you signed the 1863 treaty, and you were a sovereign nation after you signed the 1863 treaty." But with this federal recognition, we can begin to hold the federal government accountable for the promises they made in our treaties.
At the celebration on Saturday, Northern Cheyenne, Fort Peck, Fort Belknap, Rocky Boy, and the Confederated Salish & Kootenai Tribes all attended and shared their stories of our people. As they gave gifts, I looked over to see my mom tearing up. More than anything, I think for us, for my family, this recognition represents that we are once again equal to our neighboring nations. After generations of migrating and being relocated, we are a community, a nation in Montana. We are still here and we'll remain here. On the day our recognition was signed into law, my mom said to me, "I feel like I actually belong now. We belong here."
Katherine McCleary, Little Shell Chippewa-Cree, grew up on the Crow Reservation in Montana and is a 2018 graduate form Yale University.