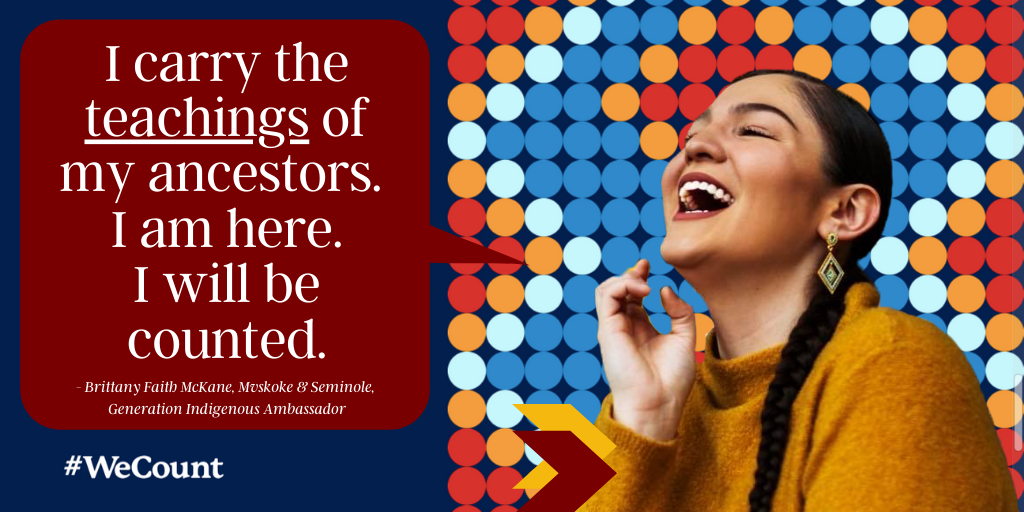 Make Sure Our Voices Are Heard, Be Counted
By: Brittany McKane, Mvskoke & Seminole , Generation Indigenous Ambassador
In 2010, my 8th grade homeroom teacher stressed the importance of completing the census questionnaire. Our educators heavily emphasized that we would not be afforded another opportunity to be counted for another 10 years, making it incredibly imperative that we used that year's Census to ensure our families were considered in the larger number of demographics that make up the population.
As we have approached the 2020 U.S. Census, I have learned that there is so much more to be considered in addition to the need for our communities to be counted, especially for Native peoples and our Nations' populations.
Since preparing for the 2020 Census, I have been informed to the many different ways the responses to the Census help shape our communities. Census data is used to inform community development, funding, and recovery in times of need.
Census results help determine how money is allocated, influencing things like the location of highways, programs to support rural areas, preparation for wildfires, housing assistance for older adults, and so much more. If our populations are not properly counted, we cannot be properly represented or properly funded.
For Native peoples, checking "Native American" only under the Race category is essential in giving us an accurate representation of our communities' numbers. By checking more than one race in the Race category, we will be funneled into the "multicultural" classification, thus funneling away the possible allocation of funding. For our Native populations, this is especially crucial.
We need to be counted not only for the purpose of funding, but to be able to make our continued presence here on Turtle Island known. To be represented in the numbers means more than appeasing a government questionnaire. It means that number being visible, not being ignored as the "other" section of the country's unnamed population.
In a time that the world is facing so many pivotal moments of inevitable change, Native voices are needed now more than ever to help guide the world back to the vital balance we must have with our earth and all of creation.
We must give our peoples all of the necessary tools which we can use to succeed. The unavoidable fact that we remain here on this continent, despite genocidal acts of violence and legislation, should be evident in every colonial document that they conceive. In the generations to come, I want our people to have less challenges than the ones we are facing now.
If we are able to assist them in creating a brighter future by attempting to solve the issues of our time with all the means we have, we may even be able to begin pushing beyond those means one day, into a realm of thriving prosperity not seen since the days of our ancestors.
Today, the way we can help to forge forward our own path of progress for our peoples is to ensure we give accurate responses to the Census. That way, when the time comes, we will be able to tell the future generations that we did everything we could to stand up and make sure that our voices were heard; to make sure that we were counted.
Brittany McKane is Muscogee (Creek) and Seminole, from Little Axe, Oklahoma. She is 23 years old and attends the University of Oklahoma, where she is Pre-Law, double majoring in Native American Studies and Anthropology, and minoring in Social Justice. She intends to pursue her academic education to the furthest extent, focusing on treaty law and Nation to Nation relations.