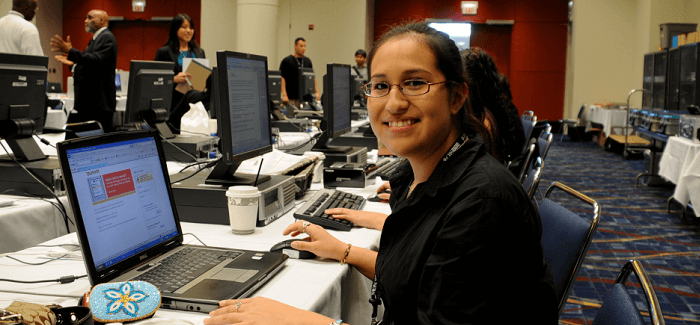 Native American Journalists Association Scholarship
Hatito! Hello in the Shawnee language! This Gen-I Native Opportunities Weekly (NOW) message shares information about the 2017-2018 Native American Journalists Association Scholarship!
Native American Journalists Association is committed to increasing the representation of Native journalists in mainstream media and provides scholarship opportunities for high school, college and graduate students. Each year, NAJA offers annual scholarships ranging from $500-$2,000 to Native American students pursuing journalism degrees at higher learning institutions.
All application materials must be submitted by 11:59pm ET on August 31, 2017.
ELIGIBILITY:
Must have proof of enrollment in a federally or state recognized tribe.
Must be a graduating high school senior (May 2018) or college student.
Must have serious interest in pursuing a career in media.
Must be a current NAJA member and in good standing (current on paying dues). Visit the NAJA Membership page to renew or become a new member. Annual membership dues are $10 for high school students and $20 for college students.
REQUIRED APPLICATION MATERIALS:
Cover letter including bio, area of interest, reason(s) for pursing a career in media and anticipated graduation date.
Link to current photo and permission to use in NAJA media release announcing scholarship recipients.
Copy of your FAFSA report.
A school transcript (can be unofficial copy).
At least one letter of recommendation from someone familiar with students' professional or academic work.
At least two professional references.
Work samples, portfolio, or other examples of student work.
Proof of enrollment in a federally or state recognized tribe. If not formally enrolled, please provide a letter from a tribal official on tribal letterhead stating the applicant's status or relationship with the federally recognized or state recognized tribe.
Financial profile information.
Linkable folder containing all required documents (please ensure there is open access).
Completed 2017-2018 NAJA Scholarship Application.
TO APPLY:
Click here for a complete list of information and application components.
Click here to begin a new application.
For questions or inquiries about scholarships or other student-related programs, contact NAJA Education Committee Chair Victoria LaPoe at vlapoe@naja.com.