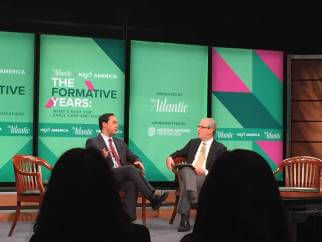 #NextAmerica Event with AtlanticLIVE on Early Child Care and Education
On March 8, 2017, Center for Native American Youth staff attended an event at the Newseum hosted by AtlanticLIVE on education policy focusing on child care and early education – The Formative Years: What's Next for Early Care and Education. The event consisted of three moderated sessions with policymakers, government officials, and policy experts.
The first session, What Can Texas Teach Washington?, featured Congressman Joaquin Castro who represents the 20th Congressional District of Texas. In a one-on-one interview with The Atlantic Senior Editor Ron Brownstein, Congressman Castro spoke about the importance of increasing accessing and quality of early child care and education, and highlighted some practices that has led to increased quality early education and care in his district. He spoke at length about how through public-private partnerships and community support, the city of San Antonio, TX has been able to help fund high quality and full day pre-kindergarten programs for the city.
Read more about San Antonio's early child care and education initiative here.
The following session, The Way Forward, focused specifically on child care and featured policy experts from the Urban-Brooks Tax Policy Center, Center for American Progress, and American Enterprise Institute, moderated by The Hechinger ReportEducation Reporter Lillian Mongeau. Experts on the panel discussed the President's current child care tax policy proposals and what it means to both higher-income and lower-income families. A strong message from the discussion: While the the refundable tax credit portion of the policy would benefit some lower-income families, the tax deduction and child care savings account portions of the proposed policy are targeted to benefit higher-income families.
Read the Tax Policy Center's report, "Who Benefits from President Trump's Child Care Proposals," for more information here.
The third and final session, Setting an Example, focused on early education and featured the work of two localities making strides in pre-kindergarten education. Boston's Chief of Education Turahn Dorsey and Alabama's Secretary of the Department of Early Childhood Education Jeana Ross spoke about their city and state's programs aimed at increasing the quality of pre-k instruction for their constituencies. The importance of these programs can be seen by the return of investments. In Boston for instance, Dorsey claims that every $1 invested in high quality early education has a $7 return for the city based on savings from costs associated with remedial education and/or the juvenile justice system.
Click the links to learn more about First Class: Alabama's Voluntary Pre-K and Boston's K1 focus for three-year-old children.
Want more? Follow the conversation on Twitter using #NextAmerica.