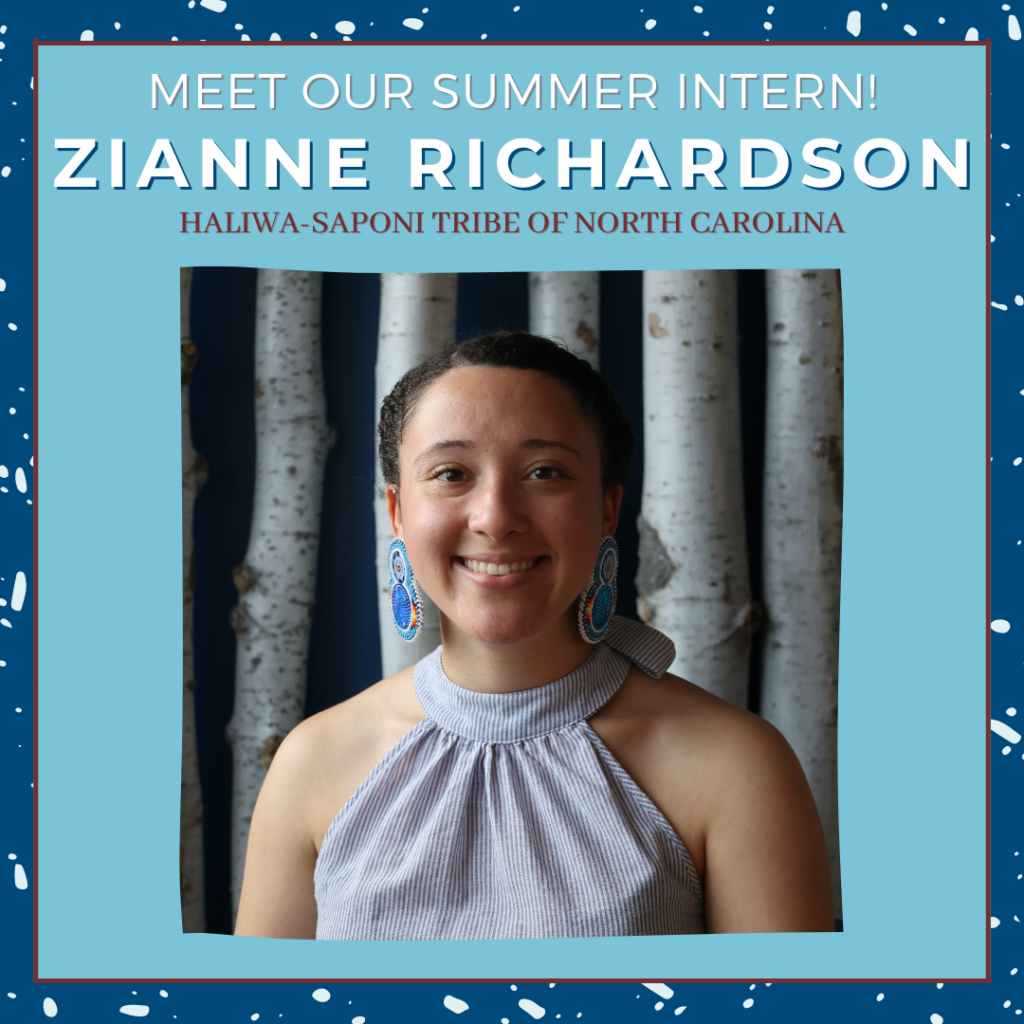 Open the Door to Opportunity
Dear Native Youth,
In this chapter of my life, I have been reflecting heavily over the past 21 years and all I can feel is this overwhelming fullness. A fullness that can only be explained by the countless blessings and opportunities that have come my way.
I was raised in not one, but two loving homes where I was encouraged to not strive for perfection, but to give my best effort. I grew up being a straight A student involved in several extracurricular activities within my tribal community, church, and dance studio. This made up my home, my tribal lands, and my comfort zone. When I graduated high school, I decided to attend the University of North Carolina at Chapel Hill, only an hour and half away from Haliwa-Saponi tribal territory. Not only am I currently a rising senior at my dream school, but I was also blessed to be named a Morehead-Cain Scholar. Morehead-Cain covers all undergraduate expenses and four summer enrichment programs. These summer programs include an outdoor leadership experience, a civic collaboration project in a U.S. city, an internship anywhere in the world, and a global experience. They encourage me to explore and learn with my imagination as the only limit.
My first summer, I opted to get a jump start on my college career in a bridge program for underrepresented students in North Carolina. While my fellow scholars opted to attend an outdoor leadership experience in remote locations, I chose to stay for a bridge program that allowed me to be close to family and stay where I was most comfortable. Shortly after this summer was the start of the pandemic, and my summer opportunities were no longer available to me. COVID-19 stole half of my college years, something many of us can relate to, in the blink of an eye. When in-person activities and school returned almost two years later, I had this newfound drive to take advantage of every opportunity that I may have taken for granted. I wasn't going to let COVID steal anymore chances to go out into the world and take it by storm. When it was time to start planning my internship summer, my sister, Evynn, a Remembering Our Sisters Fellow, connected me to CNAY. Not long after, I was able to set up a summer internship in DC.
I have never been one to really go that far out of my comfort zone. Once my internship started coming together, I started to have fears and doubts come into my mind when preparing to move to a new city. I had very little travel experience outside of the North Carolina, Virginia, and South Carolina area. I am proud to say that I overcame those fears and have not regretted a second of it. I have already learned so much here at CNAY and my time has only begun. Getting to not only see, but live in a new city as a country girl, has given me an opportunity to grow as a young adult and show myself that I am stronger than I give myself credit for.
Looking back throughout my life, yes, I have had great opportunities, but as I have gotten older, the opportunities that are coming my way continue to push me further outside of my comfort zone. This doesn't mean that I should be afraid to take new paths or feel that leaving home means I'm abandoning my people. To uphold the future my ancestors fought for, I've learned I can't limit myself and to do what is best for me. They wanted a better future for our people and were courageous, resilient, and strong in their efforts. So, I say this to you as well as myself, be courageous when opportunities come along that may wade you into uncertain waters. Continue to be resilient because your mere existence is a sign of resistance. Be strong because the way you look back on the last seven generations who fought for you to have opportunities is going to be the same way the next seven generations will be looking back at how you took advantage of them.
Sometimes you must take a leap in order to fly. I can assure you that as Native youth, we have the power to go beyond that. We have the power to soar.
Sincerely,
Zianne Richardson (MihÁ:oknaho:)
Haliwa-Saponi Tribe of North Carolina