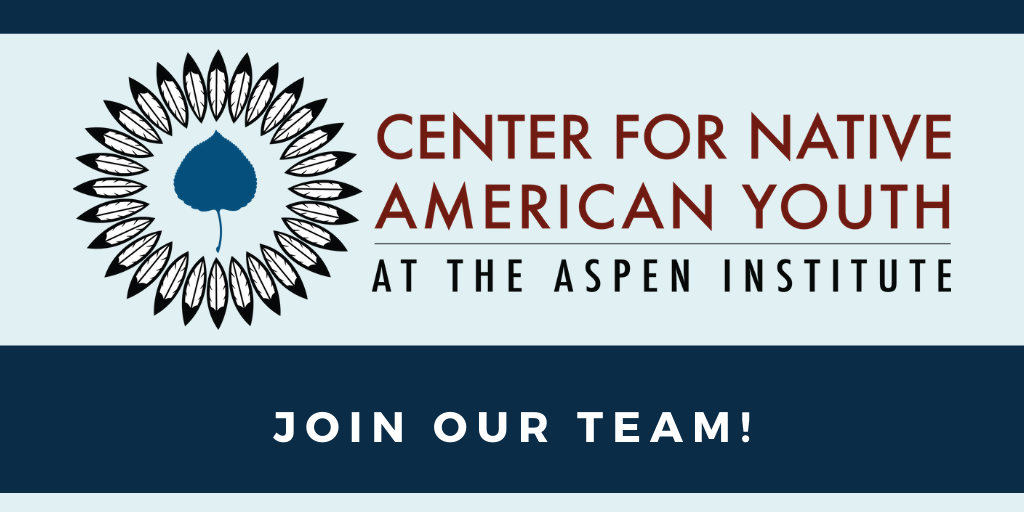 Program Manager
Join Our Team
Department:

Center for Native American Youth

Location:
Position:

Washington, DC
Program Manager

The Aspen Institute is a global nonprofit organization committed to realizing a free, just, and equitable society. Since its founding in 1949, the Institute has been driving change through dialogue, leadership, and action to help solve the most critical challenges facing communities in the United States and around the world. Headquartered in Washington, DC, the Institute has a campus in Aspen, Colorado, and an international network of partners.
The Center for Native American Youth: Our vision is for all Native American youth to lead full and healthy lives, to have equal access to opportunity, and to draw strength from their culture and inspire one another. CNAY is a national advocacy organization working to improve the health, safety, and overall well-being of Native American youth ages 24 and under. Founded by former US Senator Byron Dorgan, CNAY is a policy program within the Aspen Institute, headquartered in Washington, DC. While a part of the Aspen Institute, CNAY is also overseen by a Board of Advisors. We strive to bring greater national attention to the issues facing Native American youth while fostering community-driven solutions, with special emphasis on youth suicide prevention. More information is available here: www.cnay.org.
Program Manager
As a senior member of the team, the Program Manager will work closely with the Executive Director to:
oversee and manage youth engagement strategy, including management of the Champions for Change program, youth advisory board and technical assistance projects;
work with staff in managing program development and evaluation; budget development, financial reporting and grant administration;
support team-wide youth engagement work including community outreach trips and roundtables; speaking at conferences; and outreach to Native youth for other engagement opportunities;
Other duties HERE
This position demands strong project management skills with requirements to prepare and execute work plans, prepare and track budgets, plan and execute meetings, write and distribute publications and other communications, and develop funder reports. Our team also expects the Program Manager to have a passion for improving lives of Native American youth. The Program Manager will be responsible for growing, promoting, managing, and further developing CNAY's Champions for Change program, CNAY's Technical Assistance project to promote local youth recognition efforts, along with other aspects of CNAY's work directly with youth. They will also develop a broader base of support for Champions for Change from Indian Country and non-Native stakeholders, leading fundraising efforts on its behalf, and managing progress towards sustainability of the effort. The Program Manager has significant responsibility for direct interaction and communication with American Indian and Alaska Native youth, tribal leaders, and other key partner organizations.
View full list of duties and application CLICK HERE