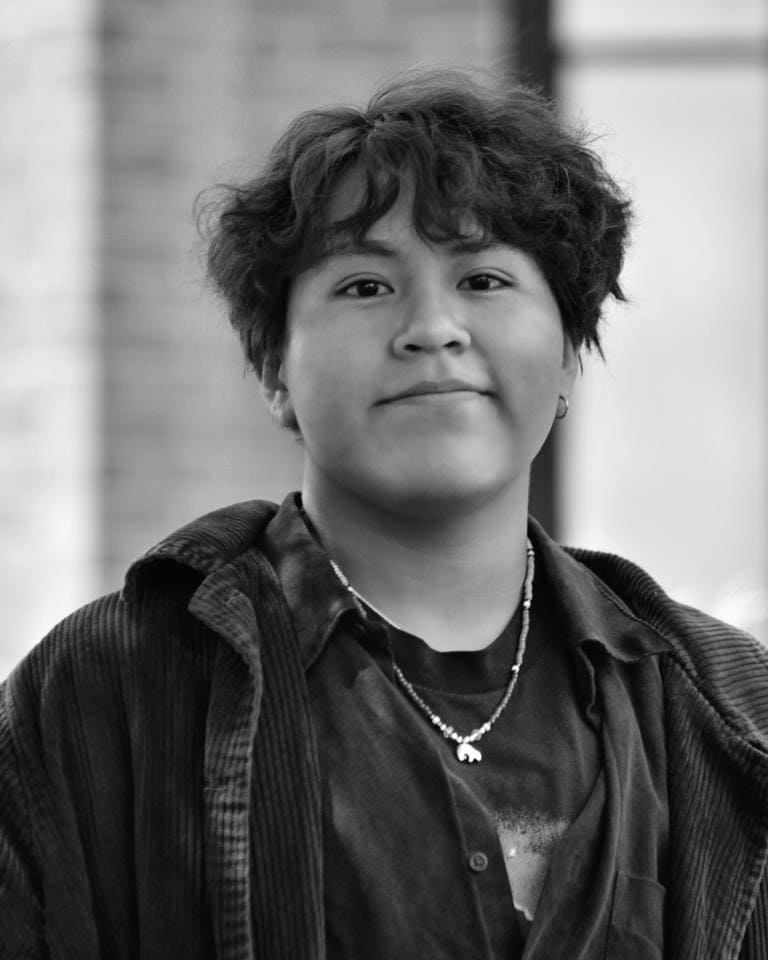 Spotlight on Young Native Poet, Jesse Begay
Jesse Begay (Diné) was recently appointed as a National Student Poet, the nation's highest honor for youth poets presenting original work. They are currently a high schooler at New Mexico School for the Arts. In this profile, they discuss their multimedia inspirations, plans for their year of service, and future dreams as a filmmaker.
Tell me a little about yourself!
I'm a student at New Mexico School for the Arts, studying creative writing. I'm from the Navajo Reservation, specifically Shiprock. I didn't really understand poetry until junior year, but I liked how easy it was for me to write… I loved playwriting too, how I connected to the teacher and his passion for it.
What's your favorite book or movie for inspiration?
Natalie Diaz's Postcolonial Love Poem or Richard Siken's Crush. Those two are the collections where I started to understand and care about poetry. Up until that point, we were taught very traditional poets where their language was beyond my understanding. Poetry seemed pretentious up until that point to me. But we were shown a video of Natalie Diaz reading out a book, her abecedarian poem, and that was the first time I comprehended a poem on a deeper level. Richard Siken's collection [stuck] because it felt accessible and like I [was seen]… For screenplay, I really enjoyed Honey Boy and Nightcrawler.
What does being a National Student Poet mean to you?
It's a big honor. I didn't comprehend that until we were at the White House and we got to meet the U.S. Poet Laureate, because I've been such a fan of her work for so long. To have all of these opportunities presented to you through a few poems I wrote… I keep looking back and finding it so incredible that it got me to places like D.C. It broadened my horizons and forced me out of my shell, doing readings and interviews.
What do you want to tell other young Native poets who are just starting their writing journeys?
The only good universal advice I got is to not stop writing and reading.
What about folks who are shy or hesitant to share their work with others?
I was the same way; I actually did not want to submit anything to these awards… Even if you want to do it under a pen name and don't want to perform it, if you put your work out there and people relate to it, it'll force you out of your shell.
What do you want to do for your year-long project as a NSP?
I wanted to do some introductory poetry workshops on the reservations in New Mexico, specifically with some of my classmates, who have been doing poetry a lot longer than I have. I think it would provide a much more feasible access point to kids our own age. They're good performers, so the hope is to visit a few schools on the reservation and teach poets like Natalie Diaz to folks who have very strict ideas about what poetry is.
What inspires you as writer/ where you find inspiration?
I really enjoy taking specific moments, maybe a minute or two in time, and stretching them out into poetry and trying to encapsulate very broad feelings like homesickness into a place where… people who are from a reservation, like me, will understand it. And people who have never experienced things like that would still find something to hang onto in those poems.
What is your dream path right now?
My dream path right now is to go to the University of Southern California and study film. My ultimate goal is to be a writer/director of the same types of stories. Stories that maybe haven't been told in a way that people who are like me can relate… We're working through our senior thesis ideas in class and I'm working through a supernatural horror about a Navajo teenager dealing with the supernatural elements of [our culture]. The other project is a slasher movie, like Friday the Thirteenth, following a transgender teenager trying to ask his crush out to prom.
By Kinsale Drake
Kinsale (Diné) is a 23-year-old poet/editor/playwright whose work has appeared or is forthcoming in Poetry, Best New Poets, Poets.org, Poetry Northwest, Black Warrior Review, Teen Vogue, MTV, NYLON, TIME, NPR, and elsewhere. She teaches mental health and storytelling programming for Native youth and is the founder of Changing Wxman Collective & NDN Girls Book Club. She recently graduated from Yale University in Fall 2022.