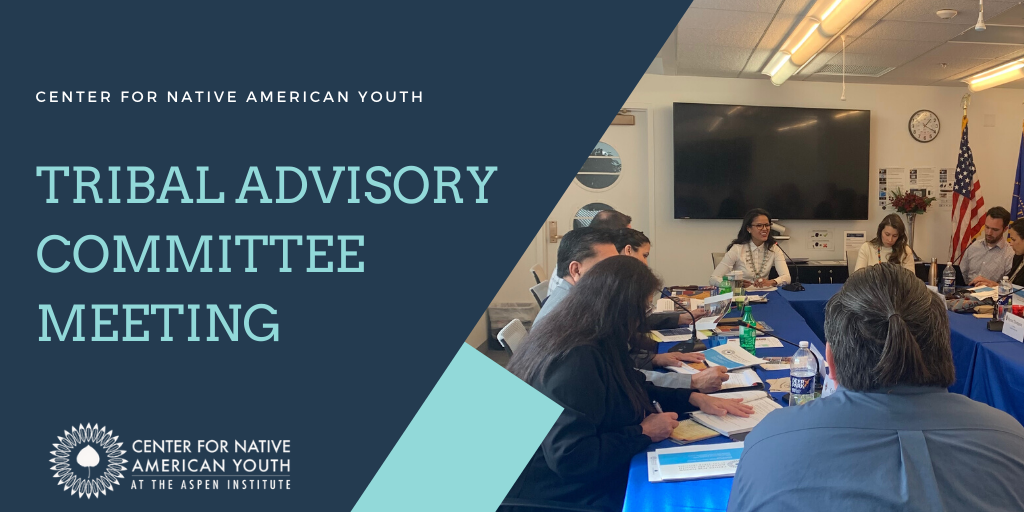 Tribal Advisory Committee meeting for the Administration for Children and Families
Tuesday March 03, 2020, Center for Native American Youth (CNAY) Acting Executive Director, Nikki Pitre and Intern, Helen John attended the Tribal Advisory Committee (TAC) meeting for the Administration for Children and Families (ACF).  
During the meeting, Pitre, Coeur d'Alene Tribe, gave a presentation highlighting the outstanding work being done by CNAY's youth led groups, which included youth from the 2020 Class of Champions for Change, CNAY Youth Advisory Board, and the Cultural Preservation Ambassadors.  
"At CNAY, we work hard to ensure that youth are in the driver seat of our programming," said Pitre during her speech. "I hope we can create a greater community for more youth to be in these important spaces."
While our youth's advocacy platforms have a broad range of focus, during this presentation Pitre brought light to the work being done to ensure safe and culture rich communities.
Our Native youth have created platforms calling attention to social justice issues such as human trafficking, Missing and Murdered Indigenous People (MMIP), and educating Native and non-Native communities on the issues impacting Indian Country.
Youth Leaders and Their Platforms
CNAY youth leader and reigning Miss Indian World, Cheyenne Kippenberger, Seminole Tribe of Florida, worked with the Native Learning Center (NLC) and the Osceola's Warrior Legacy Group to host a Human Trafficking Awareness event at her tribal college.
During this event, attendee's learned about human trafficking, its impacts within their community and were taught traditional Seminole fighting techniques for self-defense.

Another youth leader, Michael Charles, Navajo Nation, worked with the Ohio State Multicultural Center to co-host an educational forum on increasing awareness on Missing and Murdered Indigenous Women/People.
Part of this event included placing red sand in the cracks of sidewalks to honor those who have 'fallen through the cracks' of the justice system.
Mikah Carlos, Salt River Pima Maricopa Indian Community, attended multiple community meetings, which included both the Salt River District's council members, and community members within the Salt River, Arizona.
Carlos gave a presentation about human trafficking within these meetings, she asked the audience, "how can our culture be a protective factor?"
The community discussion stemmed from this question led the people to realize that many members of their community do not look out for each other like they used to. People no longer knew who their neighbors are, which makes it harder to notice when outsiders (such as traffickers and drug dealers) are in their community.
Another conclusion drawn from the discussion was the need for safe spaces for youth to participate in cultural activities.

After Pitre's presentation, the board members were in awe of the impacts Native youth leaders are making within their communities.
When given the opportunity and support, Native youth have the power to make positive change within their communities.