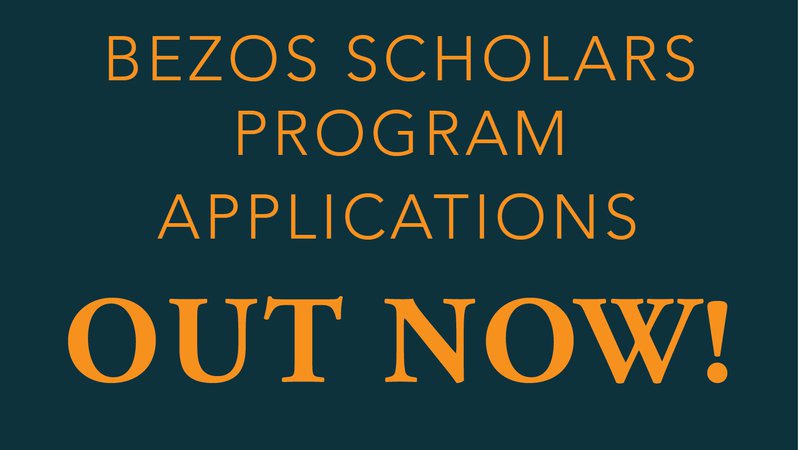 1/30 Gen-I NOW: Bezos Scholars Program
Each spring, 17 exceptional high school juniors and a supportive educator from their school are selected as Bezos Scholars from around the U.S. and from the African Leadership Academy. After spending a week immersed in learning at the Aspen Ideas Festival, they return home to inspire action by developing a community change project that combines their passion with meeting a defined community need. The program kicks off with an all-expenses paid trip to the Aspen Ideas Festival, June 22-28, 2019. With ongoing support and $1,000 in funding, student and educator teams launch local community change projects that align their unique passion with a community need. Applications are due February 8, 2019.
Eligibility:
Be a junior during the 2018-19 academic year;
Be a U.S. citizen, permanent resident, or have received DACA status;
Demonstrate leadership in their school and community;
Have taken and received scores for at least one of the following tests: PSAT, SAT, ACT, or ACT Aspire;
Be enrolled in, or have taken, one or more Advanced Placement (AP) classes, International Baccalaureate (IB) classes, or college-level courses; and
Be available to participate fully and attend all trip dates for the Aspen Ideas Festival trip in Aspen, Colorado on June 22-28, 2019; and Commit from August 2019-June 2020 to attending monthly webinars, check-in calls, and develop and launch a community change project (Local Ideas Festival) as well as complete three reports on the progress of project development.
To Apply: Create an account here and complete
the online application, including the following:
Part 1: Your Story
Basic demographic information;
School details, coursework, standardized test scores;
Extra-curricular activities;
3 written essay response (What is most important to you—your passions, accomplishments, and your community contributions); and
Unofficial transcript.
Part II: Your Support
Principal: Your school principal must complete a short form;
Educator: You will need to identify, nominate, and partner with a trusted educator at your school; and
Recommenders: Identify two people to submit letters of recommendation on your behalf. Consider asking a teacher, mentor, or community member.
Questions? Contact scholars@joinbsp.org and check out the 
FAQ.